Camping Information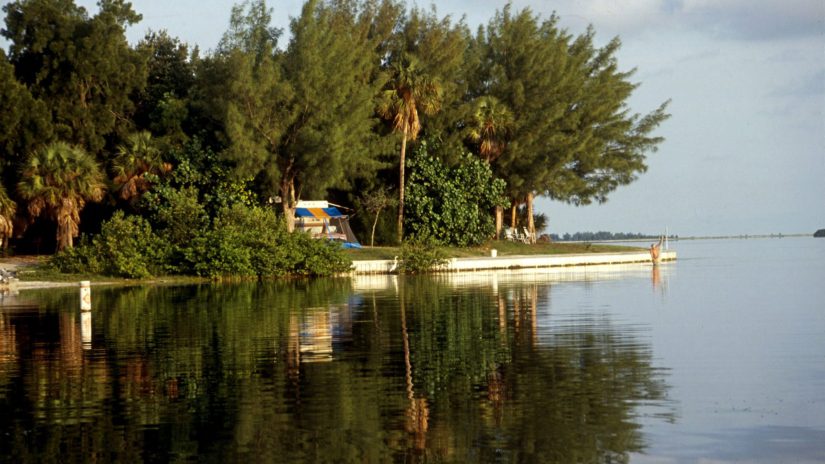 The Parks & Conservation Resources administrative office is at 12520 Ulmerton Road in Largo. Fort De Soto campsite reservations and all park shelter reservations can be made online or at this office.
Fort De Soto Campground Information
3500 Pinellas Bayway S., Tierra Verde, FL 33715
Information Line: (727) 582-2100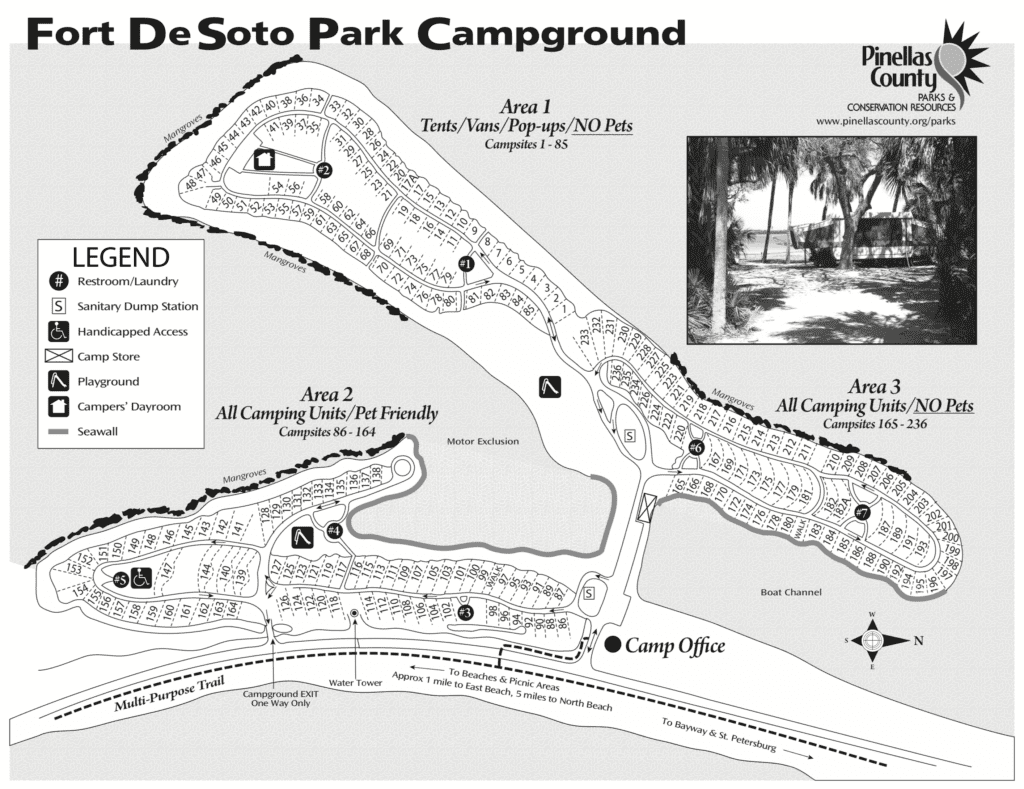 A 236-site family camping area with facilities including picnic tables, grills, water, electricity, washers, dryers, sanitary disposal stations, modern restrooms, showers, play areas and a campground store. Special sites for camping with pets.
Fort De Soto Park Camp Office Hours: 9 a.m. to 6 p.m. daily
Phone Hours: 8 a.m. to 5 p.m. Monday through Friday
For Other Assistance: Contact the Pinellas County Sheriff's Office non-emergency number (727) 582-6200. For Emergency, dial 9-1-1.
Reservations
You can make reservations for one of the Fort De Soto Park campsites on the campground reservation system. The following guidance may help you when making a reservation:

Customer Information Call Center – (727) 582-2100 (Select 2 from the phone menu)
The Customer Information Call Center line is available Monday through Friday from 8 a.m. – 5 p.m. If you need help outside of call center hours, email us at parks@pinellas.gov. Please allow 24 to 48 hours for reply.
Important Reservation Information
Registered campers must check in at the Campground Office to confirm or update their attending vehicle license plate data.
While all reservations may be made up to six months in advance, Pinellas County residents may make reservations up to seven months in advance. Verification of residency (a current Florida driver's license or valid Florida ID along with a current utility bill) will be required at the time of check-in. Failure to provide verification of residency will result in cancellation. The campsite must be occupied by the Pinellas County resident making the reservation. For information, call (727) 582-2100, select Option 2.
A campsite may be reserved for a maximum of 14 nights.
Reservations are limited to a maximum of one per individual per day.
Payment by MasterCard, VISA, cash, money order or personal check for the full amount is required before a reservation can be recorded.
A reservation does not automatically imply an option to extend your stay.
From January through April, occupancy is limited to 14 nights in any 30-day period. From May through December, occupancy may be extended for an additional 14 nights depending upon the availability of campsites.
Designated pet area camping spots are 86-164.
Fort De Soto Campground Cancellation Policy
All modifications and/or cancellations will be assessed either a $5 administrative fee or cancellation penalty equal to the cost of the reserved site.

Modifications include site changes and rescheduling of reservations.
Cancellations subject to the $5 administrative fee must be received no later than 11:59 p.m. at least 3 days prior to your scheduled arrival date. This includes a request to shorten a campground stay (early departure) after arrival. (For example, if your reservation date is July 6. a request for cancellation must be received no later than 11:59 pm on July 3 to avoid cancellation penalty)
Campground cancellations made within two days of the reservation date will lose one night stay equivalent to the cost of the reserved campground site and will not be assessed the $5 administrative fee.

User campground cancellation requests will be issued "user credit" that will be reviewed by the Parks department before refunding the original form of payment within three to five business days.
User credit can be applied to future reservations if the new reservation is made before the credit is changed to the original payment method when possible or the request for a manual check is made.
To cancel a reservation and receive a refund, visit the Campground Reservation System, submit a Contact Us form, or call (727) 582-2100.
Camping Fees
Year-Round Rates Plus Tax Per Night
Sites 1-85
Sites 86-236
Non-waterfront Nightly Rate
$35.50
$40.50
Tourist Development Tax 6%
2.13
2.43
State Tax 7%
2.49
2.84
TOTAL BASE RATES
$40.12
$45.77
Waterfront Nightly Rate
$37.50
$42.50
Tourist Development Tax
2.25
2.55
State Tax
2.63
2.98
TOTAL BASE RATES
$42.38
$48.03
Facilities
Sites 1-85 have been designed for tents, vans, pop-up campers and trailers shorter than 16 feet.
Sites 86-236 are designed and equipped to accommodate all camping units.
All sites have water and electrical hook-up (30-50 amp service), picnic table and charcoal grill.
Dump stations and modern restrooms with showers and laundry facilities are provided for your convenience.
Wi-Fi at Camp Store and Office
Pets are permitted in Area 2 only (sites 86-164).
Electric carts are allowed on campground premises only.
Campground Store: Hours of operation are 8 a.m. to 5 p.m. Sunday through Thursday and 8 a.m to 7 p.m. Friday through Saturday. The store has implemented social distancing practices. For information, call (727) 866-9191.
Occupancy Limitations
Campsite occupancy is limited to ONE of the following groups of camping rigs:
One Motor Home and Two Vehicles
One Travel Trailer and Two Vehicles
One Pop-Up Camper and Two Vehicles
Two Tents and Two Vehicles
One Pickup Truck with Mounted Camping Rig
NOTE: There must be at least one adult at each site. In addition, one boat trailer is allowed on each site. There is a six-person limit, including children, per campsite at any time.
Additional Information
Keep all tents, boats, trailers, etc. on shelled area of your campsite.
Campers are advised to protect their personal property.
Check-in time is after 1 p.m. Checkout time is 11 a.m. Please be considerate of others by checking out on time.
Quiet time is at 10 p.m. All unregistered guests must leave the camp area at that time.
The front gate entrance is locked from 9 p.m. to 5:30 a.m. Please obtain the combination when you check in.
Prohibited Items and Actions
Violators of the following rules may be directed to vacate the campground without refund. In the event of a serious infraction, a citation may be issued.
Alcoholic Beverages
Swimming in Camp Area
Use of Gasoline-Powered Generators
Ground Fires (Campfires must be in a container, with sides and a bottom.)
Camping in Other Than Approved Sites
Removing, Damaging or Defacing Trees, Shrubs, or Any Other Plants
Feeding Wildlife (Including Birds, Squirrels and Raccoons)
Removing Tables from Sites
Organized Group Camping
---
Primitive Youth Camping at Wall Springs and Fort De Soto
All primitive youth camping at Wall Springs Park and Fort De Soto Park require a reservation and a permit.
Reservations / Permits
We accept reservations by phone, mail and email, up to 90 days in advance. Call (727) 582-2100, option 2.

Available between 9 a.m. and 5 p.m. Tuesday through Thursday. Closed Saturday, Sunday and on holidays.
Reservations may be made up to 90 days in advance from the day of your scheduled date of arrival.
You can fill out the Primitive Youth Camping Permit Application online here.
This permit application and reservation confirmation number once confirmed, should be in the possession of the person in charge of your group on the day of occupancy. It is your responsibility to see that all members of your group are informed and adhere to the campground rules.
Reservations are $5 adults/$1 per child.
Campground Rules
Wall Springs Youth Camp Site – 30 people
Fort De Soto Park Camp Site – 90 people
A youth group is defined as a recognized non-profit organization of young people 17 years of age and under with adult chaperone at a ratio of one (1) adult for every 12 young people.
A qualified scoutmaster, leader or counselor over 21 years of age or older must be on site and is responsible for the actions and behavior of the group. A cell phone should be available for emergencies if needed.
Campers are restricted to the designated youth camping area between sundown and sun-up.
Your group should go directly to the site upon arriving at the park.
IN CASE OF EMERGENCY CALL 911. Someone should proceed to the front gate to direct the rescue personnel. The address for the front entrance gate is:
Wall Springs Park – 3965 DeSoto Blvd., Palm Harbor, Florida 34683
Fort De Soto Park – 3055 Pinellas Bayway S, St. Petersburg, FL 33715
The Department reserves the right to make inspections of the camping area at any time.
Campfires must be confined to the fire pit.
The camping area is designated for tent camping only.
All vehicles except equipment trailers must be parked outside of the camp area in spaces provided.
Groups who do not follow the rules may forfeit the use of the facility for future use.
Pinellas County Code Chapter 90 prohibits consumption of alcoholic beverages in all Pinellas County Parks. This is strictly enforced.
---
Primitive Camping at Shell Key Preserve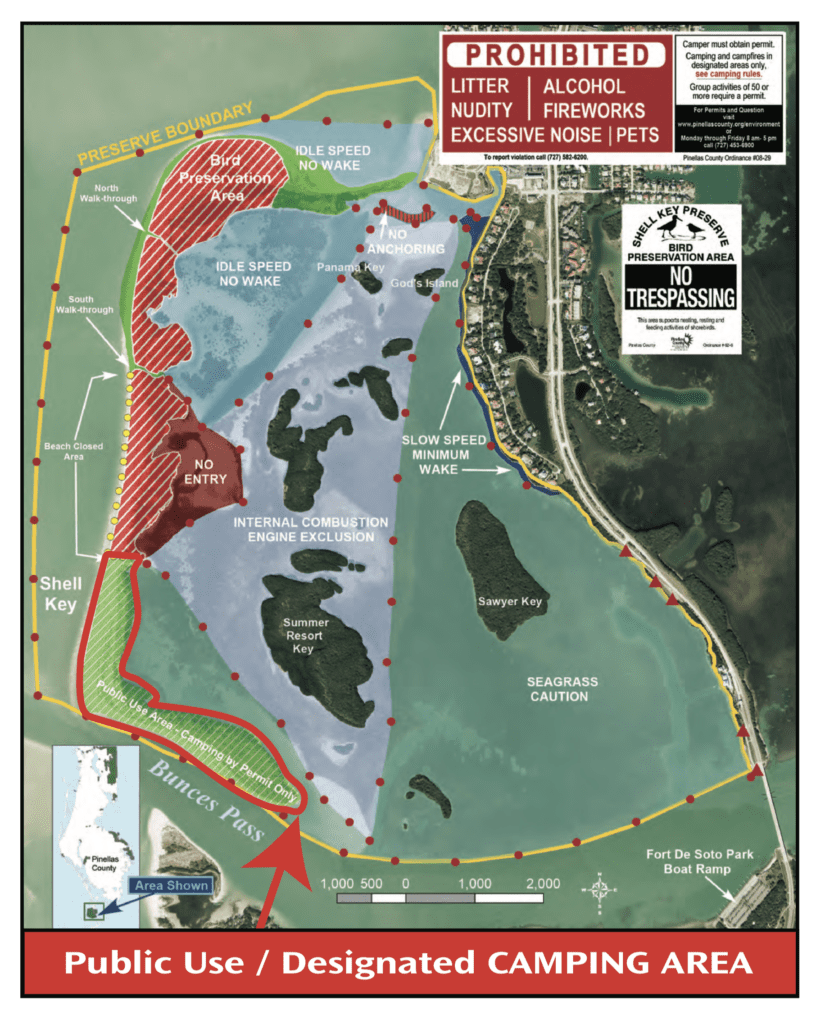 All Shell Key campers are required to have a Shell Key camping permit. Permits cost $6 per day, with a limit of six guests for each permit. Campers must be listed on the permit. A vessel registration is required.
Camping permit does not include the Fort De Soto boat ramp / beach parking fee.
Please respect and appreciate the wonderful natural resource of Shell Key Preserve. Shell Key Preserve is a sensitive environmental area and good stewardship is required to ensure that the islands and waterways remain intact for future generations. It is important to follow the Shell Key Rules, since through your actions, Shell Key Preserve can remain a welcoming place for generations to come.
A "leave no trace" camping ethic is expected at all times from visitors to the preserve. Access to Shell Key is by watercraft only. There are no facilities at Shell Key Preserve, and campers are required to bring, use, and remove portable toilets. Camping is allowed only in the southern Public Use Area. Within this designated area, there are no defined campsites so visitors are free to select a camping location of their choice. Alcohol, pets, littering, nudity, fireworks and excessive noise are prohibited at all times in the Preserve.
Obtaining a Permit
All Shell Key campers are required to obtain a Shell Key camping permit. Permits will be available for $6 per day, with a limit of six guests for each permit. Campers must be listed on the permit. A vessel registration is required.
Shell Key camping permit does not include the Fort De Soto boat ramp and parking fee. Boat ramp fee is a separate permit. Overnight parking is allowed only at the Fort De Soto boat ramp. Any user parking at North Beach and Arrowhead Picnic areas are subject to a parking citation. The holder of the permit must possess valid photo identification along with their valid, signed camping permit or electronic permit while camping.
To be considered valid, a permit must:
Include complete and accurate camper information that has been received by the Fort De Soto Campground Office.
Conform to restrictions regarding the maximum party size and maximum number of consecutive days.
Acknowledge that all members of the party will abide by the rules by checking the "I agree" box.
New camping rule! Campfires and other open fires are permitted in the designated camping area only from Oct. 1 through April 30. No campfires allowed from May 1 through Sept. 30 because of turtle nesting. Violations will result in a $118 fine.
You can make apply for a Shell Key Camping Permit here. The following guidance may help you when applying:
Print the confirmation email or the printer friendly receipt that appears in the web page once the Submit button is selected.
Remember to take the completed Camping Permit with the Acknowledging Agreement of the Rules box checked and photo identification with you while camping.
---
Park Shelter Cancellations
There are no inclement weather refunds.
All modifications and/or cancellations incur a $5 administrative fee.

Modifications include shelter and/or park location changes and rescheduling of reservation.
Cancellations subject to the $5 administrative fee must be received at least three days before your reservation date.

Shelter cancellations one to three days before your scheduled reservation date will lose the cost of the reservation (taxes will be refunded).

(For example: If your shelter reservation is July 6, a request for cancellation must be received no later than 11:59 p.m. July 2.)

To cancel a reservation and receive a refund, visit the Campground Reservation System, submit a Contact Us form, or call (727) 582-2100.
Cancellations by the department because of mandatory evacuations or park closures will be refunded in full without penalty.