Regional 9-1-1 Career Fair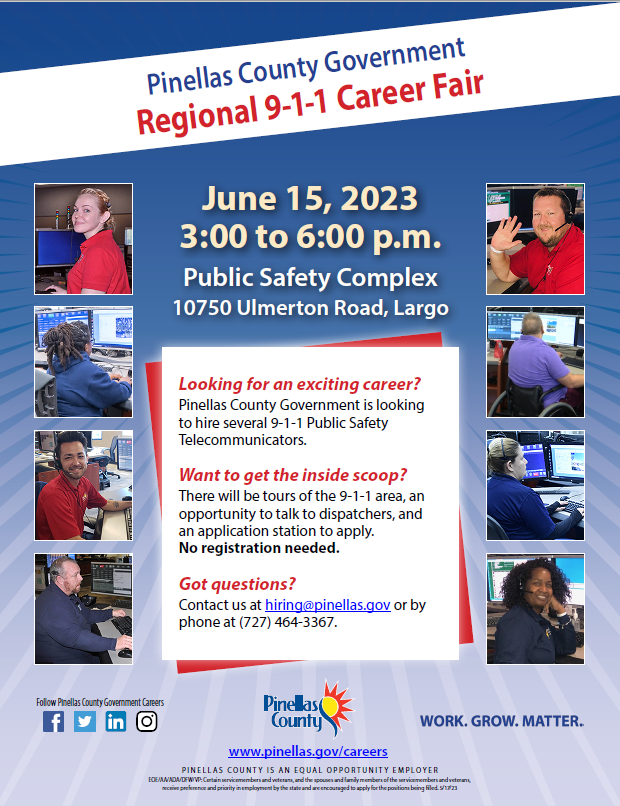 June 15, 2023
3:00 to 6:00 p.m.
Public Safety Complex
10750 Ulmerton Road
Largo, FL 33778
Mark Your Calendar
Here's your chance to get the inside scoop on an exciting career and apply on the spot!
Pinellas County Government is hiring up to ten 9-1-1 Public Safety Telecommunicator Trainees to handle 9-1-1 calls. We are looking for candidates interested in helping others in their time of need and making a real difference in the community.
No registration is needed. At the event, you can:
Tour the 9-1-1 area.
Talk with 9-1-1 hiring managers and telecommunicators.
Learn about Pinellas County's excellent benefits.
Complete a job application.
What is the most rewarding part of your job?
Here are some answers from 9-1-1 Public Safety Telecommunicators featured in our April 2023 employee newsletter:
The knowledge of doing an important public service that sometimes assists in saving lives.
– Tony Glasz
When someone just simply says, "Thank you". We see/hear people at some of the worst times of their lives and when you make a difference and they say those two words, it means the world.
– Joseph Motil
Being able to save lives by giving instructions to a family member or bystander to assist with CPR until paramedics arrive.
– Denise Rostek
Ideal Candidate
We are looking for someone with good computer and keyboard skills who is motivated and dependable with the ability to multi-task.
The minimum qualifications are a high school diploma, one year of customer service experience, and one year of computer work. For details on tasks and qualifications, see 9-1-1 Public Safety Telecommunicator.
Learn More
Questions
5/18/23