Fleet Maintenance and Repair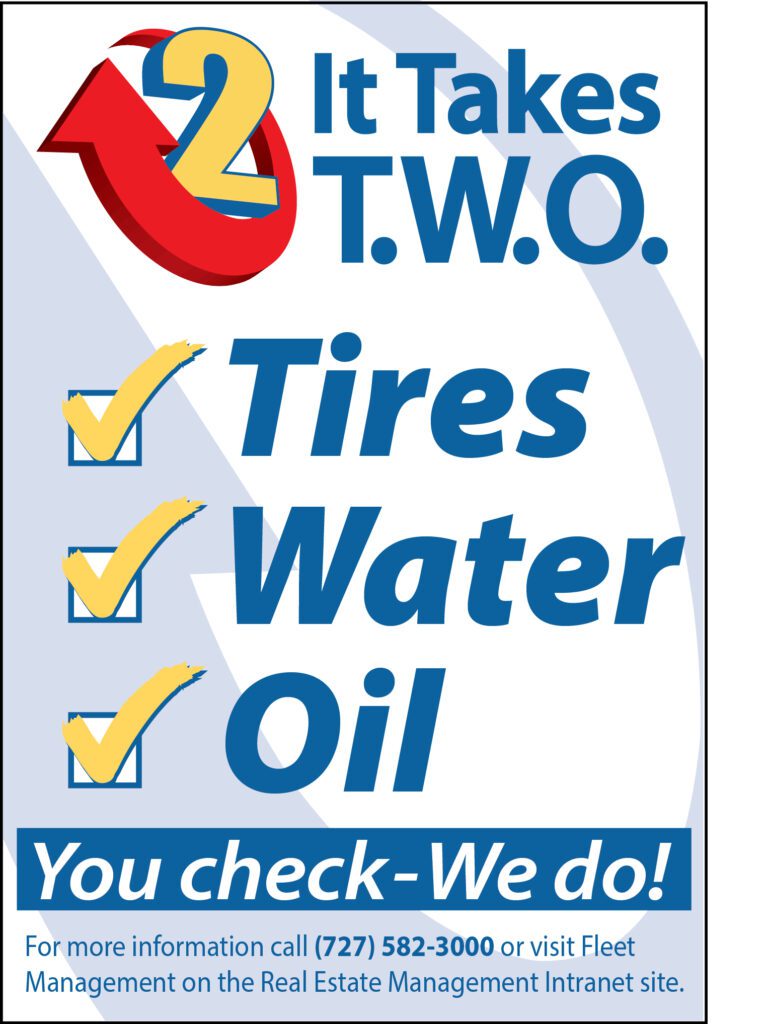 If you are using Fleet Management vehicles or equipment, please refer to the following guidelines for routine maintenance, preventative maintenance and corrective repair.
To schedule an inspection or repair at any time, contact the division at the main shop that is responsible for the type of vehicle you are assigned, or contact one of the satellite shops in your work area. In most cases, when you make an appointment, you will be given an estimated time of completion. You can also arrange for the use of a pool vehicle while your vehicle is serviced.
Routine Maintenance
Routine maintenance is regular vehicle work that occurs between scheduled preventive services. The Tires, Water and Oil (TWO) program helps promote proper routine maintenance.
Under the TWO system,
It takes TWO to properly care for and maintain a vehicle — Fleet Management and the vehicle operator.
You should take TWO minutes to check your vehicle's crucial systems at least once a week.
The TWO acronym provides an easy reminder of the systems you should look at:

Tires (pressure, wear, cuts, damage, foreign objects)
Water (coolant)
Oil (engine)
You should also be aware of dashboard warning lights, changes in the feel or operation of the brakes, and the operation of the lights, turn signals and windshield wipers. Please report any problems to the nearest fleet garage immediately.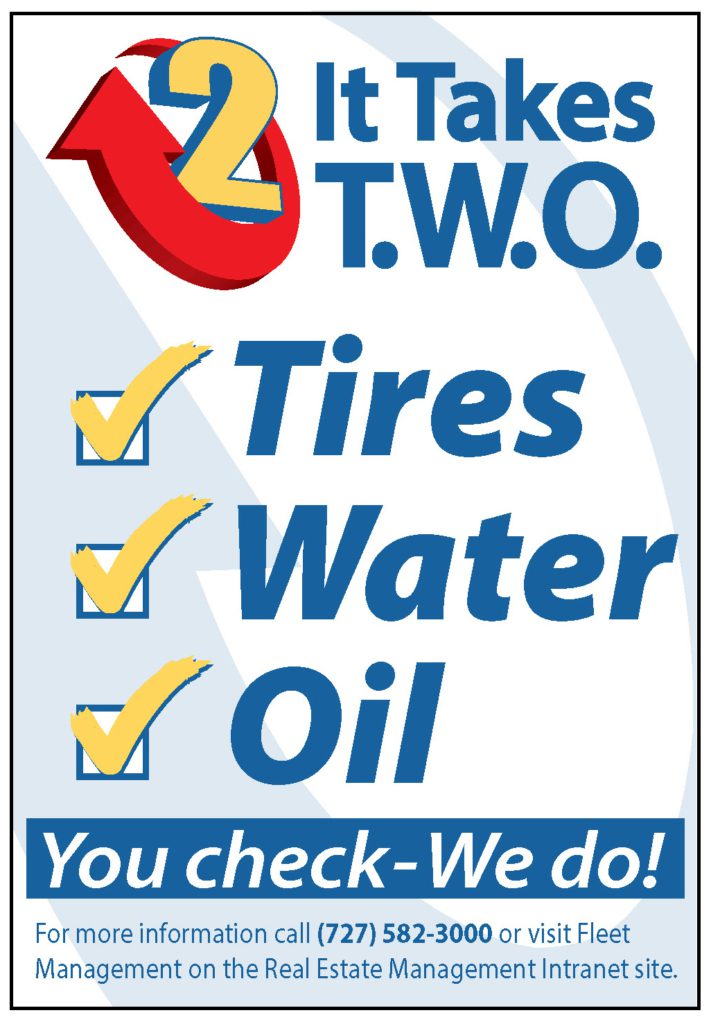 Heavy Equipment
10-Hour Service — This service is the responsibility of the equipment operator, and should be performed either daily or after every ten hours of operation. It requires an overall inspection of the mechanical systems, as well as lubrication of moving parts. For more information on performing 10-hour services on heavy equipment, contact any of the Fleet Management garages.
Preventive Maintenance
Preventive maintenance helps keep vehicles and equipment in good working order. With proper inspection and detection, we can help correct potential problems before they occur. We perform preventive maintenance services on county automobiles, trucks and equipment according to both manufacturer recommendations and the amount of accrued usage. With the exception of heavy equipment, the maintenance interval is either semi-annually or annually.
Both the customer and Fleet Management can schedule preventive maintenance.
The Computerized Maintenance Management System (CMMS) provides us with a monthly notice of vehicles and equipment due for service. We will then contact the respective departments to schedule service. It is crucial that departments / operators respond quickly to these service notifications.
The customer can also schedule preventive maintenance by contacting one of the shops in your work area, referring to the "Next Service Due" sticker on the vehicle windshield.
Corrective Repair
A corrective repair inspects, diagnoses and fixes a particular fault. If any county vehicles or equipment are experiencing operational problems, you should promptly bring them to one of the fleet garages. If you do, you may limit the damage and reduce the cost of the repairs, and allow for any applicable warranty coverage.