Pinellas County emergency beach restoration project update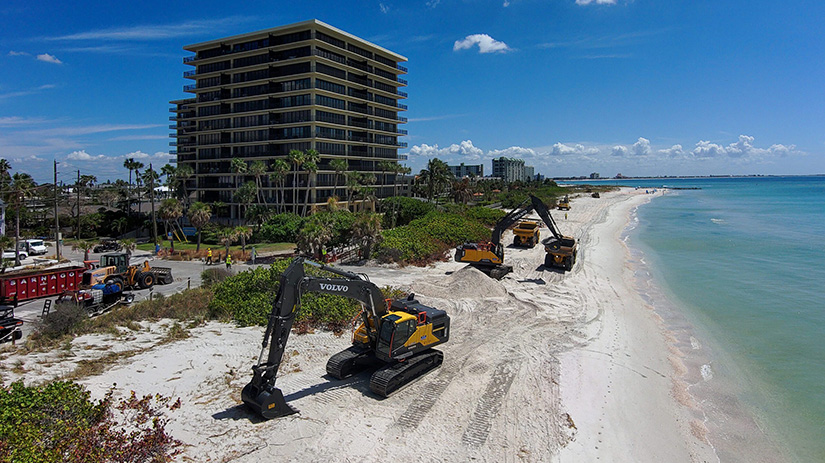 Pinellas County staff on Wednesday provided an update on the emergency beach restoration project, which is quickly helping to restore critical dune areas ravaged by Hurricane Idalia.
"We lost whole dunes, back to the parking lot in some areas," said Pinellas County Coastal Management Coordinator Dr. John Bishop. "These dunes add a lot of added protection for our community, for the infrastructure, public infrastructure, the homes, they help to stop the storm surge. But, they don't help do that if they are gone."
Sand dunes have already been constructed on Sunset Beach to provide storm protection lost through erosion caused by the storm. A contractor is now planting vegetation (mostly sea oats) to help hold the sand in place.
"We are planting four different native species of grasses," said Pinellas County Environmental Specialist Lauren Doing. "We are hoping by planting this vegetation that it will provide that extra layer of stabilization, but in order for the dunes to be able to protect from wave energy, and from winds and from storm surges even, it is important they remain intact and stable."
Residents and visitors are reminded to stay off the dunes and outside of the active beach construction areas, for their own safety and to preserve the dunes. Emergency beach restoration is also ongoing at Pass-a-Grille, Belleair Beach and Upham Beach. Indian Rocks Beach is scheduled next for restoration.
To place the necessary sand and construct dunes, Pinellas County must obtain short-term construction easements from some property owners. These County easements are temporary and different from the perpetual easements required by the U.S. Army Corps of Engineers (USSACE) project.
Pinellas County is investing visitor-generated Hotel Bed Tax funds (known as the Pinellas County Tourist Development Tax) from tourists' overnight stays to pay for the emergency beach reconstruction and other important tourism-related initiatives, such as the new Rays Stadium.
"We like to say it's 'From visitors with love'," said Visit St. Pete/Clearwater President/CEO Brian Lowack. "Because those funds that are attributed to and provide those attractions, visitors use while they are here enjoying our destination, but then us residents get to take advantage of those year-round."
To learn more and view a map of the emergency beach erosion control project visit https://pinellas.gov/projects/emergency-beach-erosion-control-project/.