Old Palm Harbor / Alt US19 Water Main Project
Project Location
Alt US19 (Palm Harbor Boulevard) to Omaha Street and Delaware Avenue to Nebraska Avenue
Project Status
Construction: Completed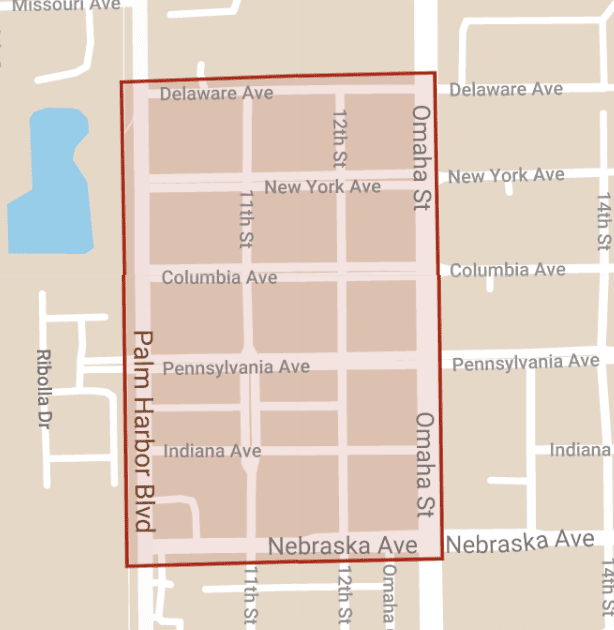 Project Overview
Pinellas County Utilities is replacing approximately 15 blocks of residential water mains in the Old Palm Harbor neighborhood. The area includes Alt US19 (Palm Harbor Boulevard) to Omaha Street and Delaware Avenue to Nebraska Avenue.
This project will improve the water quality and circulation by replacing the current potable (drinking) water mains with new pipes. It will also enhance the drinking water network system to keep the public safe.
The existing drinking water mains have deteriorating galvanized pipes and very thin substandard Schedule 20 PVC pipes. The new replacement mains are 2-inch and 8-inch high density polyethylene and Ductile Iron Pipe. New fire hydrants and automated meter readers will also be installed.
Status Update
The contractor Keystone Construction started the water main installation project on November 16, 2020. Phase 1 of the project covers the streets North of Pennsylvania Avenue to Delaware Avenue. Phase 2 is the streets South of Pennsylvania Avenue to Nebraska Avenue. The project will end with milling, paving, sidewalk installation, and plantings to stabilize the soil.
Project Funding
The project is funded by the Pinellas County Water Renewal and Replacement Fund with a fiscal year 2020-2021 budget of $1.8 million.
Maintaining Traffic
This project is not expected to affect traffic with road closures, as the majority of work is being done by directional drill. A maintenance-of-traffic plan will keep drivers, bicyclists and pedestrians safely moving through the area.
Stay Connected, Stay Informed
You can get project updates by following us on Twitter, Facebook and Nextdoor or by calling Pinellas County Customer Service at (727) 464-4000.