South Cross Bayou Advanced Water Reclamation Facility
Last updated on
Project Location
7401 54th Avenue North in St. Petersburg
Project Status
Construction: Completed
New Headworks and Grit Removal Facility Design-Build Project
Project Location
The South Cross Bayou Advanced Water Reclamation Facility – New Headworks and Grit Removal Facility Design-Build Project is located at 7401 54th Avenue North in St. Petersburg.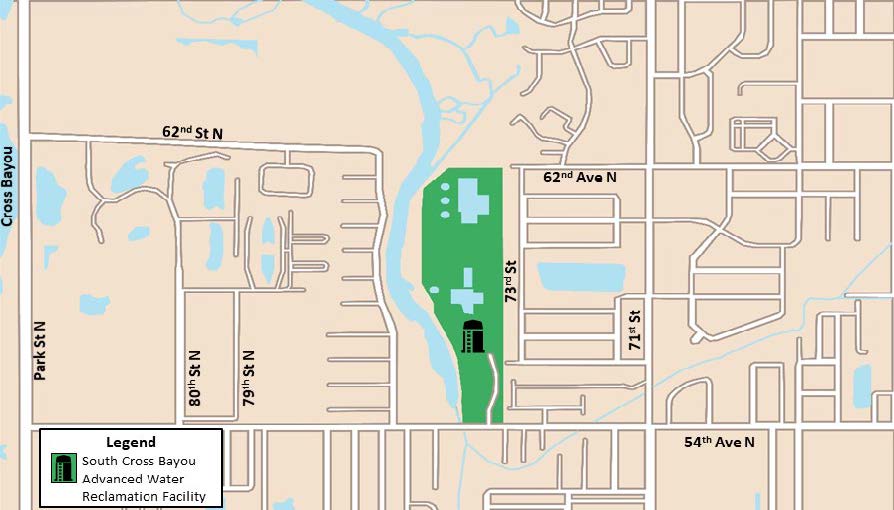 Project Overview
This project included the design and construction of a new combined headworks and grit removal structure and odor control system. This upgrade included replacing two aging out-of-date structures with a combined structure. The new structure features more effective and efficient equipment to improve screening and removal of grit and solids from incoming wastewater. The odor control system is more environmentally friendly and cost effective than the previous system. Construction began in May 2020 and was completed in August 2022.
All project construction activities were within the South Cross Bayou Advanced Water Reclamation Facility.
Engineering services for this project cost approximately $1.1 million. The total construction cost is approximately $23.9 million. The project was funded through Pinellas County's Capital Improvements Program (CIP). Pinellas County selected the Garney Construction Design-Build team based on a competitive qualification selection process.