Vaccine Ambassador Project visits Pinellas County

The Centers for Disease Control and Prevention (CDC), in partnership with the National Health Care for the Homeless Council (NHCHC) and the National Association of Community Health Centers (NACHC), awarded $2.3 million to 15 health centers in 12 states to support the Community Vaccine Ambassador Project (VAP).
VAP focuses on increasing COVID-19 vaccination rates among people experiencing homelessness, people with substance use disorder and people who engage in sex work. All three groups are at increased risk for COVID-19 infection but have experienced barriers to accessing health care.
Pinellas County is one of the 15 VAP organizations that have been working with other community partners to provide resources for people experiencing homelessness in their community.
The March 2023 Vaccine Ambassador Project Newsletter featured the following Pinellas County Site Visit Report: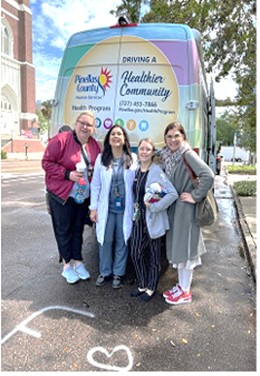 We greeted the team at Bayside Health Clinic, bustling with activity. Through the waiting room window, we see Pinellas Safe Harbor, a facility run by the Sheriff's Office as an emergency shelter and jail diversion program. Down the road we visit Pinellas HOPE, a campus of housing options for people experiencing homelessness. 145 colorful tents line the back yard, nestled next to rows of transformed shipping containers, affectionately dubbed "cottages," and a quaint clinic run by local hospital St Anthony's. Residents gather for meals, where they have the chance to stop by and see Diana and Christine to talk about vaccines. Christine works for Operation PAR, a recovery facility nestled on acres of a peaceful property, where the VAP team also does research. Facilities line the site of the campus, providing spots for eating, education, therapy, clothing, resources, and family reunification. The Vaccine Ambassador team also works with a new Syringe service program in their area to provide immunizations, completed with a private entrance.
We accompanied the street medicine team in their beautiful new van, watching them serve patients at the local Williams Park, handing out bright yellow rain jackets and fresh warm socks. The street medicine team greeted these individuals in hoped of providing needed medical attention, over the counter medications and connecting them with the VAP team for needed immunizations. Overall, Pinellas has a creative and adaptive approach with partnerships, doing a great job linking arms with those working alongside them to provide resources for people experiencing homelessness in their community.
For more information about the National Health Care for the Homeless Program, click here.