Wellness Champion Tools & Tips
Zone System
Wellness Champions are organized by zones, depending on the department's location in Pinellas County. There are four zones. (Zone A is north, Zone B is central, etc.)
Please communicate and collaborate with Champions in your zone! Brainstorm together, exchange ideas and share resources.
If your department has locations in other zones, you will be listed in multiple zones in the directory. If you'd like to be listed on only one zone list for emails, please email Jane Grannis, Wellness Program Manager.
Email Communication
Outlook Zone Distribution Lists
Outlook distribution lists are a tool for Champions to communicate with one another. Please use these handy lists to email your zone-mates to share ideas you're implementing in your department or to ask for ideas or information. Please "cc" Jane Grannis on your emails.
To access the distribution list:
In Outlook, click To, type wellness and press tab.
You'll see a choice of Wellness Champions Zone A, B, C and D.
Select your zone, and you can quickly send an email to your zone-mates.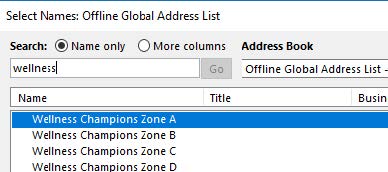 Champion and Wellness Bulletins
The Wellness Program team will communicate important news such as classes, presentations and screenings to you in the Champion Bulletin. This newsletter is for Champions ONLY and not to be forwarded to employees. Look for action items in red with a checkmark.
For your convenience, a separate Wellness Bulletin (or other email, as appropriate) will be emailed with a specific request to forward it to your employees, with no additional effort needed on your part.
Wellness Calendar
You will be given permission to access the Wellness Calendar in Outlook. Use the calendar to view County events, presentations, screenings and learning series. In certain cases, you may be asked to add events for your location to the calendar.