New affordable apartments open in St. Pete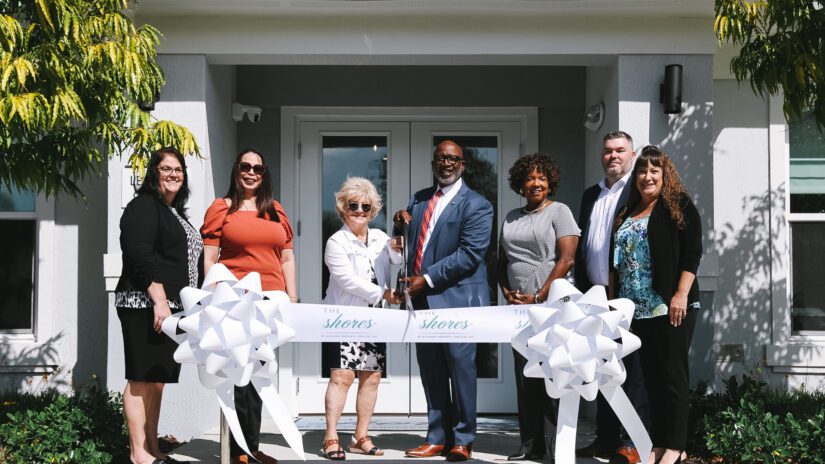 Pinellas County Government and the City of St. Petersburg on Tuesday, Feb. 21, 2023, celebrated the opening of a new affordable apartment community that is providing high-quality homes for people struggling with the high cost of housing.
The Shores Apartments at 2605 31st Street S., St. Petersburg, is already housing more than 50 individuals and families in one-, two- and three-bedroom units set aside for those who earn less than the area's median income. With the persistent need for housing priced below market rates across the county, The Shores quickly filled up and is currently fully leased.
The Shores marks another successful public-private partnership supported by the Advantage Pinellas Housing Compact, an agreement by local governments to create lasting solutions for countywide housing.
"With so many hardworking Pinellas residents struggling with the cost of housing, there's never been a more urgent time for all of us to act together to make more projects like this happen in our community," said Pinellas County Commission Chair Janet C. Long.
"Over the next year, we plan to bring cities, businesses, nonprofits, developers and many other partners together to take bold actions that will ensure housing remains attainable for residents at all income levels."
"Neighborhood Health and Safety, one of my administration's Pillars for Progress, goes hand in hand with affordable and workforce housing," said St. Petersburg Mayor Kenneth T. Welch.
"Through this successful public-private partnership, The Shores Apartments is on a long list of projects recently completed, under construction, or approved for funding. A thriving and vibrant St. Petersburg is only possible when there are housing opportunities for all."
Pinellas County contributed $750,000 in Penny for Pinellas housing funds to acquire the land and provide permanent affordability for this $12.6 million project. The City of St. Petersburg contributed $567,000 of South St. Petersburg Community Redevelopment Area (CRA) funds to the project.
The Housing Finance Authority of Pinellas County (HFA) used Penny for Pinellas Land Assembly Funds to acquire the land for the development.  The land was placed into a land trust that is administered by the HFA as trustee then leased to the developer for 99 years (and renewable for another 99 years after that) in exchange for the developer agreeing to keep the units affordable in perpetuity. 
All units in The Shores will be set aside for those making 60 percent or less of the area's median income, approximately $34,500 for an individual or $49,260 for a family of four.
The apartments are located along a major commercial corridor on 31st Street South in close proximity to transportation, grocery stores, shopping and other amenities.
Pinellas County and city partners support preservation, rehabilitation and new construction of homes that bring more affordability to the market by using a mix of federal, state and local funding sources.
Over the past year, six affordable developments opened providing 227 new homes to local residents, with another six projects with 970 units currently approved or under construction at affordable, workforce and market rates.
About the Advantage Pinellas Housing Compact
Pinellas County has partnered with Forward Pinellas and several municipalities in a countywide housing compact aimed at increasing housing at all income levels linked to transportation, jobs, schools, workforce development, and other services.
Over the next year, compact partners will be finalizing a Housing Action Plan laying out steps to open the door to more housing choices that are attainable to people across the county.
Learn more at www.homesforpinellas.org.