Pinellas approves funds for four new affordable developments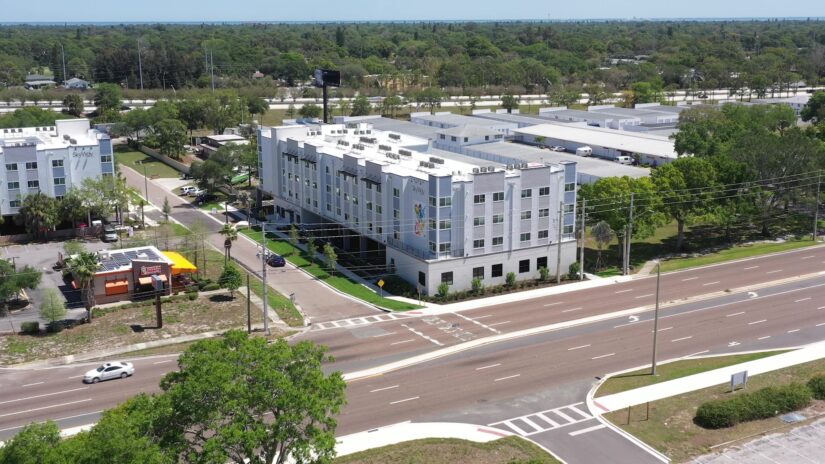 The Pinellas County Board of County Commissioners took another big step toward creating more local housing choices with the approval Tuesday of $12.51 million in County funds to support four developments in Lealman, Ridgecrest and St. Petersburg, totaling 307 new units.
The planned apartments exemplify the goal of the new Housing Action Plan announced at the recent Homes for Pinellas Summit: to create quality homes affordable to people of all incomes.
With the approval of these new funds, Pinellas County and local municipalities have 10 projects approved or under construction around the county, which will bring nearly 1,000 new affordable and workforce homes.
Local development partners who participated in the countywide summit plan to construct these four apartment communities, which will rent to families that make 80 percent or less of the Area's Median Income (AMI) – that is, $65,700 per year for a four-person household.
Currently, 1 in 3 Pinellas households struggle to afford their monthly rent or mortgage, paying more than a third of their income on housing.
About the new developments
Skyway Lofts II will bring 66 quality apartments adjacent to the successful Skyway Lofts development, which opened in 2022 in the Skyway Marina District. All units will be for households making 80 percent or less of AMI. Construction site located at 3800 34th Street S., St, Petersburg. Total project cost: $22.99 million. Pinellas County support: $3.4 million in Penny for Pinellas funds. The City of St. Petersburg is also providing $6.5 million for the project. Developer: Blue Sky Communities.
Burlington Post II will offer 75 units for seniors with income levels at or below 80 percent of AMI, with some units restricted to 60 and 30 percent of AMI. The new apartments will be located adjacent to the 86-unit Burlington Post in St. Petersburg. Construction site located at corner of Burlington Avenue North and 33rd Street North. Total project cost: $28.41 million. Pinellas County support: $3.750 million, including $3.5 million in Emergency Rental Assistance funds and $208,023 in Housing Trust funds. The City of St. Petersburg is providing an additional $5.625 million. Developer: Green Mills Group.
Lealman Heights will provide 86 apartments in the heart of the Lealman Community Redevelopment Area for households making 80 percent or less of AMI. The new apartments will replace 38 older units on the property in need of significant investment. The developer will work with current tenants to find alternate affordable housing and then help them move back in after the project is complete. The project is the culmination of years of work by the County, including purchasing numerous properties in 2016 with Penny for Pinellas funds. Total project cost: $23.59 million. Pinellas County support: $2 million in federal Neighborhood Stabilization funds. Developer: SP Pinellas II.
Heritage Oaks will offer 80 new quality apartments for seniors, replacing 48 existing units in the Rainbow Village public housing community that have become functionally obsolete. Current residents will be relocated during construction and offered one of the new units once completed. All units will be reserved for seniors making 60 percent or less of AMI. This project will be the first phase of four in the redevelopment of Rainbow Village, which is located at 12455 130th Avenue N., Largo. Total project cost: $28.98 million. Pinellas County support: $2.5 million in federal HOME Investment Partnership Program and Community Development Block Grant funds, $860,000 in State Housing Initiatives Program (SHIP) funds as well as $610,000 previously approved SHIP funds. Developer: Newstar Development LLC.
Partner support
The Pinellas County Housing Finance Authority will provide bond financing for Skyway Lofts II, Burlington Post II and Lealman Heights and is the trustee for the land trusts for Skyway Lofts II and Lealman Heights. The Pinellas County Housing Authority will be a co-developer for the Heritage Oaks project.
About the Housing Action Plan
To date, Pinellas County and Forward Pinellas, along with the cities of Clearwater, Gulfport, Largo, Oldsmar, Pinellas Park, St. Petersburg and Treasure Island have all signed the Advantage Pinellas Housing Compact, an agreement by local governments to create lasting solutions for countywide housing.
Compact partners have made strides to fill the affordability gap by incentivizing development of homes set at affordable rents through a mix of local, state and federal funds. The new Housing Action Plan will broaden these efforts by bringing in private industry and nonprofit partners to build financial and community support for a wider range of homes linked to transportation, jobs and other essential services.
Learn more about the Housing Compact at advantagepinellas.org/homes-for-pinellas/compact-focus-areas/.
Other Commission actions
• The County Commission recognized the life-saving work of three first responders, Emergency Medical Dispatcher Craig Brown, Public Safety Telecommunicator Joe Motil and Emergency Medical Technician Chris Barnes. See their stories on YouTube.
• The Commission also highlighted Mental Health Awareness Month with a proclamation honoring the effective work of the Pinellas Integrated Care Alliance who represent the funders of Behavioral Health Services. The partners collaborate regarding programs, needs and outcomes of the system to ensure the effectiveness of services being provided in Pinellas County. Partners present included: Linda McKinnon, President & Chief Executive Officer of the Central Florida Behavioral Health Network, Dr. Ulyee Choe, Director of the Florida Department of Health in Pinellas County, Beth Houghton, Chief Executive Officer of the Juvenile Welfare Board, David Danzig, Assistant Chief Deputy for the Pinellas County Sheriff's Office and Lourdes Benedict, Assistant County Administrator for Pinellas County Government. Also in attendance was Siomara Bridges-Mata, Executive Director of the National Alliance on Mental Illness Pinellas County, to receive the proclamation and represent NAMI- Pinellas.