About 9-1-1

When to Call 9-1-1
You should call any time that you are experiencing or witnessing a police, fire, or medical emergency. When you simply have a question or if there is no immediate danger, you should call the non-emergency number for the appropriate agency.
| CALL 911 | DO NOT CALL 911 |
| --- | --- |
| to report a fire | for routine law enforcement questions |
| to report a crime in progress or about to occur | for weather information |
| to report an accident | for directions |
| for serious medical problems | for directory assistance |
| when someone's life is in danger | to complain about animals or loud noises from neighbors |
| when property is being damaged | to report utility problems |
During the Call
If you call 9-1-1 on a cell phone, your location may not automatically display as it does when calling from most home/business phones.
Be Prepared to tell the 9-1-1 Telecommunicator …
What the emergency is and what type of assistance is needed
The exact location of the emergency
(Address, street intersection, landmarks, city, county, mile marker, etc.)
The cell phone number you are calling from
Information about the emergency
Things to Remember…
Stay calm and speak clearly!
Do not hang up until the 9-1-1 telecommunicator has answered the phone and asked questions to obtain all information needed to dispatch a response.
Stay on the line even if your call was accidental. Hang-up calls delay responses to emergencies.
For your safety, when calling 9-1-1 on a cellular phone, be sure to stop if you are in a moving vehicle.
---
Text to 9-1-1 – Call if you can, Text if you can't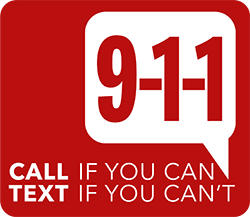 Sometimes, it may be impossible or unsafe to call 9-1-1. Residents and visitors in Pinellas County can send a text message to 9-1-1 during an emergency or life-threatening situation.
When seconds matter, a voice call to 9-1-1 is the best and fastest way for the 911 call taker to retrieve and deliver life-saving information. A text message may take longer. You might consider texting 9-1-1 instead if:
You are deaf or hard of hearing.
You are speech impaired.
Making a voice call places you in a dangerous situation.
Text to 9-1-1 is available throughout Pinellas County, but is not available throughout the United States. You can check the Statewide Text-to-911 Initiative to learn where the service is currently available in Florida.
If your text message is not received by an emergency dispatch center, you will receive a bounce-back message informing you that you need to place a voice call to 9-1-1.
How to Text 911
Enter the number "9-1-1" in the "To" or "Recipient" field of the text message.
The first text message should be short. Include the location of the emergency and ask for police, fire or ambulance.
Push the "Send" button.
The 9-1-1 telecommunicator will respond with additional questions. Please answer promptly.
Text in simple words. Do not use abbreviations or slang. Keep text messages short.
Things to Remember
The following guidelines will help keep you safe and help telecommunicators get help to you more quickly.
Include your exact location and the nature of the emergency.
Silence your phone if you are in a dangerous situation.
Avoid using slang, jargon or abbreviations.
Do not send photos, emojis or videos.
Do not send a group text.
Use English text. Translation services are only available for voice calls.
Stay available to respond to texts from 9-1-1 unless released by the telecommunicator.
Additional information from the Federal Communications Commission.
---