Juvenile Justice Citizens Academy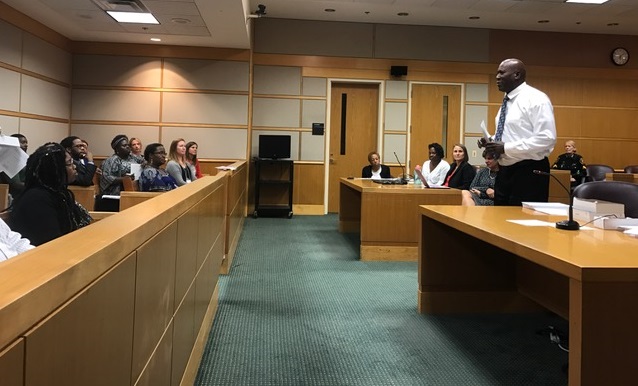 Learn About the Juvenile Justice System
The Juvenile Justice Citizens Academy is designed to provide members of the community with the opportunity to gain specific knowledge about the workings of the Pinellas County Juvenile Justice System. Over the academy's eight-week duration, participants will have the opportunity to hear from juvenile justice stakeholders and decision-makers.
Through seminars and discussions, participants will learn about the roles, services and responsibilities of various stakeholders at all points in the Juvenile Justice process from prevention to commitment. Participants will also be offered the chance to tour some of the local juvenile justice facilities in-person.
The Juvenile Justice Citizens Academy (JJCA) is intended to provide information and does not train or promote citizens to act in a law enforcement capacity.
Next Academy: April 6th – May 25th, 2023
The JJCA will be held weekly (8 sessions) in a hybrid format with some sessions held virtually and others in-person.
Enrollment
Class Enrollment is limited.
Apply here for the Juvenile Justice Citizens Academy beginning March 2023
Adult residents of Pinellas County are eligible to attend. Business leaders, civic representatives, criminal justice students as well as members of the community are encouraged to participate.
Participants in the Academy will:
Learn about the Juvenile Justice system from prevention to commitment.
Understand how citizens can become engaged in Juvenile Justice.
Participate in dialogue with juvenile justice stakeholders and partners.
Fees and Attendance
The program is offered free of charge.
Participants are required to attend 6 of the 8 sessions in order to receive a certificate of attendance.
For additional information, please contact Jackie Santos with Pinellas County Office of Justice Coordination at (727) 453-7436 or jsantos@pinellas.gov
If you are a person with a disability and need any accommodation to participate in this program, you are entitled, at no cost, to the provision of certain assistance. If you need assistance, contact the Pinellas County Office of Human Rights at (727) 464-4062.