Pinellas County Commission recognizes Fire Professionals of the Year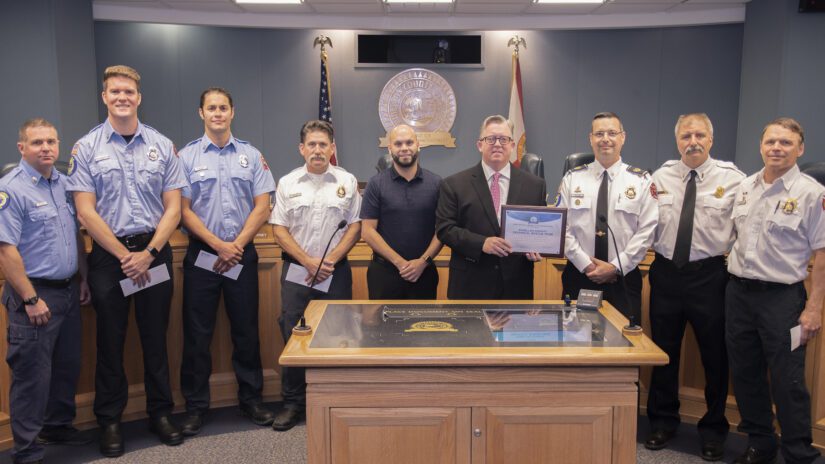 The Pinellas County Board of County Commissioners on Tuesday honored the 2022 Fire Professionals of the Year. The awards are given annually to those who go above and beyond the call of duty in providing professional fire services to the community and other members of the fire services.
Honored were:
Michael Ross, firefighter/paramedic with Palm Harbor Fire Rescue, Fire Professional of the Year. Ross' heroic effort while off-duty saved the life of a neighbor whose car had slipped into the water while at a boat ramp.
Calvin Hunsinger, Pinellas County Regional 9-1-1 Supervisor, Fire Dispatcher of the Year. Earlier this year, he took a call from a panicked individual as flames and smoke filled their home. He gathered the necessary information and kept the person calm as help arrived.
The Pinellas County Technical Rescue Team, named the Special Operations Team of the Year. Made up of more than 120 members from across Pinellas County, the team uses special equipment and techniques to perform high-risk rescues. Four fire departments are represented on the team: St. Petersburg, Pinellas Park, Largo and Clearwater.
Along with the fire awards, the Board issued proclamations recognizing Fire Prevention Week and National Breast Cancer Awareness Month. Introduced were Chief Rick Graham of Lealman Fire Rescue, president of the Pinellas County Fire Chiefs Association, and four members of the Florida Department of Health in Pinellas County: Valarie D. Lee, Lisa Field, Sharon Haggans and LaShun Williams.
An estimated 291,000 new cases of invasive breast cancer and more than 51,000 cases of non-invasive cancer are diagnosed in the United States each year, with an estimated 44,000 people losing their lives. One in eight woman and one in 833 men will develop breast cancer at some point in their lives.
Behavior Health Coordinated Access Model
The Board also awarded a contract to Unite USA, Inc. doing business as Unite Us for the Pinellas County Behavioral Health Coordinated Access Model (CAM), to implement and operate the CAM. This client-centered approach will streamline local residents' access to behavioral health services by providing a main entry point for the support they need. The new system will connect them directly to a scheduled appointment for services and support a coordinated response among multiple partner agencies.