Safe Routes To School
Last updated on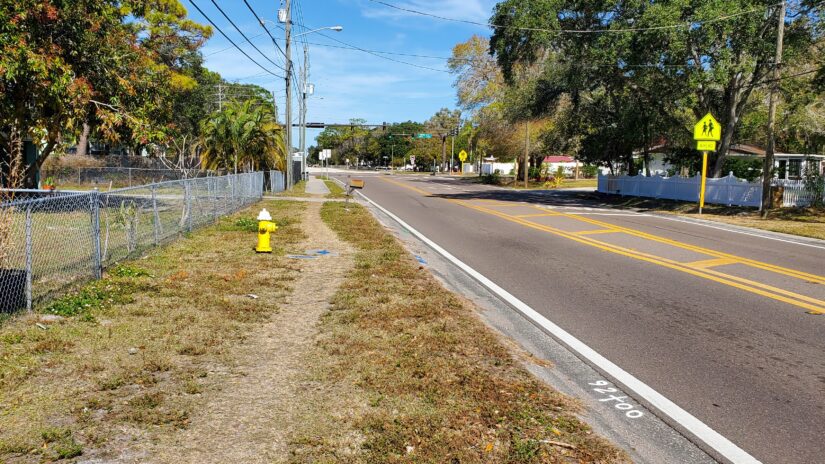 Project ID
006033A; 006046A; 006049A; 006050A; 006030A; 006045A; 006048A; 006051A
Project Location
Multiple, see community-specific info
Project Status
Design: In progress
Project Overview
Pinellas County's Safe Routes to Schools project is part of a state and national initiative to increase the number of children who walk or bicycle to school by funding projects that make it easier and safer for them to do so. The goal of this project is to provide safe routes to K-8 schools for pedestrians and cyclists in unincorporated Pinellas County.
The project prioritizes new sidewalk segments based on factors such as population density, ability to complete gaps that improve overall network connectivity and proximity to bus stops, parks and schools.
Project Locations
*For specific questions, the Project Manager is listed beside each project segment. Contact information is at the bottom of this page.
Dansville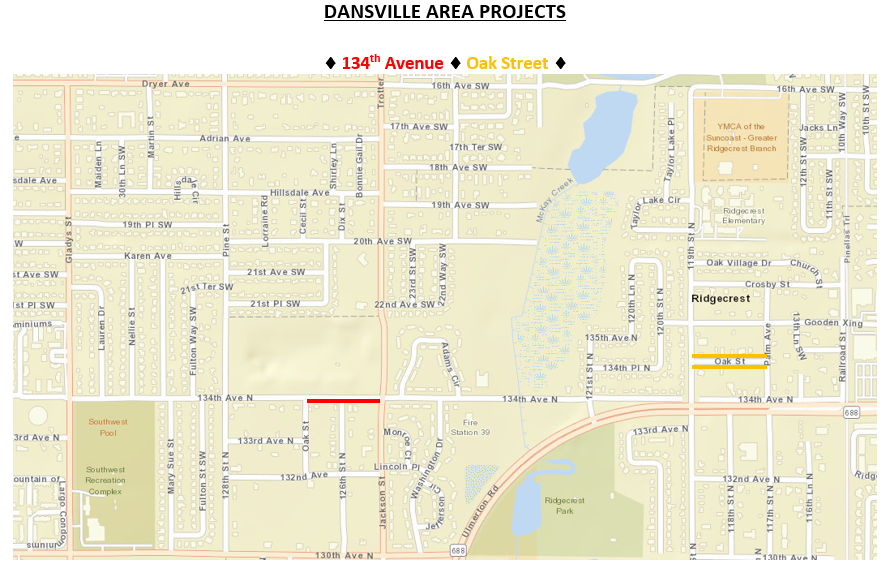 134th Avenue, from Oak Street to Trotter Road/125th Street (PM: Rice)
Oak Street, from 119th Street to Palm Avenue (PM: Hetrick)
High Point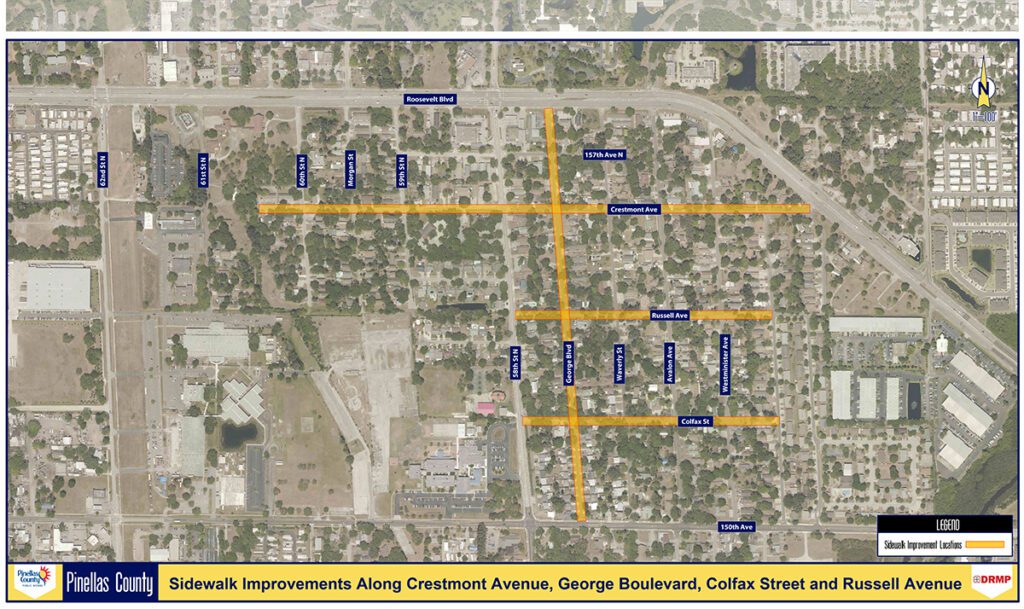 Lealman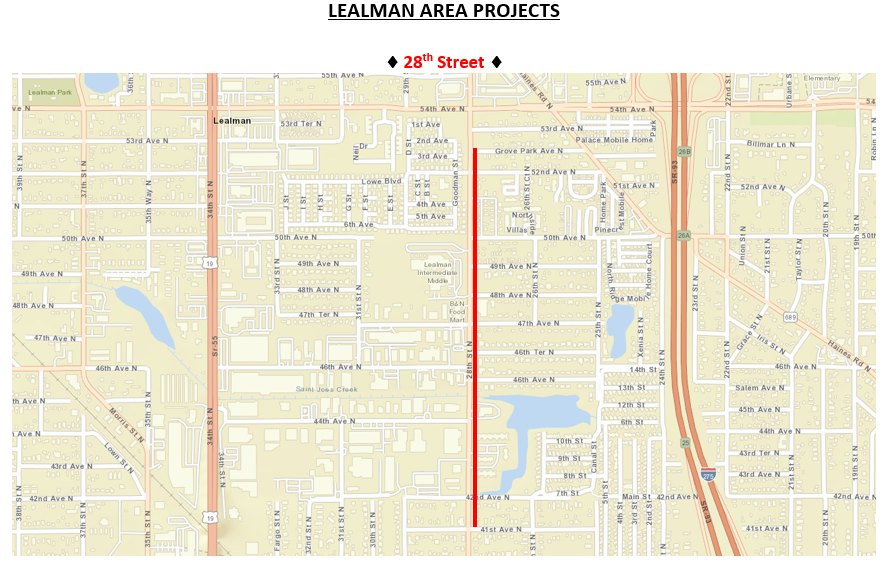 28th Street, from 40th Avenue to Grove Park Avenue (PM: Rice)
Ridgecrest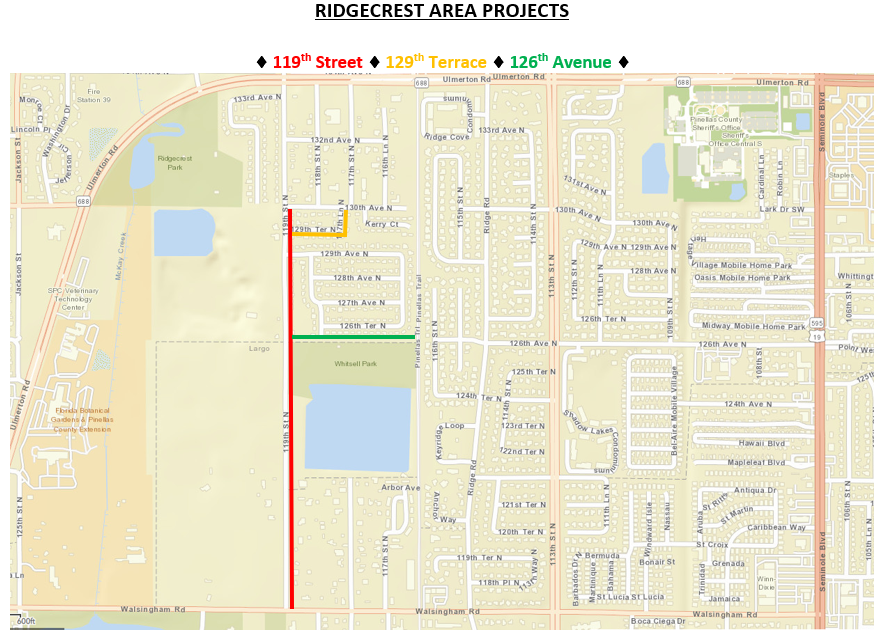 119th Street, from Walsingham Road to 129th Avenue (PM: Rice)
126th Avenue right-of-way (north of Whitesell Softball Fields) from 119th Street to the Pinellas Trail (PM: Rice)
129th Terrace, 119th Street to 130th Avenue (PM: Rice)
Anticipated Project Timeline
Overall Design: 2022 – 2024
Overall Construction: 2024 – 2026
Dansville Construction Start: Spring/Summer 2024
High Point Construction Start: Summer/Fall 2024
Lealman Construction Start: Spring 2025
Ridgecrest Construction Start: Spring 2025
Community Outreach
Nov. 14, 2023: Pinellas County held an open house community meeting from 5 – 6:30 p.m. at the High Point Neighborhood Family Center, 5812 150th Ave. N., Clearwater, to provide an update on the project work happening in the High Point community. Pinellas County staff shared the design, schedule and answered questions.

The latest information can be found here.
Project Funding
This project is supported by:
Federal award number SLFRP4653 awarded to Pinellas County Government by the U.S. Department of the Treasury. (American Rescue Plan Act of 2021)
Contact Us
*Please contact the relevant project manger for questions and additional information.
Joan Rice, PE
Project Manager
Public Works / Transportation
22211 US Hwy 19 N, Clearwater, FL 33765
(727) 464-8610
jrice@pinellas.gov
Michael Hetrick
Project Manager
Public Works / Transportation
22211 US Hwy 19 N, Clearwater, FL 33765
(727) 464-8819
mhetrick@pinellas.gov