South Cross Bayou Advanced Water Reclamation Facility
Environmental Commitment through Resource Recovery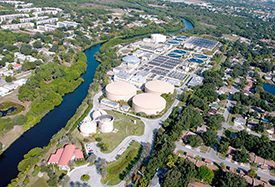 The South Cross Bayou Advanced Water Reclamation Facility (AWRF) was first built in 1962 as a 5 million-gallon-per-day (MGD) trickling filter plant. It has since evolved into a 33 MGD advanced wastewater treatment plant and resource recovery facility. It is the largest wastewater treatment facility in Pinellas County.
The facility has a focus on sustainability with its resource recovery program. It produces 4.4 billion gallons of reclaimed water for irrigation, which helps conserve potable (drinking) water. South Cross Bayou AWRF also produces more than 6,000 tons of fertilization from recycling nearly all of the biosolids at both county plants, which includes the William E. Dunn Water Reclamation Facility.
As another sustainable practice, the facility captures the green energy of digester biogas in the pelletizing process. This offsets the use of natural biogas and saved nearly $140,000 in 2016.
South Cross Bayou AWRF Facts
Treats an annual average of 22 MGD of wastewater.
Has two parallel wastewater treatment process trains.
Uses two disinfection methods: Ultraviolet for surface water discharge and chlorine in its reclaimed system.
Distributes an average of 14.6 MGD of reclaimed water to more than 21,000 residential and commercial customers.
Operates and maintains 179 pump stations.
Major Processes at South Cross Bayou AWRF
Headworks with perforated plate band screens followed by teacup grit removal
Activated sludge treatment in an anoxic/aerobic configuration
Deep-bed denitrification filters with methanol addition
Effluent disinfection using chlorine and sodium hypochlorite for reclaimed water
Effluent disinfection using ultraviolet disinfection for surface water discharge into Joe's Creek (Class III marine water)
Odor control
Reclaimed water storage and pumping
Egg-shaped digesters
Fats, oils and grease (FOG) receiving station
Septage receiving station
Sludge thickening (rotary drum thickeners) and dewatering (centrifuges)
Thermal dryer with dried pellet storage through a partnership with Synagro Technologies Inc. – a waste recycling company that handles pelletizing and marketing/distribution
How We Serve the Community
The South Cross Bayou AWRF has a long history of community outreach and public education. Working under the tagline, "Innovate – Create – Educate," the facility is an experiential learning platform that links the classroom to real-world applications. Our tours and presentations show the importance of using resources from wastewater, describing the facility as a "factory" that produces reclaimed water, fertilizer and energy. Tour groups have included elementary, middle, high school and college students, Public Works Academy participants, and even two groups from Southeastern Guide Dogs Inc.
Schedule a tour of South Cross Bayou Advanced Water Reclamation Facility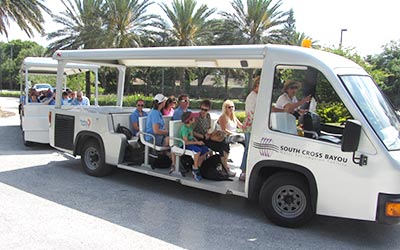 Portions of this content published in the November 2016 Florida Water Resources Journal, page 48-49