Pinellas Housing Action Plan debuts at Summit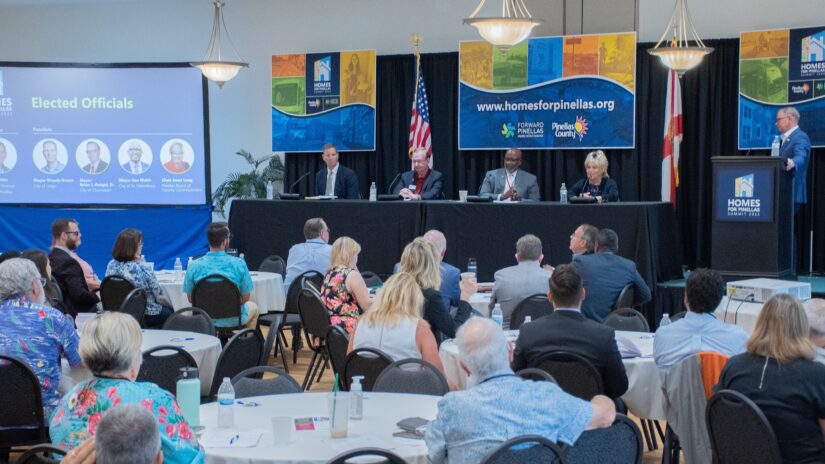 With 1 in 3 hardworking Pinellas families struggling to afford housing, local governments, businesses, developers and other community leaders gathered Friday to commit to a new plan for creating more homes that people of all incomes can afford.
More than 120 people, from elected officials and chamber presidents to housing advocates, gathered for the 2023 Homes for Pinellas Summit: A Time to Act, which took place at the Central Park Performing Arts Center in Largo.
The event was the first countywide gathering of its kind to take place in person, following a virtual Homes for Pinellas Summit in 2020, moving the conversation beyond just local government policy to ways private industry and nonprofits work together to produce more housing choices.
During the event, local governments that have signed onto the Advantage Pinellas Housing Compact rolled out a new Housing Action Plan, which highlights specific ways the community can come together to bring more housing choices to Pinellas County over the next 10 years.
The Action Plan calls for updating codes and streamlining regulations to allow for more types of homes, building more homes for workers along transit corridors, and creating new sources for financing across jurisdictions. The full plan is now available online.
The full video from the 2023 Homes for Pinellas Summit is available on YouTube.
"Our community is full of good people who are the backbone of our society, who make life work, and who are fighting to make a home here in a tough situation," said Janet C. Long, Chair of the Pinellas County Board of County Commissioners.
"If we work together, we can make sure Pinellas is a place that all of us can continue to call home. With a little faith, commitment and creativity, I believe we can create that kind of future for Pinellas County."
County Commissioners and mayors from the county's largest cities, including St. Petersburg, Clearwater and Largo, joined with private industry and nonprofit leaders, including Raymond James, HCA Florida, the Florida Chamber Foundation, the Tampa Bay Partnership and the Florida Housing Coalition to share insights on the state of local housing prices and potential solutions. A wide variety of other partners also attended, including the Pinellas County School Board, Pinellas County Housing Finance Authority, Pinellas County Housing Authority, local developers, real estate agents, housing advocates and many more.
Partners then rolled up their sleeves and spent the afternoon working on how to enact the new plan.
Key points from the Housing Action Plan include:
Welcome diverse new housing options by updating codes to allow for a range of homes, such as townhomes, accessory dwelling units, tiny homes, mixed-use buildings & more.
Simplify regulations across county-city lines to make it easier to develop homes at a range of income levels.
Maximize housing near transportation, jobs, education & other amenities by offering increased residential density along major corridors.
Solidify new development funding sources, such as loans for workforce housing near transit.
Incentivize permanent affordability to keep prices stable even as the housing market changes over time.
Empower struggling homeowners to protect and improve their homes through financial support programs.
Set targets for new market-rate, workforce and affordable housing units to fill the current gap.
Transform surplus government land into homes through public-private partnerships.
About the Housing Compact
To date, Pinellas County and Forward Pinellas, along with the cities of Clearwater, Gulfport, Largo, Oldsmar, Pinellas Park, St. Petersburg and Treasure Island have all signed the Advantage Pinellas Housing Compact, an agreement by local governments to create lasting solutions for countywide housing.
Compact partners have made strides to fill the affordability gap by incentivizing development of homes set at affordable rents through a mix of local, state and federal funds; in 2022, Pinellas County saw approval, construction or completion of 1,100 new homes affordable for people at all income levels.
The new Housing Action Plan will broaden these efforts by bringing in private industry and nonprofit partners to build financial and community support for a wider range of homes linked to transportation, jobs and other essential services.
Learn more about the Housing Compact at advantagepinellas.org/homes-for-pinellas/compact-focus-areas/.