Solid Waste partners with Code Enforcement to help property owners in need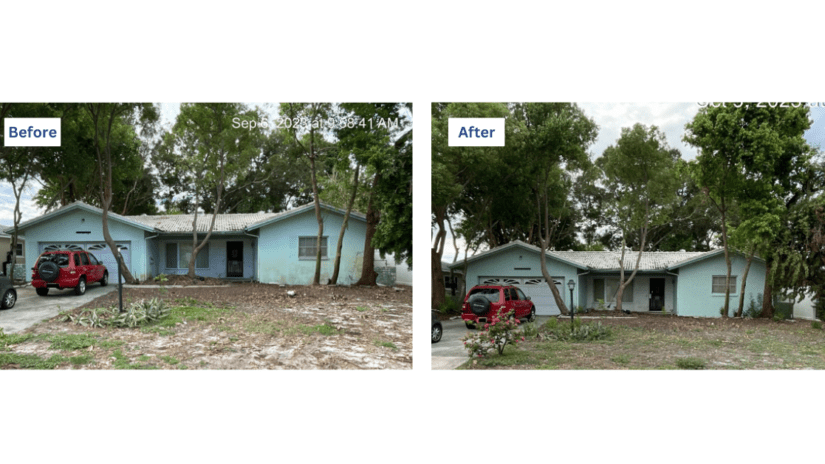 Photo Caption: Before and after photos of the Clearwater home that was assisted by the partnership.
Pinellas County Solid Waste's Household Hazardous Waste (HHW) programs help redirect usable household hazardous waste collected from residents, such as paint, for reuse at the HHW Center. The HHW Center and Pinellas County Code Enforcement Division have partnered up to offer these materials to cited property owners who do not have the means to purchase the items needed to repair their homes. Code Enforcement can determine which property owners need assistance and provide them with information about Solid Waste's HHW reuse program.
Program Success
Although the partnership program is still fairly new, there has already been noted success! Recently, Pinellas County staff were able to help a property owner in Clearwater through the reuse program. The property was experiencing an overgrowth of grass and weeds, trash buildup, dirt and mold stains on the exterior of the home, and severe chipping and peeling of the exterior paint. After pruning the overgrown trees and weeds in the yard, the property owner did not have the funds to paint the exterior of the home. The HHW Center provided them with a five-gallon container of seafoam green paint—which matched the existing color of the home! The property owner used what they needed and returned the remaining paint to the HHW Center to be reused by someone else. There was about one gallon leftover! See below for before and after photos of the property's transformation.
If you live in unincorporated Pinellas County and are facing a similar issue, contact hhw@pinellas.gov with your Code Enforcement citation case number. We may be able to help you!
Before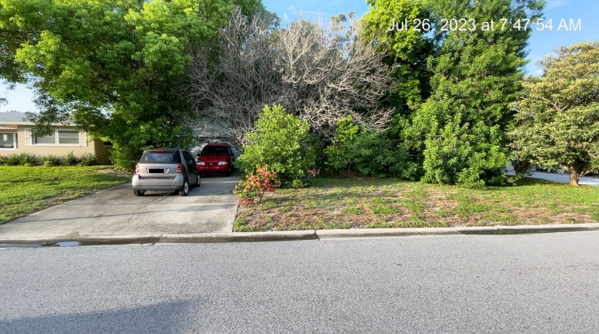 After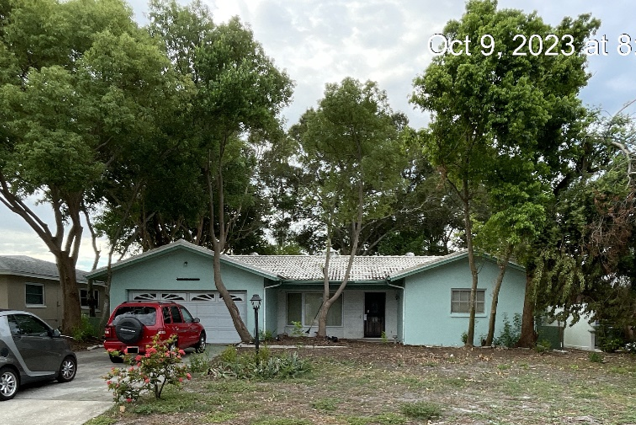 How Does the Program Work?
Step 1: HHW Center staff separate and store materials they receive that can be used to repair or maintain property (such as paint, caulking, roofing tar, etc.) to make them available for cited property owners in need.
Step 2: Code Enforcement provides the HHW Center's contact information (hhw@pinellas.gov) to property owners who might need it.
Step 3: The property owner contacts the HHW Center and provides their case number and a list of materials that they need to bring their property into compliance with County codes.
Step 4: HHW Center staff verify the case number and need with Code Enforcement.
Step 5: HHW Center staff inform the property owner of the available materials and instruct them to bring identification and their case number to the HHW Center during normal operating hours to collect the materials.
Step 6: When the property owner arrives, HHW Center staff verify the property owner's identity and deliver the materials to their vehicle.
Step 7: The property owner uses these materials to repair their home and resolve their code enforcement violations.