Current Water Sources

Pinellas County Utilities customers receive drinking water from sources managed by the regional water supplier, Tampa Bay Water. Tampa Bay Water's system is a complex, reliable and sustainable water supply system. It's not just unique to Florida. Tampa Bay Water is unlike any other water supply system nationwide because it blends river water, desalinated seawater, reservoir water and groundwater.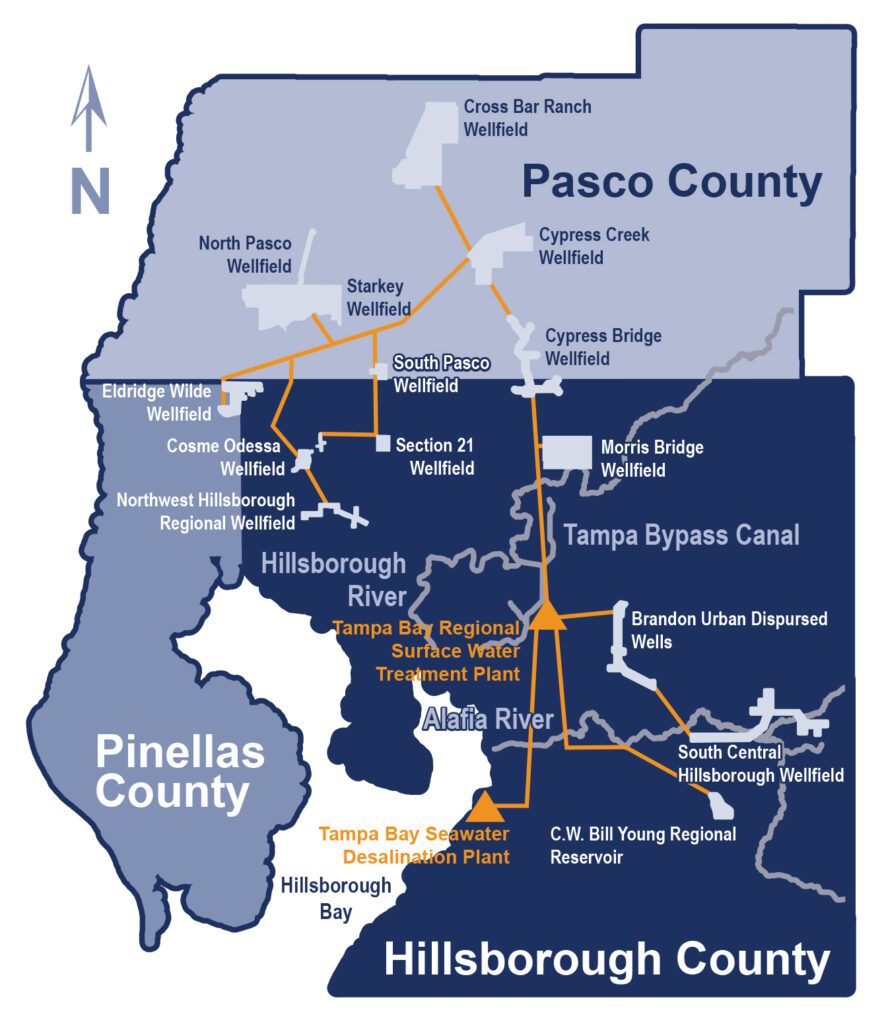 Where does the water come from?
The regional groundwater supply's primary source comes from 11 different wellfields pumping water from the Floridan Aquifer.
The regional treated surface water supply's primary sources are the Alafia River, Hillsborough River, C. W. Bill Young Regional Reservoir and the Tampa Bypass Canal.
Hillsborough Bay is the main source of seawater for the regional desalinated supply.
How is the water processed?
The groundwater from the Eldridge-Wilde Wellfield undergoes water quality enhancements at the S.K. Keller Water Treatment Plant. This is a six-step process that includes:

Aeration.
Primary disinfection with free chlorine residual.
Secondary disinfection using chlorination (addition of ammonia and chlorine).
pH stabilization using sodium hydroxide.
Addition of polyphosphate inhibitor for corrosion control of pipes.

Addition of fluoride for dental health.
The S.K. Keller Water Treatment Facility is responsible for the treatment and distribution of approximately 50-60 million gallons per day (MGD) of drinking water. This water is then enjoyed by approximately 700,000 residents, visitors and businesses of Pinellas County. The water service area begins east of Tarpon Springs and ends at Fort De Soto Park. The facility includes 40 million gallons of water storage with pumps capable of moving over 100 million gallons of water a day. Wholesale water service is supplied to the cities of Clearwater, Pinellas Park, and Safety Harbor.
Additional Information
Find your area on the Pinellas County Utilities Water Service Areas Map.