Mosquito Control
Goals
Our highest priority at Pinellas County Mosquito Control is to protect public health and mitigate the risk of mosquito-borne illnesses. We aim to provide an environment as mosquito-free as possible for the comfort and well-being of our residents and visitors while minimizing the impact on the environment.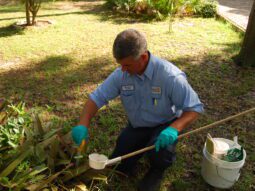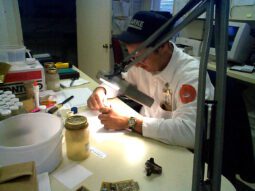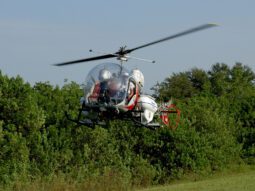 What We Do
Pinellas County Mosquito Control provides mosquito treatment and prevention services to the entire county, including all 24 municipalities. Our highly-trained staff uses an integrated pest management program, focusing on surveillance, prevention and treatment of mosquitoes before they become biting adults.
We monitor the environment for the presence of any mosquito-transmitted diseases and take proper abatement actions when needed. We also offer free educational programming and services for all ages as an integral part of our comprehensive approach to mosquito management.
Integrated Pest Management
Integrated Pest Management (IPM) is an approach that focuses on implementing multiple control techniques to keep pest populations at safe levels while minimizing impact on people and the environment.
For mosquito management, this means we focus our efforts on preventing mosquito breeding and treating mosquitoes while they are larvae. Once they are adults, mosquitoes are harder to effectively target and can spread disease.
We prevent mosquito breeding by partnering with our stormwater and vegetation management staff to keep ditch lines and pipes flowing to eliminate standing water. We use education to encourage residents to dump standing water around their homes, where mosquitoes breed.
We use mosquito-specific soil bacterias (Bti and Bs) as well as the insect growth regulator, Methoprene, to treat mosquito larvae effectively while minimizing impacts on the environment. We employ adulticide only as a spot treatment and focus on species that are public health concerns or high nuisance. Every treatment decision is made based on data.
Request Service or a Community Speaker
Our technicians respond to service requests for mosquito treatment and prevention. They also regularly treat known breeding areas by ground and by air. For more information, check out what to expect at a service request.
We also offer community education and outreach services, including school programs based on science standards and general programming for children and adults. Talks and activities can be tailored to your group's topic interest and age. Virtual outreach is offered via Zoom.
To request Mosquito Control service or a community speaker:
Mosquito-borne Illness
Pinellas County Mosquito Control works closely with the Florida Department of Health (FDOH). If you believe you have a mosquito-borne illness, please call the FDOH in Pinellas County at (727) 824-6932.
COVID-19 and Mosquitoes
Mosquitoes do not transmit the virus that causes COVID-19. View World Health Organization information on Mosquitoes and COVID-19. Mosquitoes do pose a risk due to other illnesses they can transmit, such as West Nile and Zika, so it is important that we all continue to do our part to combat mosquitoes and mosquito-borne illnesses.
Remember to:
Dump or cover standing water.
Dress in loose-fitting long sleeves and pants while outdoors.
Defend by using a CDC-approved repellent such as DEET, picaridin, IR3535 or oil of lemon-eucalyptus.
Mosquito Control is continuing to work to protect public health. If you are having mosquito issues at your home or in your neighborhood, please give us a call to schedule a service request at (727) 464-7503.
Resources
Videos