Mobile Medical Unit and Bayside Health Clinic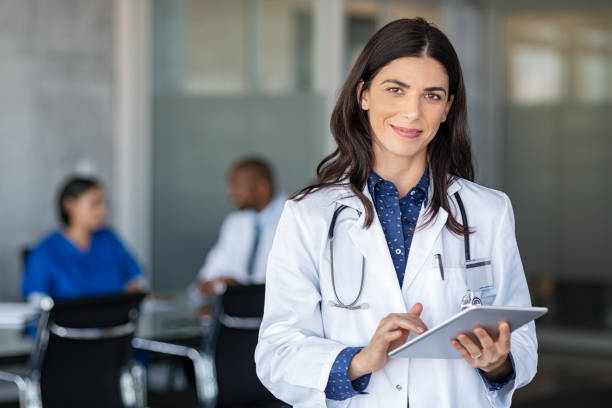 Pinellas County Human Services
Pinellas County Human Services operates the Mobile Medical Unit (MMU) and Bayside Health Clinic in our ongoing effort to help improve the quality of life for Pinellas County citizens. We serve all homeless patients regardless of their ability to pay.
The Mobile Medical Unit
The MMU has provided outreach medical and dental care to the homeless population in Pinellas County since 1988. Funding for these services is provided jointly by the U.S. Department of Health and Human Services (HHS), Health Resources and Services Administration (HRSA) and the Pinellas County Board of County Commissioners. Dental care is provided by referral to the Bayside Health Clinic. The vehicle includes exam rooms, an interview room and medical equipment to provide patients with state-of-the-art care. A physician, nurses, program supervisor, case manager and driver complete the MMU team.
The MMU visits shelters, soup kitchens, drop-in centers and other locations to serve homeless residents.
There is a monthly calendar of open hours and scheduled locations for the MMU and open hours for the Bayside Health Clinic. Appointments can be scheduled but are not necessary as walk-ins are welcome.
For more information, please call (727) 432-4763.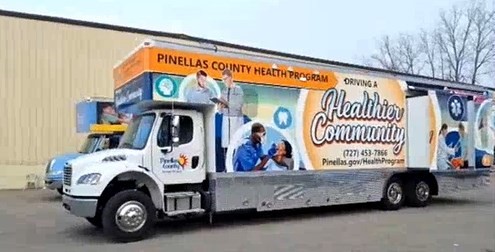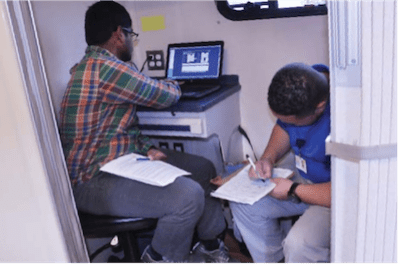 The Bayside Health Clinic
The Bayside Health Clinic is a 3,078-square-foot, one-story, freestanding facility with exam rooms, a dental suite and confidential counseling space to provide behavioral health services. The construction of the facility was 100% grant funded by HRSA. The clinic provides treatment for illnesses, including but not limited to high blood pressure and diabetes.
Primary health care is provided at no charge to homeless patients with incomes at or below 100% of the federal poverty level. A sliding fee scale for services is applied for incomes between 101% – 200% of the federal poverty level.
Appointments can be scheduled but are not necessary as walk-ins are welcome.
Normal Business Hours
Monday – Thursday 8 a.m. – 8 p.m.
Friday 8 a.m. – 5 p.m.
Saturday 8 a.m. – noon
Note: Our last appointment time is about 30 minutes before closing time.
After hours. Phone (727) 824-6900 If you have a medical emergency, please dial 9-1-1. However, if you would like to speak to a doctor or nurse regarding an illness, medication or minor injury, please call the Florida Department of Health in Pinellas County and a medical professional will return your call.
For more information, please call (727) 453-7866.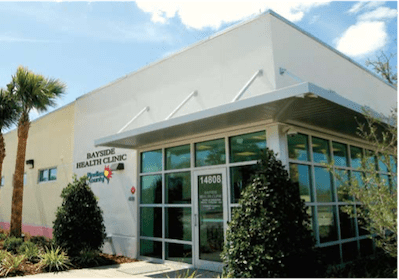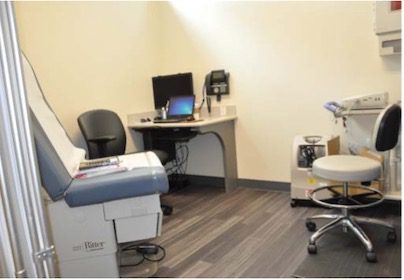 Locations
The service locations and operational times have been set in an effort to reach the largest number of people in need.
Ongoing outreach efforts are conducted at regular intervals to inform homeless people and agencies of service locations and operational schedules.
Bayside Health Clinic
14808 49th St. N.
Clearwater, FL 33762

St. Vincent de Paul Center of Hope
401 15th St. N.
St. Petersburg, FL 33713

Pinellas Hope
5726 126th Ave. N.
Clearwater, FL 33760

Salvation Army ARC
(Adult Recovery Center)
5885 66th St. N.
St. Petersburg, FL 33709

Salvation Army One Stop
Resource Outreach Center
1400 Fourth St. S.
St. Petersburg, FL 33701
Services
Wellness and Prevention Services, Including Annual Physicals
Prescriptions (Prescription drugs are not kept on site.)
Cancer Screenings
Nutrition Education and Counseling
Behavioral Health Screening and Referral for Treatment
Case Management
Specialty Care
Preventive and Restorative Dental Care
Primary Medical Care, Including Lab Work and Necessary Tests
Visit the Human Services page for more information.
This publication is supported by HRSA of the U.S. health department as part of an award totaling $3,679,119 with 60.4% financed from non-federal sources. The contents are those of the author(s) and do not necessarily represent the official views of, nor an endorsement by, HRSA, HHS or the U.S. government.