2023 Recycle Guide now available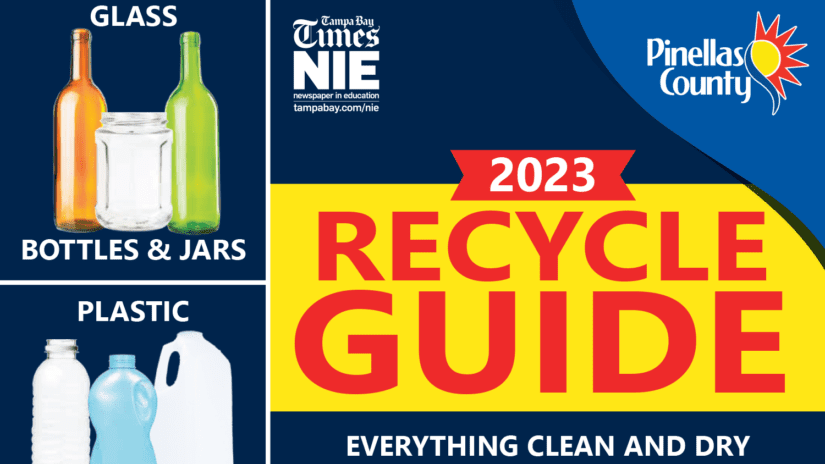 The new and updated 2023 Recycle Guide is now available at schools, libraries throughout Pinellas County and online. The guide provides readers everything they need to know to be a responsible recycler in Pinellas County. The guide also highlights local recycling facilities and how recycling works in the Tampa Bay area. Feature articles include how recyclables are sorted at a local Materials Recovery Facility, where to find contact information to set-up curbside recycling at home, how to locate recycling drop-off sites and how to properly discard household chemicals. In addition, activities for children are included in bonus Going Beyond the Text sections.
While what should be placed in the recycle bin has not changed in Pinellas County for decades, it is best practice to review local recycling rules on an annual basis. The cover of the Recycle Guide makes it easy for users to identify the five material categories that should be recycled in Pinellas County, which include glass bottles and jars, metal food and beverage containers, paper and cardboard, plastic bottles and jugs, and cartons. For materials not on this list, residents can check the online Where Does It Go? Search Tool to find the best options to reuse, recycle or dispose of hundreds of different items in Pinellas County.
The Department of Solid Waste has a vision of zero waste to landfill by 2050, so recycling and proper waste management are a top priority for the community. To support this vision, the guide provides an overview of the United States Environmental Protection Agency's Waste Management Hierarchy and includes resources to locate the most responsible options to get rid of something. More information on this topic can be found at pinellas.gov/waste-management-hierarchy.
The Recycle Guide was created in a partnership between the Department of Solid Waste and the Tampa Bay Times Newspaper in Education program. This year's guide is expected to reach more than 120,000 customers in print and countless others in its virtual format.
Residents can request a printed copy from the Department of Solid Waste by calling (727) 464-7500 or emailing recycle@pinellas.gov.
For more information about recycling in Pinellas County, visit pinellas.gov/recycling-faq. To learn why recycling is important to Pinellas County, visit pinellas.gov/why-recycling-is-important.