Housing development for homeless gets national award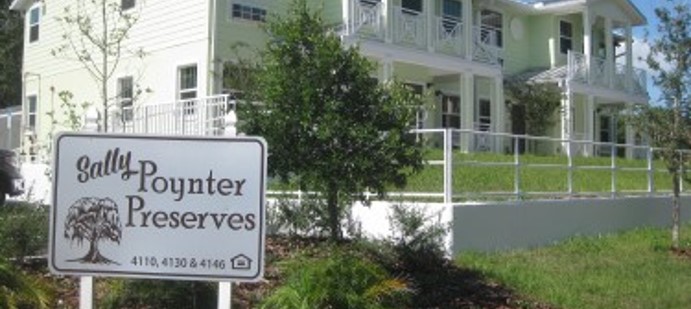 Pinellas County's commitment to housing people in the greatest need has been recognized on a national scale for a recent project to help those who are homeless and disabled.
The Sally Poynter Preserves at Clam Bayou in St. Petersburg provides 24 one-bedroom units, with eight set aside specifically for veterans. Each resident receives comprehensive services from Boley Centers staff to ensure their basic needs are met and to help them acquire or restore the skills and support necessary to maintain their independence.
Completing this affordable development required a unique public-private partnership exemplified in an Award of Excellence at the spring 2021 conference of the National Association of Local Housing Finance Agencies.
Pinellas Affordable Living, Inc., in coordination with Boley Centers, Inc., developed the permanent supported housing project with support from Pinellas County Government, the City of St. Petersburg, Home Depot Foundation and Housing Finance Authority of Pinellas County. The apartments on 34th Avenue South opened last year and are fully leased.
Funding to purchase the land was provided by the Penny for Pinellas 1-percent sales tax, placing it in a land trust to preserve affordability for the next 99 years.
By using a portion of the Penny sales tax combined with other local, state, federal and private dollars, Pinellas County and its local partners have added thousands of new affordable homes to the local community in recent years.
Over the next decade, an estimated $80 million will be invested in subsidized and mixed-income developments to build as many affordable homes as possible through public and private funds.
To learn more about how the Penny is bringing more affordable homes to Pinellas County, visit www.homesforpinellas.org.
To learn more about the National Association of Local Housing Finance Agencies, visit www.nalhfa.org.
Boley Centers is a leader in providing affordable housing services for people with disabilities in the state of Florida with more than 1,200 units of housing in Pinellas County. To learn more about Boley Centers, Inc. or Pinellas Affordable Living, Inc., visit www.boleycenters.org.