Pinellas County, Largo support construction of 96 affordable homes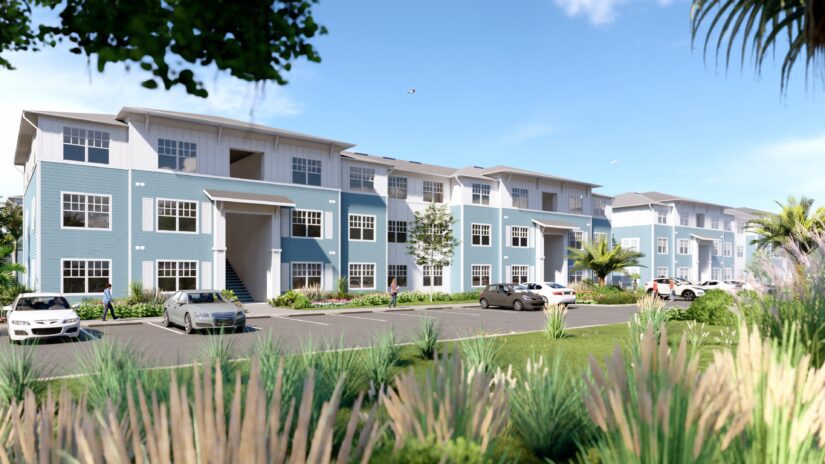 Pinellas County Government and the City of Largo are celebrating the start of construction on a 96-unit, high-quality apartment community in Largo that will provide affordable housing for individuals and families.
Seminole Square Apartments, 2005 Seminole Boulevard, Largo, is the latest public private partnership supported by partners in the Advantage Pinellas Housing Compact, an agreement by local governments to create lasting solutions for countywide housing.  
When completed in early 2024, Seminole Square will offer 1- and 2-bedroom apartments for individuals and families with incomes ranging from 30 to 80 percent of the area's median income (or $17,300 to $46,000 annual income for an individual). Income limits vary based on the size of the household.
The apartment community's location on Seminole Boulevard will give residents easy access to transportation, grocery stores, shopping and other amenities.
"We are proud to work alongside so many partners in Pinellas County that see the critical need for housing and come together to make a big difference in the lives of our residents through projects like this," said Pinellas County Commission Chairman Charlie Justice.

"Housing is a key priority for the City of Largo – to ensure our residents are offered safe, affordable, quality housing options. The groundbreaking of Seminole Square Apartments is an important step in expanding housing access to residents earning below the area median income. It demonstrates our City's ongoing commitment to this objective," said Largo Mayor Woody Brown.
"I want to thank all the private and public partners who have collaborated and contributed to bring us to this milestone moment, ensuring more families can call Largo their home."
Pinellas County and city partners support preservation, rehabilitation and new construction of affordable homes using a mix of federal, state and local funding sources, including more than $80 million set aside from the County's portion of the Penny for Pinellas sales tax renewal.
In 2022 alone, five affordable developments have been completed providing 223 new homes to local residents, with another five projects with 755 units currently approved or under construction.
Pinellas County, the City of Largo and the St. Petersburg Housing Authority are primary partners with Florida-based developer Archway Partners in Seminole Square Apartments. The project is made possible through a combination of federal, state and local funds, including $5.56 million from the County's Penny for Pinellas housing fund as well as housing tax credits and bonds issued by the Pinellas County Housing Finance Authority, which will be purchased by Bank OZK to provide a construction loan.
"We're excited to begin construction on this brand-new, 96-unit development that will bring much needed affordable housing for the residents of Largo and Pinellas County," said Dave Heaslip, Development Partner at Archway Partners.
"We're grateful for our partnership with Pinellas County, the City of Largo, and the St. Petersburg Housing Authority and we're thankful for their willingness to step up in a big way. Without their support, this development wouldn't have been possible."
About the Advantage Pinellas Housing Compact
Pinellas County has partnered with Forward Pinellas and several municipalities in a countywide housing compact aimed at increasing affordable housing linked to transportation, jobs, schools, workforce development, and other services.
Over the next year, compact partners will be finalizing a Housing Action Plan laying out additional steps to boosting housing affordability across the county.
Learn more at www.homesforpinellas.org.
About Archway Partners
Archway Partners is a leader in transforming communities with high quality development. Archway's primary focus is developing affordable and workforce housing in conjunction with local, state and federal partners. The principals of Archway Partners have more than 15 years of real estate development experience. Over the last decade, our team of professionals have worked in markets throughout the Southeast developing more than 2,000 residences.