Health Care for the Homeless Program
The Bayside Health Clinic temporarily moving
The Bayside Health Clinic, located at 14808 49th St. N., Clearwater next to the Safe Harbor Homeless Shelter, is under renovations starting July 11, 2023. During construction, services temporarily move to the Department of Health mid-county building at 8751 Ulmerton Road, Largo, FL 33771. Learn more
A Look at the Program
The Health Care for the Homeless (HCH) program provides medical services, otherwise known as primary care, which includes treatment of illness or injury as well as preventive care, education, limited prescription coverage and referrals for lab work, specialty care, dental assistance, behavioral-mental health assistance and substance abuse treatment.

The staff includes a medical director, examiner, nurses and Department of Health (DOH) staff. Pinellas County homeless residents can receive basic health care at the Bayside Health Clinic (under Construction), in the Mobile Medical Unit or through services offered by our Street Medicine Team.
Telehealth is now available making access to healthcare even easier.
Call (727) 453-7866 for more information on the program.
Mobile Medical Unit
The mobile unit is a medical office on wheels. It has provided basic care for more than 20 years. Pinellas County homeless can receive free basic health care on the mobile medical unit. Emergency services are not provided.
Street Medicine
Working with partners like the Florida Department of Health, we're aiming to reduce health inequity and improve the health of our neighbors through initiatives like our Street Medicine program where we meet those experiencing homelessness where they are to provide free primary care, dental services and access to behavioral health services when they need it most.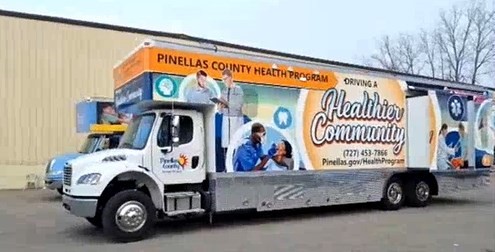 Mobile Medical Unit Monthly Calendar
The Mobile Medical Unit travels to multiple locations in Pinellas County to serve uninsured homeless residents.
View Calendar
The Bayside Health Clinic
Effective July 11, 2023, Bayside Health Clinic will be under construction/renovation until further notice.
During construction, operations will temporarily move to the Department of Health mid-county building at 8751 Ulmerton Rd., Largo, FL. 33771.
Our construction won't get in the way of your healthcare.
After hours Phone: (727) 824-6900
If you have a medical emergency, please dial 9-1-1. However, if you would like to speak to a doctor or nurse regarding an illness, medication or minor injury, please call the Florida Department of Health in Pinellas County and a medical professional will return your call.
Frequently Asked Questions
What all does the program offer?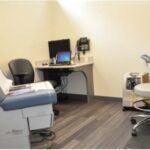 The program offers:
Primary medical care, Including lab work and necessary tests.
Wellness and prevention services, including annual physicals.
Prescriptions.
Cancer screenings.
Nutrition education and counseling.
Behavioral health screening and referral for treatment.
Case management services.
Preventive and restorative dental care.
Specialty care.
Please review our Client Handbook – Español for more information.
How do I participate?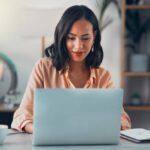 Please complete the Enrollment Application before arriving at the Mobile Medical Unit. Click here to apply now.

Mobile Medical Unit
The service locations and operational times have been set in an effort to reach the largest number of people in need.
1. Safe Harbor
14840 49th Street N.
Clearwater, FL 33762 (Mondays – 8:30am – 4:30pm)
2. St. Vincent De Paul Center of Hope
401 15th St. N.
St. Petersburg, FL 33713 (Tuesdays – 8:30am – 4:30pm)
3. Pinellas Hope
5726 126th Ave. N.
Clearwater, FL 33760 (Wednesdays – 8:30am – 4:30 pm)

4. Salvation Army ARC
(Adult Recovery Center)
5885 66th St. N.
St. Petersburg, FL 33709 (Thursdays – 8:30am – 4:30pm)

5. Salvation Army One Stop
(Across the Street in Parking Lot)
340 14th Avenue South
St. Petersburg, FL 33701 (Fridays – 8:30am – 4:00 pm)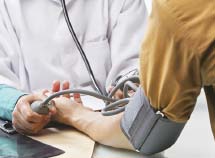 You may apply for services from any location using a computer with an internet connection, including at the county Human Services Offices.
Who can receive services?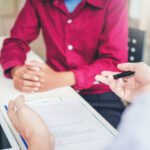 To receive services, you must:
• Be homeless.
• Be a Pinellas County resident.
• Be an uninsured or underinsured Pinellas County resident.

The program serves all homeless patients regardless of their ability to pay. A sliding scale fee discount program is available for people under 200% of the federal poverty level.
What are my rights to privacy?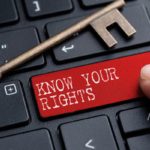 Please take a few minutes to review the Notice of Privacy Practices information. It explains how medical information may or may not be used and how you can get that medical information.
What if I still have questions?
Please call (727) 453-7866 with any questions. If you have a medical emergency, please call 9-1-1. If you would like to speak to a doctor or nurse after business hours regarding an illness, medication or minor injury, please call the Florida Department of Health in Pinellas County at (727) 824-6900 and a medical professional will return your call.
What if I'm not eligible for this program?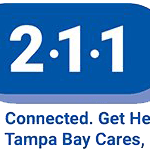 Please ask us for information and resources that may help you. You may call 2-1-1, Tampa Bay's 2-1-1 Call Center, or visit 211tampabay.org. This resource lists hundreds of options that may help you find help in the community.
How can I provide feedback to the program?
Pinellas County seeks feedback about the program, and there are numerous opportunities to participate.

The HCH Co-Applicant Governing Board
The HCH Co-Applicant Board serves as the patient/community-based governing board to set health center policy on behalf of the Pinellas County Board of County Commissioners for the Health Care for the Homeless Program. Patients/clients are encouraged to participate by attending monthly meetings and/or by becoming a board member. Each monthly meeting provides an opportunity for patients to provide feedback and guidance on a variety of issues.

Stakeholder Surveys
The program regularly issues surveys to its clients/stakeholders. Clients may anonymously complete a customer satisfaction survey on-site at the clinic/van and place the survey in the locked box. In addition, the County distributes electronic and in-person surveys to stakeholders in the community and to clients as part of the needs assessment process.

Call Us
If your issue cannot be resolved by the Department of Health, Human Services staff or supervisor, you may call the customer service liaison at (727) 582-7533.

---
Committed to Quality and Performance
The Health Care for the Homeless Program is committed to high quality clinical services and using evidence-based practices. The clinic's medical and nursing staff follow evidence-based national health care guidelines from sources such as the American Academy of Family Practice, American College of Physicians Clinical Practice Guidelines, Centers for Disease Control and U.S. Preventive Services Task Force.

In 2016, the Pinellas County HCH program became a Patient Centered Medical Home, a recognition status earned through the National Committee for Quality Assurance (NCQA). Patient centered medical homes (PCMH) transform primary care practices into what patients want: health care that focuses on them and their needs. Everyone in the practice – from clinicians to front desk staff – work as a team to coordinate care from other providers and community resources. This transformation is an ongoing continuous quality improvement effort.

Check out our data reported annually to HRSA.
In addition in 2018, Pinellas County was again awarded HRSA's Quality Improvement Award for making significant quality improvement gains from the previous year. Read more here.
---
HCH Co-Applicant Board Overview, Meeting Agendas and Minutes
This website is supported by the Health Resources and Services Administration (HRSA) of the U.S. Department of Health and Human Services (HHS) as part of an award totaling $3,190,109 with 45% financed by non-governmental sources. The contents are those of the author(s) and do not necessarily represent the official views of, nor an endorsement by, HRSA, HHS or the U.S. government. For more information, please visit HRSA.gov.