Learn More about the Adopt-A-Drain Pilot Program
Why Adopt-A-Drain?
Adopt-A-Drain reduces the potential for flooding and improves water quality by ensuring storm drains are free and clear of debris. The program also helps prevent pollution by reporting illicit discharges, which can be a major source of pollutants and impact water quality. Watch this short video to learn more (best viewed with Chrome, Firefox or MS Edge).
Free Tools and Training
Submit your interest form to receive access to a free Adopt-A-Drain training. After you complete the training, you will receive an Adopt-A-Drain kit to help you safely keep your drain free from trash and debris. You will also receive periodic email or text notifications before large storms to remind you to clear your drain(s) before it rains.
How do I Adopt-A-Drain?
Step 1 – Submit the Adopt-A-Drain Interest Form.
Step 2 – Complete the Adopt-A-Drain introduction training course (available online). You will receive more information upon submitting the interest form.
Step 3 – Sign the volunteer waiver and commitment form. You will receive these forms upon completion of the training course.
Step 4 – Bring your waiver and course certificate to the Adopt-A-Drain office and pick up your Adopt-A-Drain kit. The kit includes:

Safety vest.
Gloves.
Push broom.
Rake.
Garden bag.
Dustpan.
Traffic cones.

Sunhat.
Refrigerator magnets with important contact information (to put on your fridge and to share with your neighbors if they ask what you're doing).

Step 5 – Start caring for your drain!

If possible, clear the drain before it starts raining.
Dispose of cleared material appropriately.
Clear about 10 feet on all sides of the drain.
Pinellas County code prohibits the dumping of any waste — including chemicals, oil, sewage, trash and yard waste — into the street, storm sewer system or any water body in the county. To report pollution, call the Environmental Management Hotline at (727) 464-4425 or send an email.
Please report a storm drain in need of staff attention through Pinellas County's Report an Issue application using your computer or smartphone.
What are the requirements to participate?
Agree to maintain your adopted storm drain(s) for at least one full year.
Adopted stormdrains must be approved by the Adopt-A-Drain coordinator.
Have groups that consist of at least one adult.
Be responsible for supervising and organizing your team (if applicable).
Complete an educational and safety training (online course).
Perform at least 12 cleanups a year at your adopted area, ideally with the bulk of these occurring during the rainy season May-October.
Let us know when you perform your cleanups by submitting a short form.
Dispose of all trash and debris properly.
How will I be supported?
Cleanup and safety supplies will be provided.
Orientation and education information will be provided.
Email and/or text notifications prior to storm events (if desired).
Coordinated permission and access with local governments.
Efforts promoted via social media (if permissions given).
Program Background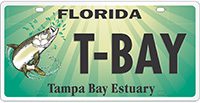 Modeled from the successful Adopt a Drain San Francisco, Pinellas Count's Adopt-A-Drain pilot program was funded by Tampa Bay Estuary Program Bay Mini-Grant made possible through the sales of their specialty license plate, also known as the "tarpon tag." Additional support for the program is provided by Keep Pinellas Beautiful.