Emergency Beach Erosion Control Project
Last updated on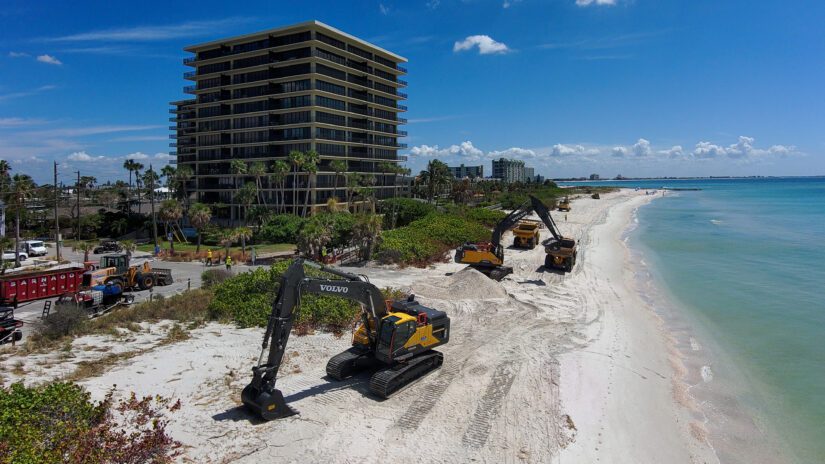 Project Location
Multiple, see map
Project Status
Construction: In progress
Project Overview
Pinellas County is conducting an emergency shoreline restoration project to mitigate critical erosion caused by Hurricane Idalia. The project consists of constructing dunes. The active project area will move strategically along the coast, as County teams have triaged the damage and will work on the most critical areas first.
This project is separate from the federal beach nourishment project that is currently on hold with U.S. Army Corps of Engineers (USACE).
Sand is being trucked in from an authorized location, placed on the beach and shaped into dunes. The new dunes will also be planted with vegetation. Several other beaches between Clearwater and Pass-a-Grille are tentatively included in the project.
Project Timeline
Emergency Beach Erosion Control
| | | | |
| --- | --- | --- | --- |
| Beach Area | Work Start | Work End | Note(s) |
| Belleair Beach | Oct. 29 | Dec. 11 | Planting is underway. Morgan Park remains closed. Please stay off the dunes. |
| Indian Rocks Beach | Oct. 26 | Dec. 15 | Regrading of some access points and planting is underway. Please stay off the dunes. |
| Indian Shores | In planning | In planning | |
| Madeira Beach | Nov. 29 | Dec. 8 | Demobilization is underway. Some parking remains closed. |
| Pass-a-Grille (St. Pete Beach) | Complete | Complete | Beach has reopened. Please stay off the dunes. |
| Sunset Beach (Treasure Island) | Complete | Complete | Beach has reopened. Please stay off the dunes. |
| Upham Beach (St. Pete Beach) | Complete | Complete | Beach has reopened. Please stay off the dunes. |
Information for Property Owners
For Pinellas County to place sand and construct dunes, we must obtain short-term construction easements from property owners. These County easements are temporary and different from the perpetual easements required by the USACE project. In lieu of initiating individual projects, property owners are strongly encouraged to allow the County to install erosion control measures that have been permitted and designed to work together.
Property owners who want to move sand back on the beaches after Hurricane Idalia must notify Clearwater Marine Aquarium (CMA)'s patrol team for sea turtle protection before starting

To notify the CMA team, call (727) 479-5564.
Provide your name, a description of the work and the address where the work will occur.
The CMA team will inspect the beach to ensure the work will not damage or interfere with sea turtle nesting.
An inspection is required for each day that work is done.

Coastal Construction Control Line (CCCL) Program permitting requirements must be followed under the State of Florida's emergency order.

Property owners are not to place sand in the dune line. Debris and rubble cannot be placed on the beaches for any reason – These requirements remain under the State's emergency order.

Some activities may require additional permits from the U.S. Army Corps of Engineers, Pinellas County and/or your local municipality.
For coastal activities that require permits from Pinellas County visit Pinellas.gov/docks-dredge-fill/.
For additional information related to CCCL and JCP permitting requirements, see the State's emergency order.
Project Location
Open the project map in its own tab
Project Status
Work is underway. The beach where work is occurring is closed to beachgoers, but businesses remain open.
Project Funding
This emergency project is supported by the Tourist Development Tax. For more information visit FromVisitorsWithLove.com.