Old Coachman Road Bridge Replacement
Last updated on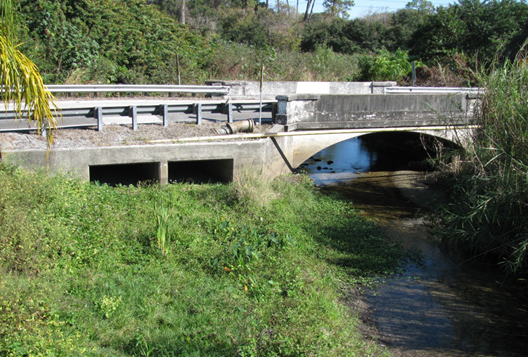 Project ID
001034A
Project Location
Old Coachman Road, north of Sharkey Road
Project Status
Design: Completed
Project Overview
Pinellas County is planning to replace the Old Coachman Road Bridge over Alligator Creek. The bridge was originally constructed in 1925. In addition to the full replacement of the bridge structure, the project also includes hydraulic improvements to Alligator Creek to prevent the bridge and its approaches from being overtopped in heavy storm events.
The existing bridge consists of one 24-foot-long concrete arched span approximately 22-foot-wide that provides two 9-foot lanes with 9-inch shoulders and no sidewalk. Pinellas County is proposing a 69-foot-long bridge with an overall roadway width of 45 feet, providing two 11-foot lanes, 5-foot shoulders and 5-foot sidewalks on both sides.
Drainage improvements and utility work are included in the project. In addition, Pinellas County and the City of Clearwater have a joint project agreement (JPA) for the relocation of the Reclaimed Water Line along Old Coachman Rd.
Detour Information: During construction, Old Coachman Road will need to be closed and traffic detoured along US-19 for the duration of construction. Old Coachman Road will be closed to through traffic from Drew Street to Coachman Road. Local access to homes, Baycare Ballpark, Carpenter Complex, businesses and NE Coachman Park will be maintained throughout the duration of the project. More information on the detour will be posted ahead of the start of construction.
Project Location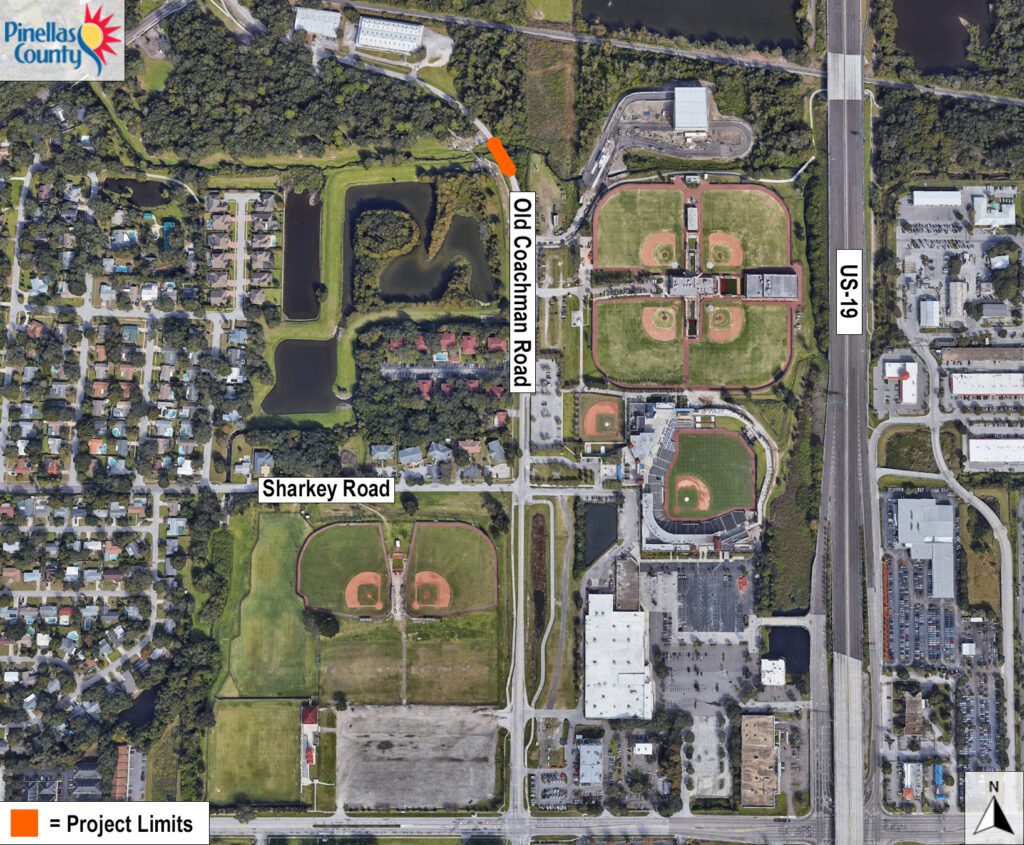 Project Timeline
Construction: Early 2024 – Late 2025
Project Status
Construction advertisement completed, anticipate construction beginning in early 2024.
Project Funding
This project is supported by:
Contact Us
Amin Vosouli, P.E.
Project Manager
Public Works / Capital Improvements
14 S. Fort Harrison Ave., Clearwater, FL 33756
(727) 464-8889
avosouli@pinellas.gov