Riviere Road Roadway Improvements
Last updated on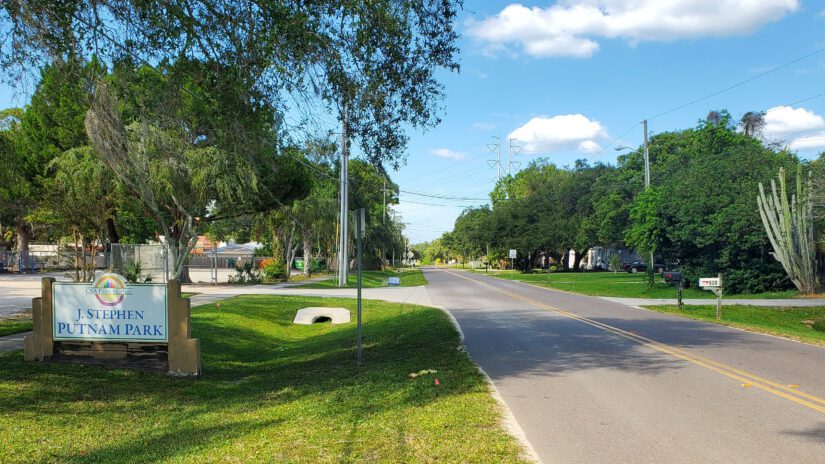 Project ID
004616A
Project Location
Riviere Road between Tampa Road and Nebraska Avenue in Palm Harbor
Project Status
Design: Not started
Project Overview
This project will address roadway, drainage and sidewalk improvements along Riviere Road in Palm Harbor. The project begins at Tampa Road and continues north for approximately 1 mile to the intersection of Nebraska Avenue.
The existing roadway has two travel lanes with roadside ditches, sporadic sidewalks on both sides and a posted speed limit of 30 mph. The roadway was last milled and resurfaced in 2017.
The proposed design for the project includes constructing 10.5-foot lanes to make the lane width consistent in each direction. The project will add curbing and gutters to both sides of the roadway, address roadway drainage and upgrade the sidewalks. An ADA-compliant 5-foot-wide sidewalk is planned for the east side of the road and a 10-foot-wide trail is planned for the west side.
A study will also evaluate the need for a mid-block pedestrian crossing with a Rectangular Rapid Flashing Beacon (RRFB) located just south of Landon Terrace to connect residents to Putnam Park.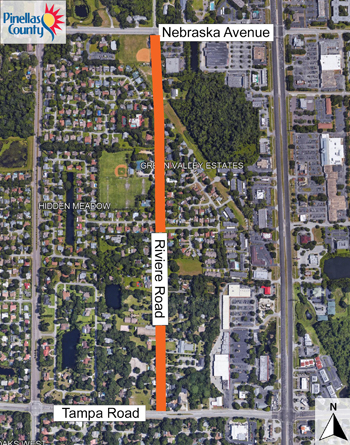 Anticipated Project Schedule
Design Start: July 2022
Design End: Late Summer 2023
Construction Start: Early 2024
Construction End: Spring 2025
Community Outreach
Pinellas County plans to hold a neighborhood public information meeting in the spring of 2023. The latest updates can be found on this website.
Contact Us
Kathy Fernandez
Project Manager
Public Works / Capital Improvement
14 S. Ft. Harrison Ave., Clearwater, FL 33756
(727) 464-3695
krfernandez@pinellascounty.org
E-mail addresses are public records under Florida law and are not exempt from public-records requirements. If you do not want your e-mail address to be subject to being released pursuant to a public records request, do not send electronic mail to this entity. Instead, contact the entity via the phone number and/or mailing address provided above.