Smart Tracs Transportation System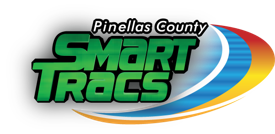 Smart Tracs incorporates concepts to enhance the County's Advanced Transportation Management System/Intelligent Transportation System (ATMS/ITS) and regional Smart City enterprise. This integration of information and communication technology with various connected smart devices improves safety and enhances mobility for motorists, transit, pedestrians and bicyclists. Bluetooth sensors, closed-circuit television (CCTV) cameras and mobile platforms transmit real-time data to the County's Traffic Management Center where it is used to monitor the transportation system, optimize signal patterns and control traffic flow.
Smart Tracs syncs data derived from traffic signal control devices and motorists to:
Improve traffic flow by decreasing travel time and reducing time spent at red lights.
Keep citizens up-to-date on current travel conditions and delays or alternative routes.
Maintain safe and efficient movement of motorists, transit, bicyclists and pedestrians.
Integrate signal preemption for emergency vehicles and provide accident location information.
---
Contact the Traffic Management Center
Call (727) 464-8926
Email PWTraffic@pinellascounty.org
Follow us on Twitter @PinellasTraffic
The Traffic Management Center, located at the Public Works campus in Clearwater, is open 24 hours a day, seven days a week. Call anytime to speak directly with a traffic professional to report:
Signal issues.
Traffic concerns, including speed and volume.
Roadway signage replacement, such as stop signs and street name signs.
---
Transportation Videos