Donate to Animal Services
You can help your local shelter animals by donating time, money or much-needed items. While our budget allows us to provide the basics for the pets we care for, your contributions help us go the extra mile to provide the high-level care these animals deserve. Check out the ways you can help below.
Donate to the Animal Welfare Trust Fund
Donate directly to the animals under our care through the Animal Welfare Trust Fund. Donations are used to cover extra medications, specialty food and other items we may not be able to provide otherwise.
Donate online today. You can also mail or bring a check to the shelter, made out to the PCAS Animal Welfare Trust Fund.
Mail checks to:
Pinellas County Animal Services
12450 Ulmerton Road
Largo, FL 33774
Donations to this fund are placed in a trust used exclusively to benefit domestic animals in Pinellas County. The Trust Fund makes it possible to care for a larger number of animals and covers special needs such as:
Comfortable kennels.
Improved ventilation and quarantine/isolation facilities.
Medicine.
Special dietary food.
Toys to prevent boredom.
Animal Welfare Trust Fundraisers
Cat Adoptions Rescue Partners
Since creating partnerships for cat adoption programs with over a dozen local pet stores, we now adopt out more cats than dogs. A portion of the donations from the participating pet stores are utilized to fund the personnel and expenses to operate and expand the program to get more cats adopted. All donations received from the cat adoptions are placed in the Animal Welfare Trust Fund.
Pinellas Paws Cause Mural
Pinellas County Animal Services and Murals for Mutts have formed a partnership to raise money for the Animal Welfare Trust Fund. For $100, a pet portrait will be painted on the wall and become a part of the mural, with $25 donated to the Animal Welfare Trust Fund. To participate in the Pinellas Paws Cause mural, email or call (727) 902-1671.
Animal Welfare Trust Fund Annual Report
Donate Wish List Items
If you aren't able to make a monetary donation to the Animal Welfare Trust Fund, you can still help by donating one of the following much-needed items. Please drop off all items to the front desk at Pinellas County Animal Services, located at 12450 Ulmerton Road, Largo, FL 33774.
Many items are needed on a daily basis, including:
Unopened cans or bagged cat/kitten and dog/puppy food.
New pet toys.
Slip training leashes.
Collars.
Pet beds.
Crates of various sizes.
Cat condos.
Bleach.
Towels.
HE Laundry Detergent.
Kleenex/tissue,
Rubbing Alcohol.
Milk Bone dog treats.
Creamy peanut butter (NO xylitol ingredient).
Cat litter.
Liquid dish soap.
Hand sanitizer.
Dog or cat shampoo.
Food bowls.
Newspapers.
Ink cartridges for computer printers (call 727-582-2600 for specifics).
Donate Your Time
From dog walkers to people greeters, there are many ways you can help by donating your time. Volunteers can also participate in our Foster Program or Teen Program. Please review our volunteer site or call us at (727) 582-2600 for more information.
Support the Florida Friend License Plate Program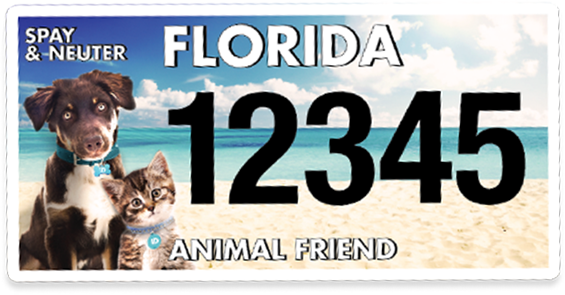 Support the Florida Friend program by purchasing a spay/neuter license plate. Purchases directly contribute to animal welfare in the state of Florida. Each year, license plate funds are distributed to local spay/neuter programs, targeting animals at the highest risk for reproduction.
The Spay/Neuter license plates may be purchased through the Pinellas County Tax Collector.