102nd Avenue N. Roadway Improvements
Project ID
003880A
Project Location
102nd Avenue, between 113th Street N. and 125th Street N., in unincorporated Seminole.
Project Status
Design: In progress
Project Overview
This project will make roadway, drainage and sidewalk improvements along 102nd Avenue N. in unincorporated Seminole. The project area is a 1.1-mile section of roadway, between 113th Street N. and 125th Street. The existing roadway is 2-lane, undivided with roadside ditches, grass shoulders and a posted speed of 35 mph.
The proposed design includes 11-foot travel lanes with curb and gutter, roadway drainage improvements, a 6-foot sidewalk on the south side of the road and a 12-foot multi-use path on the north side. This multi-use path will connect the Pinellas Trail to 113th Street N. All pedestrian crossings, including driveway entrances, will be improved to meet current Americans with Disabilities Act (ADA) standards.
The project includes a traffic analysis at two intersections on 102nd Avenue N., one at 125th Street and one at Ridge Road. The alternatives to be studied include a roundabout and traditional signalization.
*A separate study will determine the needs of the 102nd Avenue N. roadway between 125th Street and 137th Street N./Antilles Drive.
Project Location
102nd Avenue N., between 113th Street N. and 125th Street, in unincorporated Seminole.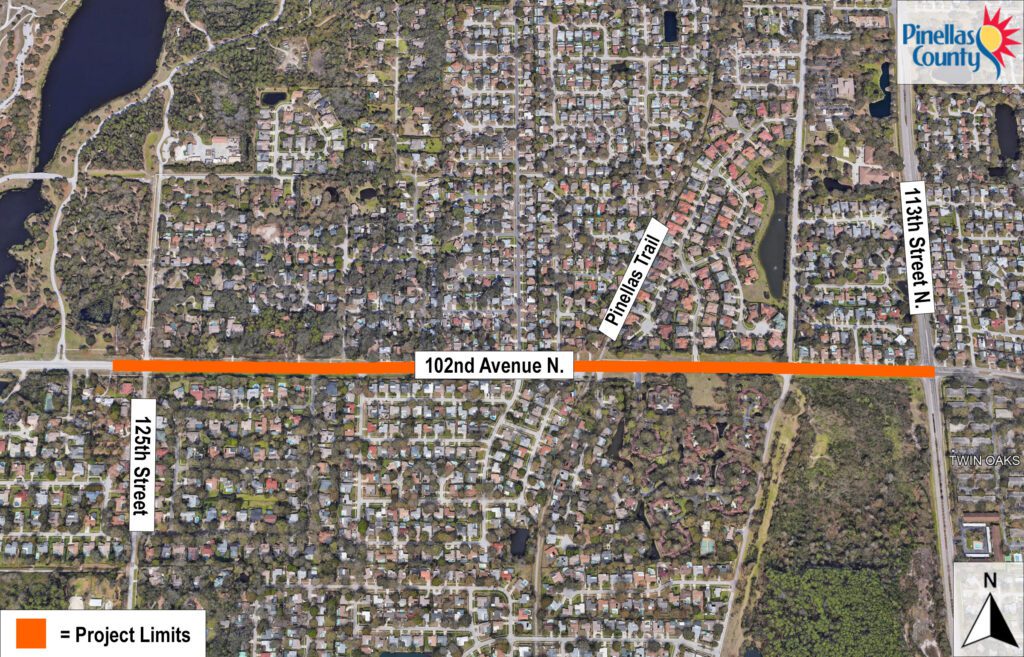 Anticipated Project Schedule
Design Start: Fall 2022/Winter 2023
Survey Complete: February 2023
Design End: Summer 2024
Construction Start: Early 2025
Construction End: Winter 2026
Community Outreach
Pinellas County plans to hold a neighborhood public information meeting in late Summer 2023. The latest updates can be found on this website.
Contact Us
We value your input. If you have questions or comments about the improvements, please contact:
Project Manager
Kathy Fernandez
Public Works / Capital Improvements
14 S. Fort Harrison Ave.
Clearwater, FL 33756
(727) 464-3695
krfernandez@pinellascounty.org