Manufactured Housing Communities Utility System Project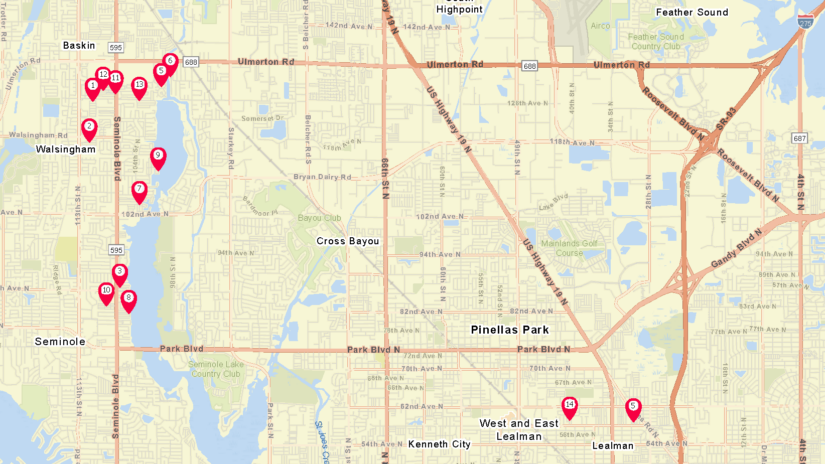 Project Location
14 manufactured home communities: 12 west and north of Lake Seminole and two near U.S. 19 and 62nd Ave N.
Project Status
Design: In progress
Project Overview
Pinellas County Utilities identified 14 manufactured housing communities with outdated and problematic wastewater systems that pose costly risks for residents. Recognizing that the cost of repairing these systems would be a huge burden on residents, the County worked directly with these communities to secure state and federal funding to upgrade each system at no cost to them.
Tentative Schedule
| Milestone | Schedule |
| --- | --- |
| Notice to Proceed | September 2022 |
| Data Review and Field Investigations (Survey, SUE) | October 2022 |
| Blanket Easement Agreements | August 2023 |
| 30% Design | July 2023 |
| 90% Design | October 2023 |
| 100% Design | December 2023 |
| Bid Phase | April 2024 |
| Construction Begins | June 2024 |
| Construction Complete | June 2026 |
| Public Outreach | Life of Project |
Project Goals
Improve living conditions and preserve affordable housing.
Address failing infrastructure and improve environmental conditions.
Improve emergency conditions associated with flood-prone communities.
Project Locations
Bel-Aire Mobile Home Owners
Four Seasons Estates
Midway Mobile Home Park
Oasis Mobile Home Park
Pointe West Mobile Home Park
Florida Mobile Home Park
Lake Seminole Estates Mobile Home Park
Boca Ciega Estates Co-op Mobile Home Park
Holiday Shores Mobile Home Park
Lake Seminole Resort
Flowerwood Club Mobile Home Park
Grosse Pointe Estates
Majestic Park Homes
Tropical Gardens Mobile Home Park
Funding Sources
$25 Million from Resilient Florida
$13.9 Million from the American Rescue Plan Act of 2021
$2 Million from the Restore Act
This project is being supported, in part, by federal award number SLFRP4653 awarded to Pinellas County Government by the U.S. Department of the Treasury.