Nebraska Avenue Roadway Improvements
Last updated on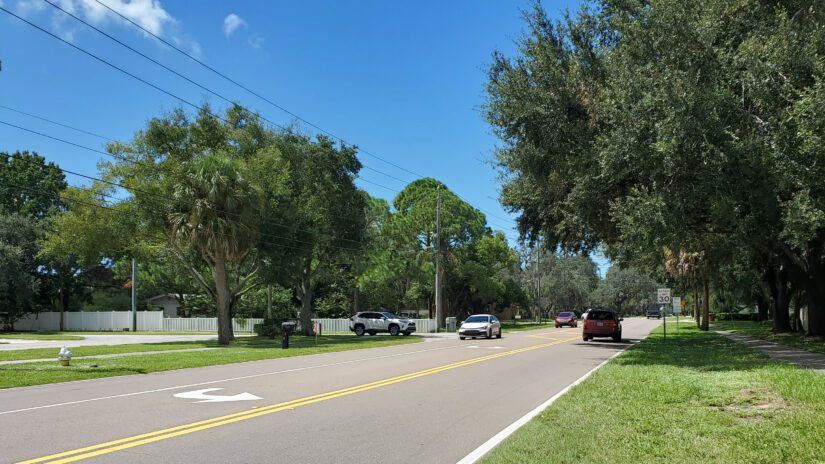 Project ID
004182A
Project Location
Nebraska Avenue, between Alternate-19 and Westlake Boulevard in Palm Harbor
Project Status
Design: In progress
Project Overview
This project will make roadway, drainage and sidewalk improvements along Nebraska Avenue in Palm Harbor. The project begins at Alternate U.S. 19 on the west and continues east for approximately 1 mile to the intersection of Westlake Boulevard.
The existing roadway has two travel lanes with roadside ditches, sporadic sidewalks on both sides, and the existing roadway's lane width varies from 11-12 feet through the project area. The posted speed is 25 mph at the west end, in the downtown area, and 30 mph once you pass Omaha Street to the east.
The proposed design includes constructing 11-foot lanes to make the lane width consistent in each direction for the entire length of the project. The project will add curb and gutter to both sides of the roadway, address roadway drainage and fill in the sidewalk gaps. A 6-foot-wide sidewalk is planned for the south side of the road and a 10-foot-wide multi-use trail is planned for the north side.
The project design also includes parking improvements between Alternate U.S. 19 and 12th Street, the replacement of the existing traffic signal poles with traffic signal mast arms at Westlake Boulevard, and proposes the installation of a mini-roundabout at 16th Street. All pedestrian crossings, including driveway entrances, will be improved to meet current ADA standards.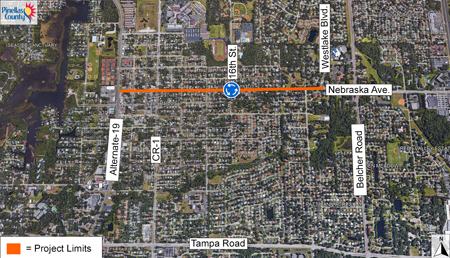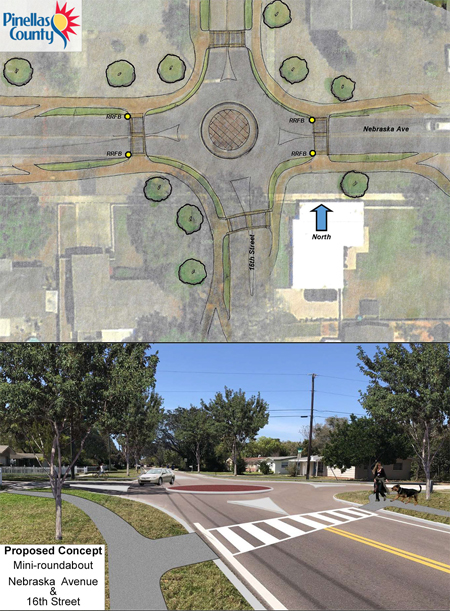 Anticipated Project Schedule
Design Start: July 2022
Design End: Winter 2023
Construction Start: Spring 2024
Construction End: Summer 2025
Community Outreach
Feb. 22, 2023: Pinellas County hosted an open house from 6 to 7:30 p.m., at Harbor Hall, 1190 Georgia Ave., Palm Harbor, FL 34683 to provide information on the Nebraska Avenue project. Pinellas County staff and consultants shared preliminary designs, discussed the project schedule and answered questions.
The latest project updates can be found on this website.
Contact Us
Kathy Fernandez
Project Manager
Public Works / Capital Improvements
14 S. Ft. Harrison Ave., Clearwater, FL 33756
(727) 464-3695
krfernandez@pinellas.gov
E-mail addresses are public records under Florida law and are not exempt from public-records requirements. If you do not want your e-mail address to be subject to being released pursuant to a public records request, do not send electronic mail to this entity. Instead, contact the entity via the phone number and/or mailing address provided above.