Whitney Road and Wolford Road Intersection and Roadway Improvements
Last updated on
Project ID
002109A
Project Location
The intersection of Whitney Road and Wolford Road, and surrounding area.
Project Status
Design: In progress
Project Overview
This project will make roadway, drainage, sidewalk and traffic safety improvements to the intersection of Whitney Road and Wolford Road. The project limits extend west on Whitney Road to Sapphire Lane and east to Hidden Springs Place.
The proposed design includes new sidewalks on both sides of Whitney Road between Oak Street and Hidden Springs Lane, reconfiguration of the intersection of Whitney Road and Wolford Road and removal of the guardrail. Drainage improvements include switching from open drainage to stormwater piping on the south side of Whitney Road from Sapphire Lane to east of Wolford Road, reconstruction of the culvert crossing and realignment of Long Branch Channel to eliminate erosion.

Note: The Whitney Road corridor, between U.S. 19 and Bolesta Road, is also being studied for a complete streets project by Pinellas County. Visit the Whitney Road Complete Streets project for more information
Project Location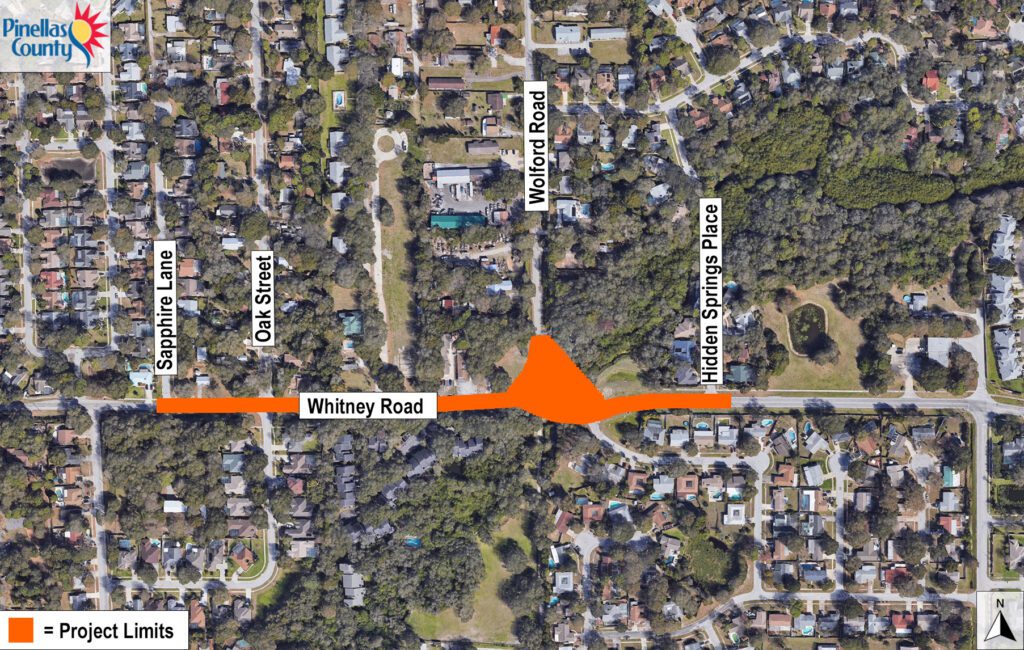 Anticipated Project Schedule
Design Start: January 2015
Design End: Spring 2023
Construction Start: Fall 2023
Construction End: Fall 2025
Community Outreach
Upcoming project outreach and engagement opportunities for the community will be listed here.
Contact Us
Scott Baird
Design Project Manager
Public Works / Capital Improvement
14 S. Ft. Harrison Ave., Clearwater, FL 33756
(727) 464-8935
sbaird@pinellas.gov