OnSpot Dermatology Bus

Wellness Pillars: Physical and Financial Well-Being
NEW: Spouse Appointments & Cosmetic Services
Appointments are now available for your spouse/domestic partner.
Cosmetic appointments are now available for Botox, dermal fillers, microneedling, chemical peels and skin care consultations. See OnSpot pricing.
In partnership with OnSpot Dermatology, we are bringing a dermatology bus to multiple worksites across Pinellas County, making getting a skin checkup more convenient. Now you can get a full skin cancer screening as well as other dermatological services at a worksite near you. Spread the word by posting the printable flyer.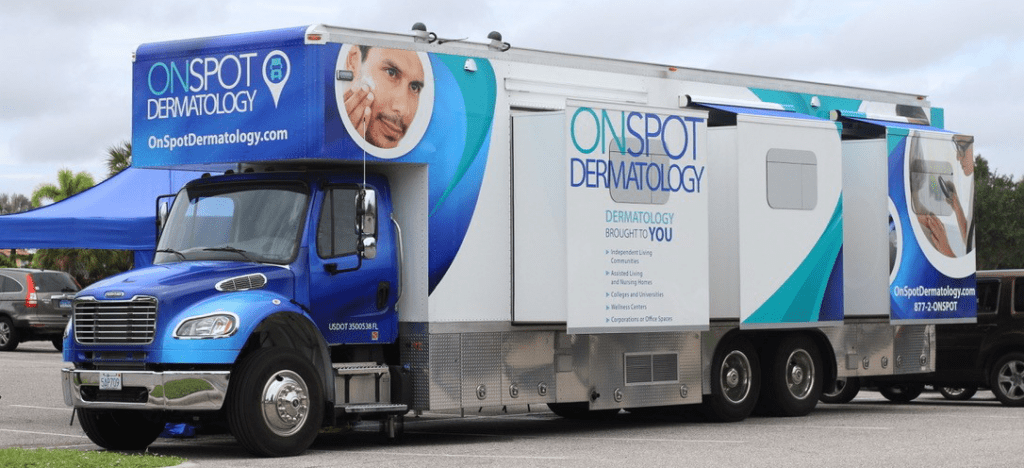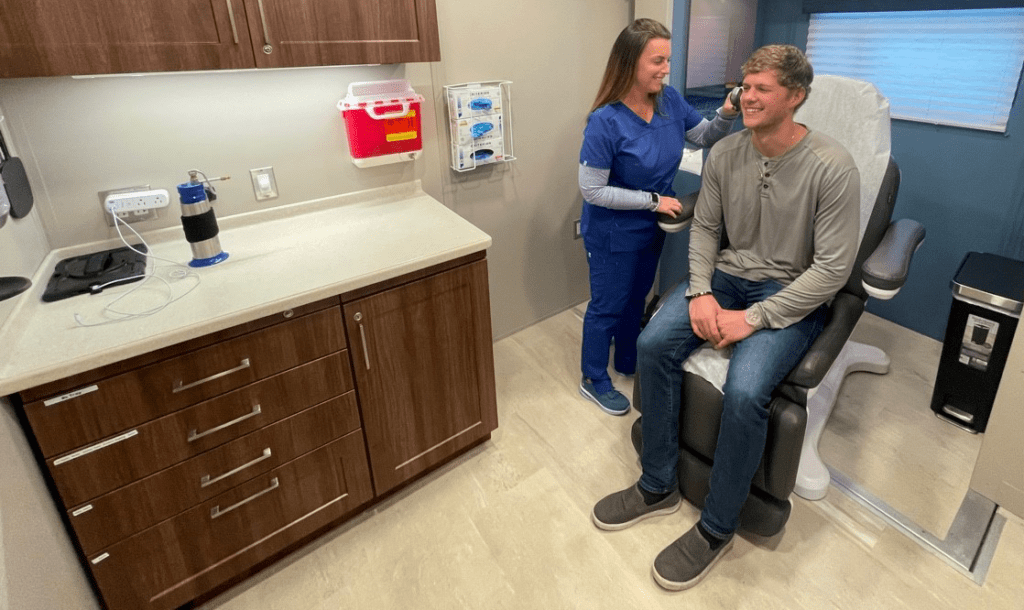 What is OnSpot?
It's a dermatology bus that comes to you!
OnSpot Dermatology is a full-service practice that offers skin cancer exams and other services you would receive in an office setting. Early detection of skin cancer is the key to the most minimal and cost-effective treatment with the highest chance of a cure.
How can I make an appointment for the OnSpot bus?
See the locations and dates below. To make an appointment, use the link below or call (941) 444-0011:
The online scheduler only shows appointments that are within the next 60 days. If you would like to make an appointment on a date that is more than 60 days away, call (941) 444-0011.
OnSpot has a 25-person minimum. If this is not met, the event may be cancelled.
Upcoming OnSpot Bus Events (alphabetical by location)
| Location | Address | Dates | Appointment Times |
| --- | --- | --- | --- |
| Airport | 14700 Terminal Blvd., Clearwater | July 25, September 26 | 7:30 a.m. – 3:00 p.m. |
| Clerk of the Court, North County | 29582 US Highway 19 North, Clearwater | July 26 | 7:30 a.m. – 3:00 p.m. |
| Downtown Clearwater Courthouse | 315 Court Street (west parking lot), Clearwater | June 7 | 8:00 a.m. – 3:00 p.m. |
| Downtown Clearwater Courthouse | 315 Court Street (west parking lot), Clearwater | June 8 | 7:00 a.m. – 2:30 p.m. |
| Justice Center | 14250 49th Street North, Clearwater | June 16, August 15 | 7:30 a.m. – 2:30 p.m. |
| Parks and Conservation Resources | 12520 Ulmerton Road (main parking lot), Largo | June 13 | 7:00 a.m. – 2:30 p.m. |
| Public Works | 22211 US Highway 19 North (in front of Building 16), Clearwater | June 14 | 7:00 a.m. – 2:30 p.m. |
| Solid Waste | 3095 114th Avenue North, St. Petersburg | July 27 | 7:00 a.m. – 2:30 p.m. |
| Tax Collector, Mid County | 13025 Starkey Road, Largo | August 3 | 7:30 a.m. – 2:30 p.m. |
| Tax Collector, South County | 2500 34th Street North, St. Petersburg | July 20 | 7:30 a.m. – 3:00 p.m. |
What does the bus look like?
The OnSpot bus has a comfortable air-conditioned waiting room, 3 private exam rooms, and a lab. Take a look!
What services are provided?
Skin Cancer Screening
Acne
Actinic Keratosis
Alopecia
Atopic Dermatitis
Biopsy and Cryotherapy Procedures
Eczema
Folliculitis
Fungal Infections
Hair and Nail Conditions
Hives
Cosmetic Dermatology (Botox and Fillers)
Melanoma
Mohs Surgery for Skin Cancer
Moles
Psoriasis
Rosacea
Skin Growths and Tags
Skin Lesions and Rashes
Warts
For a full list, see OnSpot's mobile dermatology services.
What is the cost and how do I pay?
Visiting OnSpot is like going to a regular dermatologist. Please be sure to bring your insurance card.
Employees on a Pinellas County medical plan from Cigna: OnSpot is in-network so those on the Open Access Plus plan pay $35 (specialist copay), and those on the HSA plan pay 20% after their deductible. Like other medical offices, you may pay your co-pay at your appointment or receive a bill in the mail. HSA participants receive a bill. Additional services are subject to the same co-pays and co-insurance as a traditional dermatologist visit.
Employees on another medical plan (e.g. opt outs): You are welcome to participate. Please check with your insurance to determine if OnSpot is part of their provider network.
How long does it take?
A routine skin screening is typically brief (under 15 minutes) if you've never had atypical moles or skin cancer. Other issues or treatments may take longer.
Do I have to take my clothes off for the exam?
It is your preference. Doctors perform exams in private exam rooms. For the most thorough head to toe exam, clothing removal is preferred. You'll be given a medical gown. If you wish to have only certain areas checked and would like to stay clothed, you may do so.
What if I need a follow-up?
Patients can book telehealth appointments with OnSpot through their patient portal or at another bus event if one is available.
Do I need to use leave time?
Yes. As with any medical appointment, time away from work requires use of approved leave.
Can I earn Wellness Incentive Program rewards?
No. The Wellness Incentive Program preventive screenings eligible for rewards are an annual physical exam, colonoscopy, dental preventive exam, mammogram, OB/GYN exam, and pap test.
6/5/23