54th Avenue N. Improvements
Last updated on
Project ID
003882A
Project Location
54th Avenue N., from 49th Street N. to 34th Street N.
Project Status
Study: In progress
Project Information Meeting
Pinellas County is holding an open house on April 13, from 5:30 to 7 p.m., at the Lealman Exchange, 5175 45th St. N., St. Petersburg, to provide information on the 54th Avenue N. improvements project.
Pinellas County staff and consultants will share preliminary designs, discuss the project schedule and answer questions. Please plan to join us.
Project Overview
This project will aims to make roadway and pedestrian safety improvements on 54th Avenue N. from 49th Street to 34th Street in Lealman. The project continues the improvements identified in the Linking Lealman Action Plan of 2019.
The existing roadway between 49th Street and the CSX Railroad crossing has four travel lanes, a center two-way turn lane and five-foot sidewalks on both sides of the road. Between the CSX Railroad crossing and 34th Street, the roadway has four total lanes with five-foot sidewalks on both sides.
The project will study several possible alternatives, including lane reductions and additions, improved pedestrian facilities, including wider sidewalks and signalized crosswalks, and investigate the benefits of adding traffic calming features.
Project Location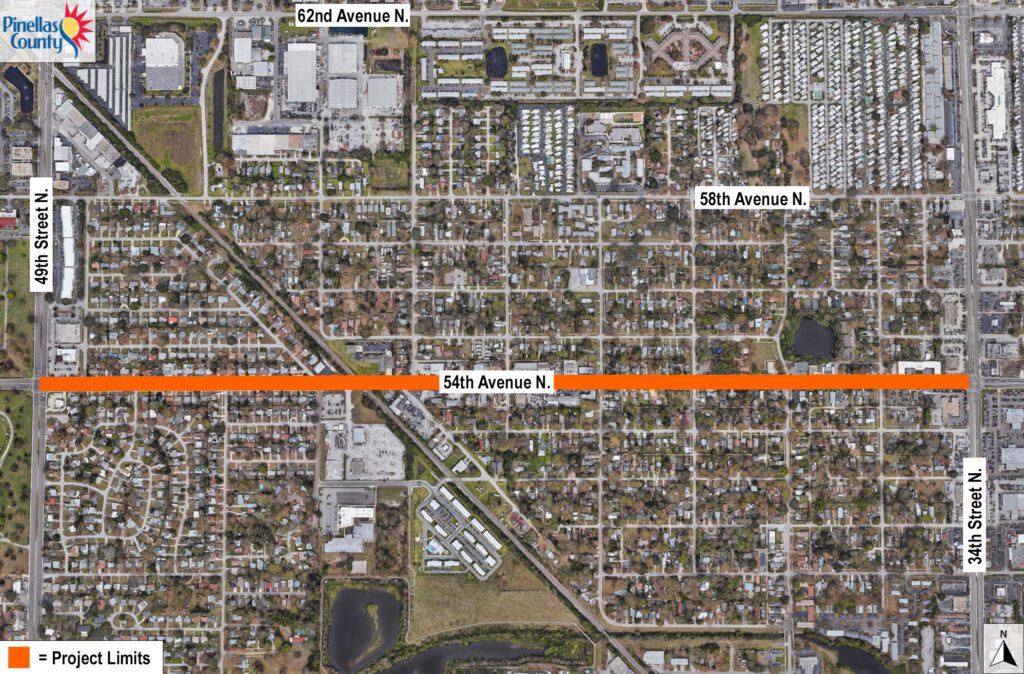 Anticipated Project Schedule
Preliminary Engineering Study Complete: August 2023
PD&E Study: To be determined (required if federal funding is received)
Design Start: Expected in 2024
Design End: Expected in 2025
Construction Start: Expected in 2026
Construction End: Expected in 2027
Community Outreach
Pinellas County plans to hold a project information meeting in April 2023 at the Lealman Exchange. The latest updates can be found on this website.
Contact Us
Eliode Joseph, P.E.
Project Manager
Public Works / Capital Improvements
14 S. Ft. Harrison Ave., Clearwater, FL 33756
(727) 464-4408
ejoseph@pinellas.gov