Advanced Metering Infrastructure: Water Meter Upgrades
Project Status
Implementation: In Progress
Pinellas County Utilities (PCU) is committed to providing quality service to our customers and making improvements to the aging infrastructure to better serve you.
Current PCU water meters work like a car odometer, which is read manually. Water meters are typically replaced every 15 years, due to normal wear and tear. Now that newer meter technology is available, PCU can provide water usage data digitally. There are many benefits with the new digital meters, including providing customers with more information available about water usage so they can save water and money through early leak detection.
Water customers will receive new digital water meters over the next four years at no cost to them.
Authorized contractor Pedal Valves, Inc. (PVI) will begin upgrades for both commercial and residential drinking water meters starting in spring 2023.
Phase One: Property Survey
PVI staff will verify the location and the condition of existing meters to determine the best replacement method. This visit should take no more than 10 minutes and will not interfere with water service.
Phase Two: Meter Upgrade
Water meter upgrades by PVI will begin in Spring 2023.
Upgrading the meter at each location is estimated to take about 30 minutes. During the upgrade, water will be temporarily shut off and restored shortly after.
PVI will contact customers directly if they need help accessing or replacing a meter.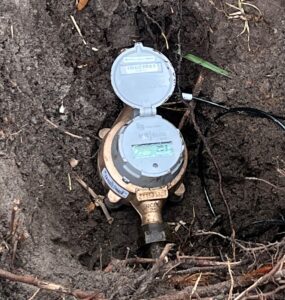 Frequently Asked Questions
Why are the meters being upgraded?
Meters can become less accurate as they age and only remain useful for about 12 to 15 years.
What is different about digital meters?
The new digital meters will give up-to-date readings that provide a more precise and timely record of your usage. This will allow us to bill customers on a monthly cycle, instead of every two months. This also allows transparency for water account data to be continuously accessible to customers.
Will service be interrupted during this process?
Service will not be disrupted while Pedal Valves, Inc. employees are verifying meter locations. There will be a temporary service interruption while meters are being replaced, which usually takes between 15 and 30 minutes. Customers will receive notices when this is scheduled to take place on their property. When installing meters, PVI installers will knock on every door to inform customers before replacing each meter. Additionally, customers will receive a written notice stating what work was completed or if there was an issue.
Do I need to be home when the meter location is verified?
No. The process should average 10 minutes at each property.
Will new meters increase my water bill?
Meters help us quickly detect leaks and take action to repair them. That's a win-win situation to conserve and deliver high-quality drinking water and save customers money. Better communication through these timely updates means fewer surprises for customers, especially on bills – that's the difference digital meters make.
How much will the digital meter cost?
The new meter will be provided at no cost to customers.
For additional information, call (727) 464-4000 or email custsrv@pinellas.gov.