Joe's Creek Restoration and Greenway Trail
Last updated on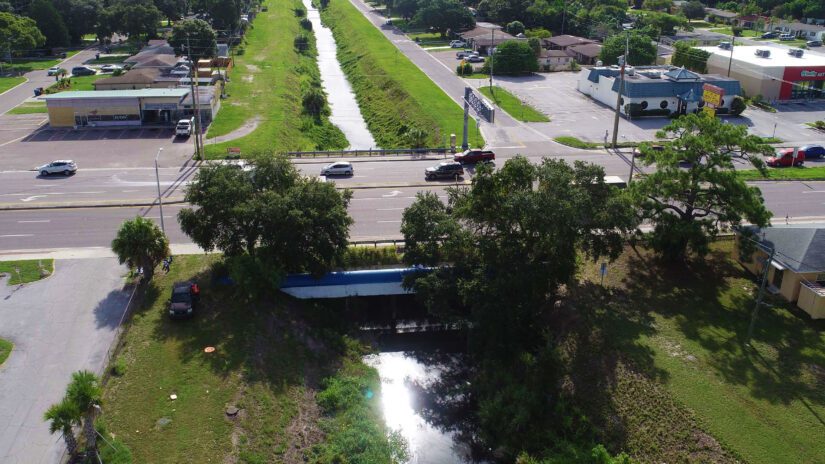 Project ID
004116A
Project Location
Main Channel of Joe's Creek from 34th Street (US-19) to 54th Avenue N.
Project Overview
Pinellas County envisions Joe's Creek corridor as a significant opportunity to enhance the character of the surrounding neighborhoods by:
Providing recreational opportunities.
Supporting multimodal transportation.
Promoting a safe and resilient community.
The Joe's Creek Restoration and Greenway Trail project will accomplish these goals by:
Reducing the risk of flooding and improving water quality.
Connecting the community and enhancing multi-use recreational opportunities.
Restoring Joe's Creek to its natural state.
The approximate project limits include the main channel of Joe's Creek, 34th Street N. (US-19) to 54th Avenue N., with a trail spur along a portion of 71st Street N.
Joe's Creek Watershed and Project History
The Joe's Creek project is located in central Pinellas County within the Lealman Community Redevelopment Area (LCRA) and Kenneth City, along Joe's Creek. Joe's Creek is a 9.8-mile-long creek, approximately 23-feet-wide by 16-feet-deep, which the County maintains for stormwater conveyance capacity and flood risk reduction.
The creek's intersection with Cross Bayou is tidally influenced and ultimately flows to Boca Ciega Bay and the Gulf of Mexico via John's Pass. The Joe's Creek Watershed area is 9,256-acres and includes the cities of Pinellas Park and St. Petersburg, Town of Kenneth City, and parts of unincorporated Pinellas County, including the LCRA. Dominant land use categories in the Joe's Creek Watershed include residential, commercial, industrial and recreational open space.
Project Funding
This project is supported, in whole or in part, by:
The Southwest Florida Water Management District (SWFWMD)
Florida Department of Economic Opportunity, Community Development Block Grant-Mitigation

Project costs awarded: $17,120,395.00.
Total amount of other funds Pinellas County will contribute to the project: $33,225,753.80.
Total funds (both DEO grant and Pinellas County contributions): $50,346,148.80

Penny for Pinellas