Raymond H. Neri Community Park Improvements
Last updated on
Project ID
002201A
Project Location
4303 46th Ave. N., St. Petersburg, FL 33714
Project Status
Design: In progress
Project Overview
This project will provide passive and active recreational opportunities for the communities in the Lealman Community Redevelopment Area (LCRA). The planned amenities include a playground and challenge course, a multi-purpose playfield, dog parks, picnic shelters, restrooms, parking areas and a park maintenance building. A trail is planned to connect the entire park and proposed facilities.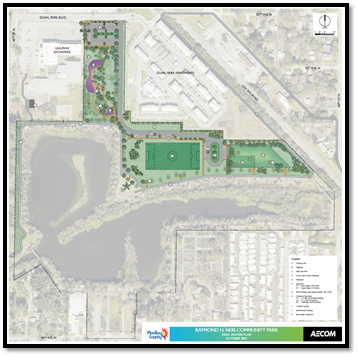 Estimated Project Schedule
Design Start: January 2019
Design End: Fall 2023
Construction Start: Early 2024
Construction End: Fall 2025
Park Improvement History
2004 – Lealman Recreation Survey Conducted
Survey responses revealed the following preferences for potential park elements:
Community Center
Sidewalks and walking paths
Swimming pool
Festivals and special events
2005 – Joe's Creek Greenway Park Dedicated and Phase 1 Completed
2,315 feet of pedestrian trail
Pedestrian bridge #1
Parking lot
Educational kiosks
2008 – Phase 2 Completed
1,785 feet of pedestrian trail
Observation decks
Restroom
2011 – Phase 3 Completed
1,190 feet of pedestrian trail
2013 – Phase 4 Completed
Pedestrian bridge #2 and completed loop
Access trail to Duval Street
2017 – Public Engagement for Joe's Creek Greenway Park
The public made the following requests for program elements/activities:
Dog park
Walk/Run
Playgrounds and play areas
Festivals and special events
Natural shaded areas
Community Outreach
May 23, 2019, 5:30 – 7:30 p.m.
Lealman Exchange
5175 45th St N., St. Petersburg
Requested Program Elements

Dog park
Trails and play areas
Fields, art, and amphitheater
Seating and shelters
Restrooms

Preliminary Conceptual Plans
Funding Information
This project is supported, in whole or in part, by federal award number SLFRP4653 awarded to Pinellas County Government by the U.S. Department of the Treasury.
Contact Us
We value your input. If you have questions or comments about the improvements to Neri Park, please contact:
Dan Glaser, P.E.
Project Manager
Public Works / Capital Improvements
14 S. Fort Harrison Ave., Clearwater, FL 33756
(727) 464-5209
dglaser@pinellas.gov