Shore Drive Bridge Replacement
Last updated on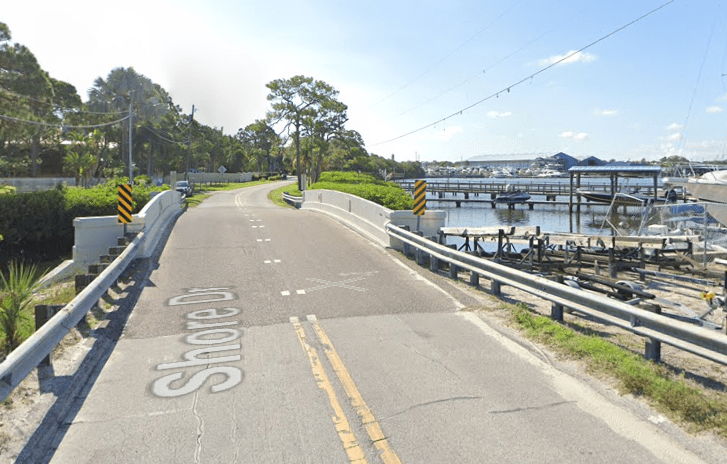 Project ID
004979A
Project Location
Shore Drive in Ozona/Palm Harbor
Project Status
Design: In progress
Project Overview
Pinellas County is planning the replacement of the Shore Drive Bridge Project as part of an ongoing effort to maintain and operate a network of over 140 bridges.
The Shore Drive Bridge was originally constructed in 1923 by Luten Bridge Co. to provide access to Shore Drive and Ozona Drive; however, the bridge does not provide the only access to these neighborhoods. A preliminary engineering report conducted in 2021 shows the existing bridge is nearing the end of its useful life and requires complete replacement due to issues with both the substructure and superstructure. The replacement bridge will also be designed to meet current roadway standards and provide access for pedestrians.
The existing arch-deck bridge is approximately 80-feet-long and provides a clear arch span of 49-feet, 10-inches. The bridge has an overall roadway width of 23-feet, 6-inches, providing two 10-foot lanes and no sidewalks or shoulders.
Pinellas County is proposing a 60-foot-long single-span bridge to help improve water flow and reduce environmental impact. The proposed bridge will have an overall width of 40-feet, 6-inches, providing two 11-foot lanes, shoulders, and a 6-foot sidewalk on the south side.
Project Location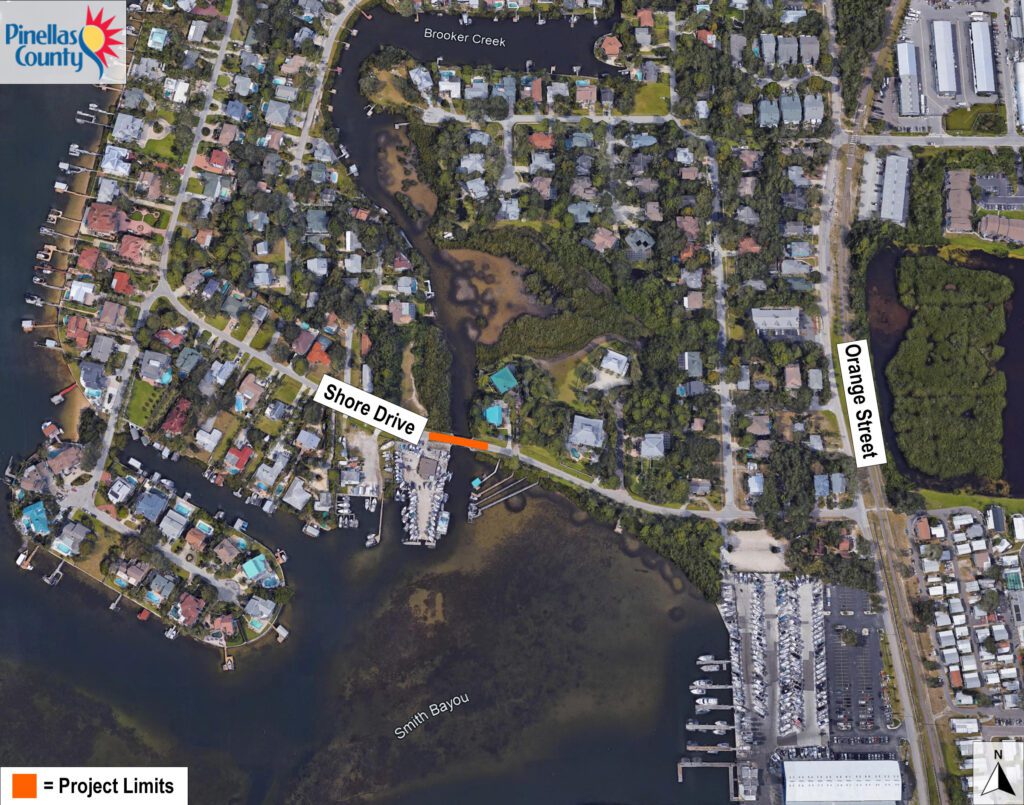 Project Timeline
Design Start: February 2022
Design End: Early 2024
Construction Start: Early 2025
Construction End: Fall 2026
Project Status
June 2023: 60% Design complete
April 2023: Project Information Meeting
November 2022: 30% Design complete
February 2022: Design phase begins
June 2021: Preliminary Engineering Report – Phase 1
Community Outreach
Pinellas County held a Project Information Meeting on April 18, 2023, at Harbor Hall in Palm Harbor to share information and answer questions about the project. That information is summarized in this presentation.
Project Funding
This project is supported by the Penny for Pinellas.
Contact Us
Amin Vosouli, P.E.
Project Manager
Public Works / Capital Improvements
14 S. Fort Harrison Ave., Clearwater, FL 33756
(727) 464-8889
avosouli@pinellas.gov