Whitney Road Complete Streets Project
Project Location
Whitney Road from US 19 to Bolesta Road
Project Status
Study: In progress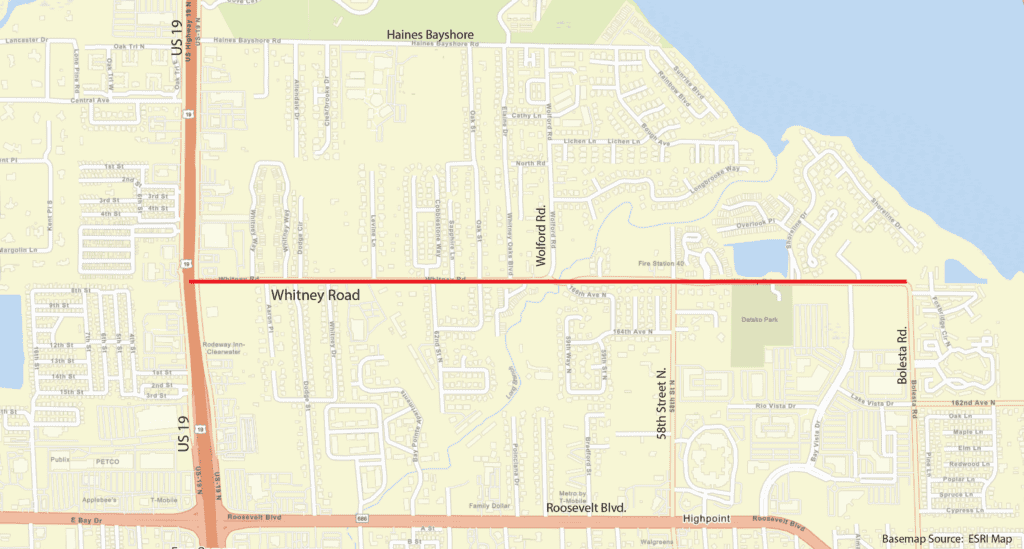 Project Overview
Whitney Road is a major east-west roadway that acts as a critical connector for several businesses and residents in the area, such as Longbrook, Whitney Lakes and Greenbrook Estates. The road is frequently used by cars, cyclists, transit users and pedestrians.
The intent of the Whitney Road Complete Streets project is to prepare a concept plan that identifies roadway, infrastructure and safety improvements such as crosswalks, sidewalks, and bicycle improvements along the corridor that will better support the needs of all users.
The project is being developed by Pinellas County Housing and Community Development in coordination with Pinellas County Public Works, Forward Pinellas and the City of Largo. The Project is partly funded through a Complete Streets grant from Forward Pinellas.
Through input from the public and stakeholders, ideas will be collected about how Whitney Road can be improved to create a safe, convenient and pleasant traveling experience for people who drive, walk or bike on this road. Concepts for roadway and infrastructure improvements will be developed, which will enable us to advance towards design and implementation.
Community Outreach
Whitney Road Complete Streets – Public Meeting #2
April 27, 2023, 5:30PM to 7:00PM Eastern Time (US and Canada)
Please join us at the second Public Meeting for Whitney Road Complete Streets project. We plan to share the preferred concepts for improvement for Whitney Road, that were revised based on the ideas shared at the last public meeting.
Please register for the meeting, using the following link:
https://link.edgepilot.com/s/182c6b66/tpTRznx9zk6ftDDhSEWGLQ?u=https://us02web.zoom.us/meeting/register/tZUtdO6opjIiH9dOO41ql_jWSXQk8XVKjKcy Closed
After registering, you will receive a confirmation email containing information about joining the virtual Zoom meeting
Recording: Whitney Road Complete Streets – Meeting April 27, 2023
https://www.youtube.com/watch?v=jXXQhCtACoM
____________________________________________________________________________________________________________________
Workshop: Whitney Road Complete Streets – Alternatives Public Meeting
March 29, 2023, 5:30PM to 7:00PM Eastern Time (US and Canada)

Join us to share your thoughts on alternative roadway concepts to improve safety and multimodal travel on Whitney Road between US 19 and Bolesta Road, based on the ideas and concerns that you've shared with us. We look forward to hearing from you!
You need to register to attend the meeting. Once you register, you will receive a confirmation and instructions for logging into the meeting
Please register for the meeting, using the following link: CLOSED
https://us02web.zoom.us/meeting/register/tZYkfu-qqTgrGtY8asHIb7RBHocxvroAR83_
Recording: Whitney Road Complete Streets – Meeting March 29, 2023
Existing Conditions Report – Voiceover Presentation:
https://www.youtube.com/watch?v=Wgo2WVIJP3Q
Project Schedule
Start: December 2022
Completion: End of June 2023
Project Managers
Pinellas County Project Manager: Smita Ambadi, AICP, LEED AP, SCPM
Principal Planner, Planning Division sambadi@pinellas.gov
Consultant Project Manager: Amanda Chornoby, AICP
Renaissance Planning achornoby@citiesthatwork.com