St. Petersburg Recreation Pass
St. Pete Parks and Recreation offers free membership to both residents and non-residents for most programs and classes. Take advantage of the free amenities.
What Are My Perks?
Two locations with free fitness rooms:
Childs Park Recreation and Fitness Center
4301 13th Ave. S., St. Petersburg
(727) 893-7463
Thomas "Jet" Jackson Recreation Center:
1000 28th St., S., St. Petersburg
(727) 893-7750
Please contact St. Petersburg Parks and Recreation for more information.
Sign Me Up
Membership is open to the general public.
Stop by one of the 16 rec centers to get your ADVANTAGE Membership.
Bring your drivers license or state ID and complete a hold harmless agreement.
Membership is not required for admission to parks, preserves, or pools.
Find information on all of the 17 centers.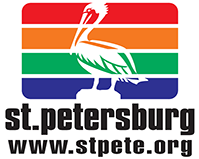 Pinellas County Wellness Program
City of St. Petersburg Parks and Recreation
www.stpeteparksrec.org
(727) 893-7441
8/15/23