Know Your Risk

Emergencies come in many varieties. You should be familiar with what kinds of risks each one poses so you can make a plan and stay informed if one occurs.
If any of these hazards threaten Pinellas County, you will find real-time information on our Emergency Information page. Make sure your emergency kit is ready at all times.
Disease Outbreaks, Epidemics and Pandemics
Bacteria, viruses or toxins can be deadly to humans and animals. An epidemic is an increase—usually sudden—in the number of cases of a disease in a certain area. A pandemic is basically the same thing, but is spread over several countries or continents.
Protective measures include:
Isolation or quarantine.
Social distancing or respiratory protection.
Testing, preventative medicine, treatment or immunization.
See the Center for Disease Control and Prevention (CDC) for more information on these and other hazards.
You can read about Pinellas County's COVID-19 response in the After Action Report for the Coronavirus Disease (COVID-19) Pandemic.
Cyberattack
Cyberattacks target computers, networks, information or services and interrupt our daily routines. These attacks can cause loss of money or result in the theft of personal, financial and medical information. They can affect individuals or groups. Those who work in cybersecurity put safeguards in place in order to prevent, detect and respond to these threats.
Protective measures include:
Regular maintenance of computer and online devices for security.
Using strong passwords and two-step verification.
Monitoring your bank and credit accounts.
For businesses, monitoring your system for theft of client information.
Disconnecting from the internet and working with computer experts or law enforcement to report concerns.
See the Federal Emergency Management Agency (FEMA) for more information on cybersecurity and how to protect yourself against cyberattacks.
Extreme Heat
Heat is considered "extreme" when temperature and humidity are both high for an extended length of time. Pinellas County is vulnerable to extreme heat because of its climate and proximity to water. While it does not usually cause damage to structures or property, it often effects people and animals.
Protective measures include:
Finding air conditioning.
Avoiding strenuous activities.
Wearing light clothing.
Checking on family members and neighbors.
Drinking plenty of water.
Watching for heat cramps, exhaustion and stroke.
Never leaving people or pets in a closed vehicle.
See the National Weather Services for more information on heat safety.
Flood
Flooding can occur from excessive rainfall due to tropical cyclones, seasonal rain or other weather patterns. Pinellas County is vulnerable to inland and coastal flooding.
Protective measures include:
Elevating belongings in your home or business to reduce the impacts of flooding.
Using sandbags or another type of barrier to help keep water from coming in your home (sandbags do not work well for storm surge).
Purchasing flood insurance for your home. Renters can get a policy for their belongings. Flood losses are not covered by home insurance policies.
See the National Weather Services for more information on flood safety.
Know Your Risk for flooding by looking up your property at Pinellas County Flood Information Services.
Flood Zones Are Not the Same as Evacuation Zones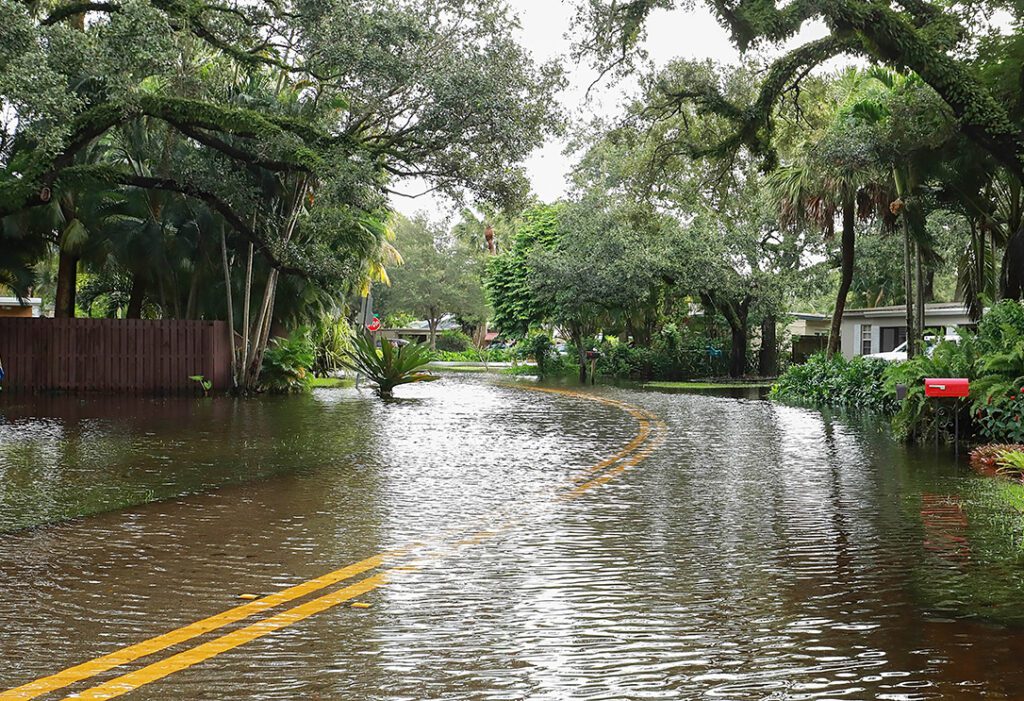 Flood zones are mapped by FEMA for use in the National Flood Insurance Program and based upon flooding from rains, rivers, creeks and lakes.
Evacuation zones are based upon the storm surge models created by the National Hurricane Center. Pinellas County Emergency Management works with subject matter experts to assess the areas that will have storm surge. When a storm approaches, Pinellas County may issue an evacuation order for one or more of the zones.
Geological
Geological incidents—mostly sinkholes—have been a common occurrence across Florida and Pinellas County. Sinkholes are collapses caused by cavities or fissures that form just under the surface. Sinkholes can form unpredictably, either in minutes or over the course of years. Extended periods of drought or inland flooding could lead to more sinkholes. Landslides are not considered to be a significant hazard in Pinellas County because of its flat topography.
Protective measures include:
Having the area assessed by a certified home inspector or foundation specialist.
Leaving your home or the area if the sinkhole poses a risk to the structure.
For more information on sinkholes, see information from the Florida Department of Environmental Protection.
Hazardous Materials
A hazardous material is any substance that poses a threat to humans, animals, or the environment—usually a biological, chemical or radiological hazard. Hazardous materials are regulated within the United States by a variety of agencies at the federal, state, and local level.
Hazardous materials incidents are related to accidents during the handling, production, transportation or storage of these materials. They can occur practically anywhere within Pinellas County. The threat level depends on the material released and the environmental conditions present. The effects of a spill could be isolated to a small area or may extended many miles.
Protective measures include:
Sheltering in place.
Evacuation.
Decontamination if you have been exposed to the hazardous material.
The Federal Emergency Management Agency has more information on hazardous materials incidents.
Hurricanes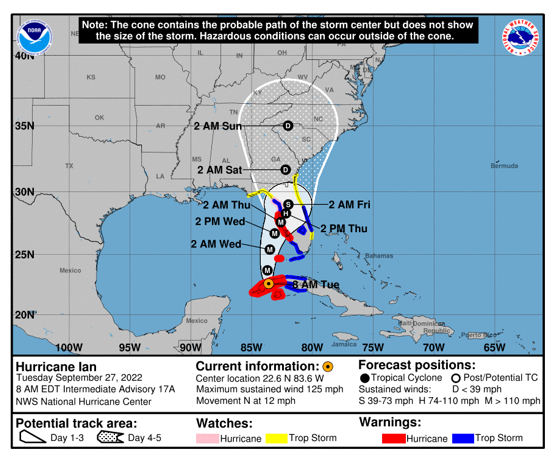 Tropical depressions, tropical storms and hurricanes are all considered tropical cyclones. When sustained winds reach 74 mph, the storm is considered a hurricane. The "categories" are based on wind speeds. The lowest on the scale is a Category 1 hurricane, which has wind speeds up to 95 mph. The most severe storms, called Category 5, have wind speeds of 157 mph or higher. Although they can form any time of the year, hurricanes usually form during hurricane season, which runs June 1 to Nov. 30. Tropical storms and hurricanes can include high winds, flooding from heavy rainfall, storm surge and hazardous surf. The effects can be felt hundreds of miles from the center of the storm. Tropical storms and hurricanes require you Know Your Risk, Make a Plan and Stay Informed. If a storm threatens Pinellas County, you can find real-time information on our Emergency Information page with evacuation orders, shelters and the current status of the community.
Protective measures include:
Knowing your risk. Storm surge, high wind and flooding (mainly from rain or overflow from rivers, creek, ponds and sewer systems). Find your evacuation zone to understand how your area may be affected.
Making a plan. Know what you will do if an evacuation is ordered, build an emergency kit, make preparations for everyone in your family
Staying informed. Monitor the weather, check for emergency information, sign up for Alert Pinellas and download the Ready Pinellas app.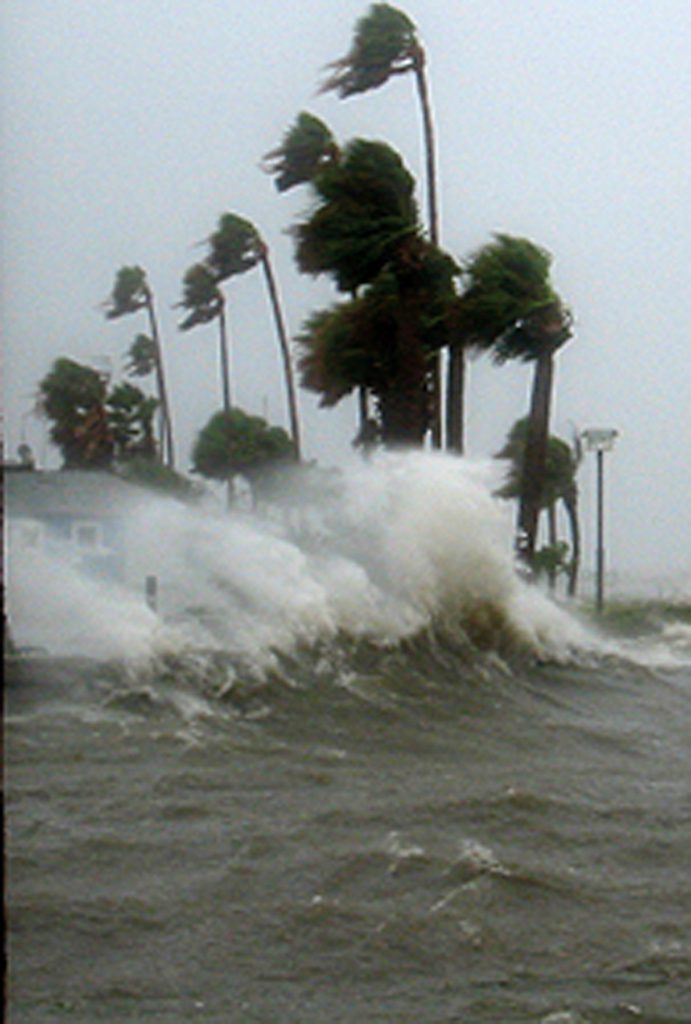 See the National Hurricane Center for more information.
Storm Surge
Storm surge is a dome of water that is pushed ashore by powerful hurricane winds. Storm surge can be life threatening and cause extensive damage along the coast and inland. It is crucial to Know Your Risk from storm surge and determine if you live in an area that may be called to evacuate. The National Hurricane Center issues watches and warnings if there is a threat to Pinellas County.
Protective measures include:
Monitoring the impact of storm surge on your area.
Listening for instructions on evacuations. Know if your location is included in the evacuation order.
Signing up for the Special Needs Program if you are eligible. The Special Needs Program is for residents of all ages who require medical assistance such as oxygen, assistance with routine care and medications, or those who are dependent on electricity.
High Winds
Tropical storm and hurricane force winds can cause widespread damage. Risk increases with the storm strength. People living in mobile and manufactured homes can be vulnerable to high winds. People who are dependent on electric medical equipment may be at risk if wind knocks out the power. High winds can produce flying debris, knock open doors and windows or topple mobile homes that are not properly anchored.
Protective measures include:
Making improvements to your roof, doors and windows to protect them from wind damage.
Sheltering in place when conditions are no longer safe to be outside.
Evacuating to a safer location or to a stronger structure when an evacuation order is given.
Signing up for the Special Needs Program if you are eligible. The Special Needs Program is for residents of all ages who require medical assistance such as oxygen, assistance with routine care and medications, or those who are dependent on electricity.
For more information about hurricanes and the potential threats associated with them, visit the National Hurricane Center.
Red Tide
Red tide happens when a certain type of algae suddenly increases in the water. Red tide has been noted in Florida for centuries. The most common red tide organism in Florida is the dinoflagellate Karenia brevis (K. brevis). In high enough concentrations, the algae turn the water a reddish color. While K. brevis is a naturally-occurring organism, fertilizers in our waterways are believed to make the blooms worse and longer-lived.
During a red tide, people may experience eye, nose and throat irritation. Symptoms usually go away when a person leaves the area with a red tide. People with severe or chronic respiratory conditions such as asthma should avoid areas with active red tides.
Protective measures include:
Avoiding areas where red tide is prevalent.
Maintaining public status boards to inform the public of the locations of red tide blooms.
Reporting fish kills to the Fish and Wildlife Commission.
See Pinellas County Environmental Management for more information on red tide, including status and resources.
Severe Thunderstorms
Severe thunderstorms are storms that are capable of producing hail that is an inch or larger or wind gusts over 58 mph. Hail of this size can damage plants, roofs and vehicles. Severe thunderstorm winds can break off large branches, knock over trees or cause structural damage. Some severe thunderstorms can produce hail larger than softballs and winds over 100 mph. Thunderstorms also produce tornadoes and dangerous lightning. Heavy rain can cause flash flooding.
Protective measures include:
Finding interior spaces in which to seek shelter during the storm.
Securing outdoor furnishings or items.
For more information on the impacts of severe thunderstorms, review information from the National Weather Service:
Terrorism or Attacks in Public Places
Terrorism is the unlawful use of violence with the intent of intimidating people for political or social gain. The effects of terrorism can vary from loss of life to property damage. Terrorism can result in disruptions to services such as electricity, water supply, public transportation and communications.
Types of attacks can include:
Active shooter: Individuals using firearms to cause mass casualties.
Individuals using a vehicle to cause mass casualties.
Individuals using homemade bombs to cause mass casualties.
Other methods of mass attacks may include knives, fires, drones or other weapons.
The Pinellas County Sheriff's Office encourages participation in Florida's "See Something, Say Something" campaign. The program helps community members understand what suspicious activity looks like and emphasizes the importance of reporting that activity to local law enforcement. Residents are encouraged to download the Florida See Say mobile app to report suspicious activity. The app is available on the Apple App Store and Google Play.
Protective measures include:
Reporting suspicious activity to local law enforcement.
Training the community about recognizing acts of terrorism and how to report them.
See the Department of Homeland Security for information on types of threats to report.
Tornado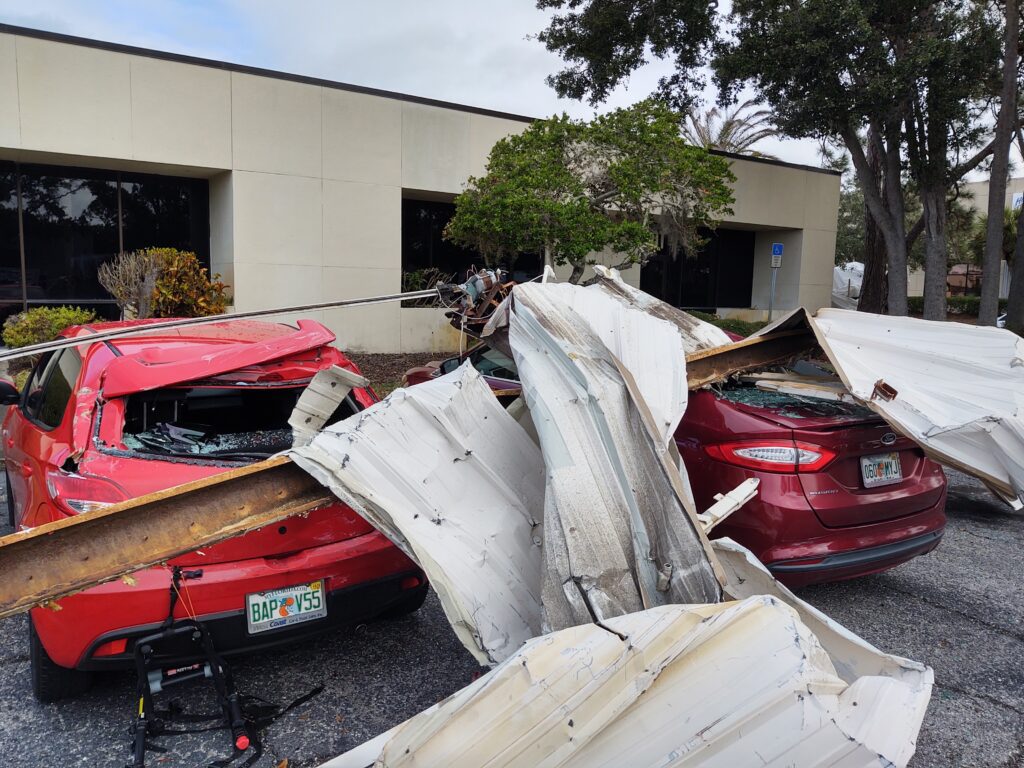 A tornado is a violent windstorm characterized by a twisting, funnel-shaped cloud. It can be spawned by a thunderstorm, a cold front moving into the area, or as a result of severe weather associated with hurricanes. Tornadoes can happen with only a few minutes notice, which makes it important to have a weather radio or sign up for Alert Pinellas.
Protective measures include:
Conducting an annual tornado safety drill with your family or workplace.
Identifying an interior room without windows where you can take refuge.
Practicing your plan and being ready to put it into action when you receive a tornado warning.
The National Weather Service has more information on tornado safety.
Wildfire
A wildfire can be caused by dry conditions, lightning or the result of human activity in areas with vegetation. Wildfires occur in Florida at all times of the year and are part of the natural cycle of Florida's fire-adapted ecosystems. Wildfires can cause major environmental, social and economic damages because of the possible loss of life, property and wildlife habitats. Droughts may increase an area's vulnerability to wildfires.
Protective measures include:
Using safe practices when burning around structures and vegetation.
Sheltering in place or taking precautions for respiratory issues.
Evacuating if there is a threat of fire spreading to populated areas.
The National Weather Service has more information on wildfires and drought safety.