Emergency Information
Last updated on
In the case of a large-scale emergency in Pinellas County, this page will be updated on an ongoing basis.
In the case of a fire, police or medical emergency, call 9-1-1.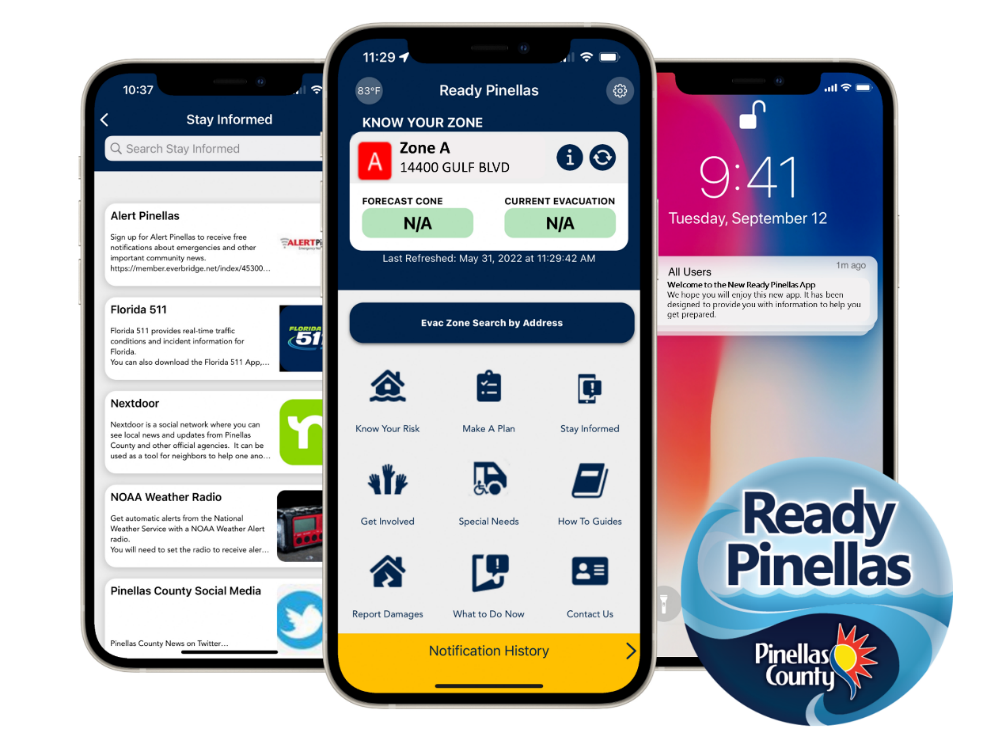 Look Up Your Evacuation Zone 
 
Pinellas County Emergency Management updated evacuation zones in 2022 based on the latest data and storm surge models. Nearly 48,000 households have a new evacuation zone. Make sure you check your zone before a storm comes our way.
Hurricane Ian Post-Storm Information
The Disaster Recovery Center (DRC) is open at the Lealman Exchange Community Center, 5175 45th St. N., St. Petersburg, to help with FEMA disaster assistance registration. Representatives from the Small Business Administration (SBA) are also on site, as well as information on local resources. The DRC is open Monday through Saturday 9 a.m. to 6 p.m. through Dec. 16. The online application service will remain available until the Jan. 12, 2023, deadline.
Be Prepared
Evacuation Orders: None
Public Shelters: Closed
County Information Center: Closed
Traffic Information
News & Events
Pinellas Update: County to open two community shelters tonight
Pinellas Update: County monitoring Subtropical Storm Nicole

Pinellas Update: Hurricane Ian Disaster Assistance Resources
Actualización de Pinellas: Recursos de ayuda por desastre disponibles para individuos y empresas
Pinellas Update: What to do about debris, damage and used sandbags
Actualización de Pinellas: Qué hacer con los escombros, daños y sacos de arena
Pinellas County updates hurricane evacuation zones

View all Emergency Management news
During emergencies, updates will be posted on our Twitter feed: @PinellasGov
Tweets by PinellasGov