Emergency Information
Last updated on
As Pinellas County continues to recover from Hurricane Idalia, this page, the Ready Pinellas mobile app, our Facebook and Twitter pages, and our local media partners will be updated regularly. In the case of a fire, police or medical emergency, call 9-1-1.

Evacuation Orders: None
Public Shelters: Closed
County Information Center: Closed
Hurricane Idalia Recovery
If your home or business was damaged…
Contact your flood insurance agent as soon as possible! There are time limitations to file your claim.

If you have flood insurance that is part of the National Flood Insurance Program (NFIP), visit

https://floodsmart.gov/start

or call (877) 336-2627 to start a claim.

If you have private flood insurance, contact your insurance carrier.

Do not enter a home that has major damage to the roof and/or walls.
If you have an electric vehicle and it flooded with salt water, do not park it in a garage because it is susceptible to spontaneous combustion.
Document flood damage with photographs and video. Prepare a room-by-room list of damaged belongings and create an inventory including the item description, replacement cost, and age. Document serial numbers of damaged appliances and furniture. Your adjuster will need this information.
Report your damage to help the County assess communitywide damage:
Apply for a low-interest loan for your home or business. The U.S. Small Business Administration is now offering low-interest loans starting as low as 2.5 percent for Pinellas homeowners and 4 percent for businesses to make repairs and cover economic losses from Hurricane Idalia. Applicants may apply online using the Electronic Loan Application (ELA) via SBA's secure website at https://disasterloanassistance.sba.gov/ela/s/ and should apply under SBA declaration # 18118.
Repair your Flooded Home
Build back safer and stronger. Look into flood mitigation techniques, such as installing flood-resistant materials and/or elevating your home.
Find out what the flood hazard and required development standards are BEFORE you develop your plans. Get required permits before starting any home repair, improvement, or construction. Visit to pinellas.gov/construction-in-a-floodplain/ learn more or call (727) 464-3888 with questions.
Hire only a licensed contractor and get multiple estimates for repairs. You can ask your insurance adjuster for an advance payment to help with repairs. To find a contractor or confirm a contractor's license is legitimate and current visit the Pinellas County Construction Licensing Board (PCCLB) Contractor Search page.
Service damaged septic tanks, cesspools, pits, and leaching systems as soon as possible. Damaged sewage systems are serious health hazards.
Look out for price gouging. It is illegal for anyone to sell necessary goods or services at higher than normal prices during a state of emergency. View post-disaster consumer protection tips.
Never let anyone into your home without first asking for identification. Representatives of utilities, government offices and reputable businesses will have proper identification. Also, ask your adjuster for their license number.
If you need assistance…
FEMA financial assistance: Those impacted by Hurricane Idalia can visit disasterassistance.gov, download the FEMA app or call the FEMA Helpline at 1-800-621-FEMA (3362). Lines are open from 7 a.m. to 11 p.m. local time, seven days a week. Residents who use TTY may call 1-800-462-7585. Disaster survivors who use 711 or VRS (Video Relay Service) may also call 800-621-3362. Disaster assistance may include financial help for temporary lodging, basic home repairs and other disaster-caused expenses. The deadline to apply for FEMA individual assistance has been extended to Nov. 29, 2023.

Applicant's full name, pre-disaster primary address, current address and current phone number
Applicant's 9-digit FEMA application number, found at the top of the determination letter (on every page)
FEMA disaster declaration number DR 4734 (on every page)
Applicant's signature and the date
Additional documentation to support your appeal (verifiable contractor's estimate, insurance paperwork, any additional documents FEMA requested in the eligibility letter)
If you choose to have a third party submit an appeal letter on your behalf, the letter must be signed by the third party. Additionally, please include a statement signed by you authorizing the third party to appeal on your behalf.
Send your letter:
By mail to: FEMA, P. O. Box 10055, Hyattsville, MD 20782-8055
Appeal letters and supporting documentation also can be uploaded to your account on DisasterAssistance.gov, click "Check Status" on the home page and follow the instructions, or fax to 800-827-8112 Attn: FEMA.
You may also visit your nearest Disaster Recovery Center (DRC) and submit your appeal. For information on open DRCs, and DRC hours you can visit our DRC Locator page at: DRC Locator (fema.gov) Search by state and select Florida.

If you have any questions about the appeals process or need assistance you can call the FEMA Helpline at 800-621-3362.

Appealing a FEMA decision: If you receive a letter from FEMA and you disagree with FEMA's decision about your eligibility, you can appeal the decision. FEMA might need more information to continue processing your application. You may submit a signed letter explaining why you disagree with FEMA's decision and providing additional information or documents supporting your appeal. The appeal must be submitted within 60 days of the date on the eligibility letter.

Red Cross Financial Assistance Program: The American Red Cross now has financial assistance available for residents whose primary home was destroyed or is unlivable due to Hurricane Idalia. To apply, visit redcross.org/Idalia or call 1-800-RED CROSS (800-733-2767).
State Sheltering Assistance: Florida's state-led sheltering program is available through FloridaRecovers.org in partnership with the American Red Cross. The program provides temporary sheltering options — such as travel trailers and hotel rooms — for households whose needs are not met through insurance or FEMA's Individual Assistance program. Visit the website or call 1-877-771-6667.
Pinellas County partners with 211 Tampa Bay Cares. Text your zip code to 898211 or call 2-1-1 to be referred to assistance for lodging, food, and other services offered by area nonprofits.
Disaster Unemployment Assistance is available to Florida businesses and residents whose employment or self-employment was lost or interrupted as a direct result of Hurricane Idalia and are not eligible for regular state or Federal Reemployment Assistance benefits. Eligible Floridians whose employment or self-employment was lost or interrupted as a direct result of Hurricane Idalia are encouraged to submit a claim at www.FloridaJobs.org. More info.
The Disaster Distress Helpline provides year-round disaster crisis counseling. This toll-free, multilingual, crisis support service is available 24/7 to all residents in the U.S. and its territories who are experiencing emotional distress related to natural or human-caused disasters. Call or text 1-800-985-5990.
Businesses: FloridaCommerce has activated the private sector hotline at 850-815-4925 for businesses and the private sector to ask questions and get information. You can also email ESF18@em.myflorida.com.
Legal issues: Any disaster survivors with disaster-related civil legal issues are encouraged to reach out to Bay Area Legal Services for assistance. Bay Area is a federally funded program that provides free legal assistance to low-income, eligible clients. Disaster survivors in any county in Florida are encouraged to apply for assistance through the Florida Disaster Legal Aid Line at 833-514-2940.
If you need somewhere to stay…
Permits for RVs or temporary shelter: Residents of unincorporated Pinellas County whose home was damaged and made uninhabitable because of Hurricane Idalia may apply to place a temporary shelter on their property until their primary home can be repaired or replaced. A temporary shelter may be a recreational vehicle, trailer, or similar structure. It must be connected to utilities and be fully located on the resident's property outside of any easements. To place a temporary shelter on your property, you'll need to apply for zoning clearance and for the appropriate utility permits. You will also need to obtain repair permits for work being done on your primary residence. For properties within unincorporated Pinellas County, there are both online and in-person options to apply. Permitting for temporary shelter will be expedited. To start the process, please contact the Building and Development Review Services project management representative at 727-464-4013 or email bdrspm@pinellas.gov. If you are not located within unincorporated Pinellas County, please check with your local municipality for guidance.
If you lost or found a pet…
If you found a pet that was separated form its owner during the storm, please do one of the following:
See if the pet has an ID tag with owner contact information.
Visit the Petco Lost Love website, click I found a Pet, enter the found location, snap a picture on your phone and upload.
Call Pinellas County Animal Services at (727) 582-2600, option *8.
If you have lost your pet, please follow the tips here.
If you have debris on your property…
What to do with debris on your property
Residents of unincorporated Pinellas County:
Tree branches, limbs, and plants can be bundled, bagged or placed in trash cans for pickup by your regular garbage service. Property owners are responsible for removing larger debris, like trees and tree trunks.
Homes with minor construction debris can use the Where Does It Go? Search Tool for guidance at pinellas.gov/storm-debris
City residents should check with their municipality for debris removal instructions. If you're not sure if your property is located within a city/municipality or an unincorporated area, use the interactive My Neighborhood Services application to find out at pinellas.gov/my-neighborhood.
If you have sandbags…
We recommend holding onto your sandbags through hurricane season. Do not dispose of sand or full sandbags as part of regular garbage. Place empty bags in your garbage (not in the recycling bin). Clean sand can be spread on lawns or landscape beds.

Do not dump sandbags onto the beach. Sand used to help stop flooding is different from beach sand and can cause issues for turtle nesting, among other problems. Pinellas County Solid Waste Disposal Facility is collecting used sandbags, free of charge, at 3095 114th Ave. N, St. Petersburg. Used sandbags must be separated from other waste ahead of transport to the Solid Waste facility.
Stay Informed
For the latest updates, check this webpage, download the Ready Pinellas app and sign up for Alert Pinellas: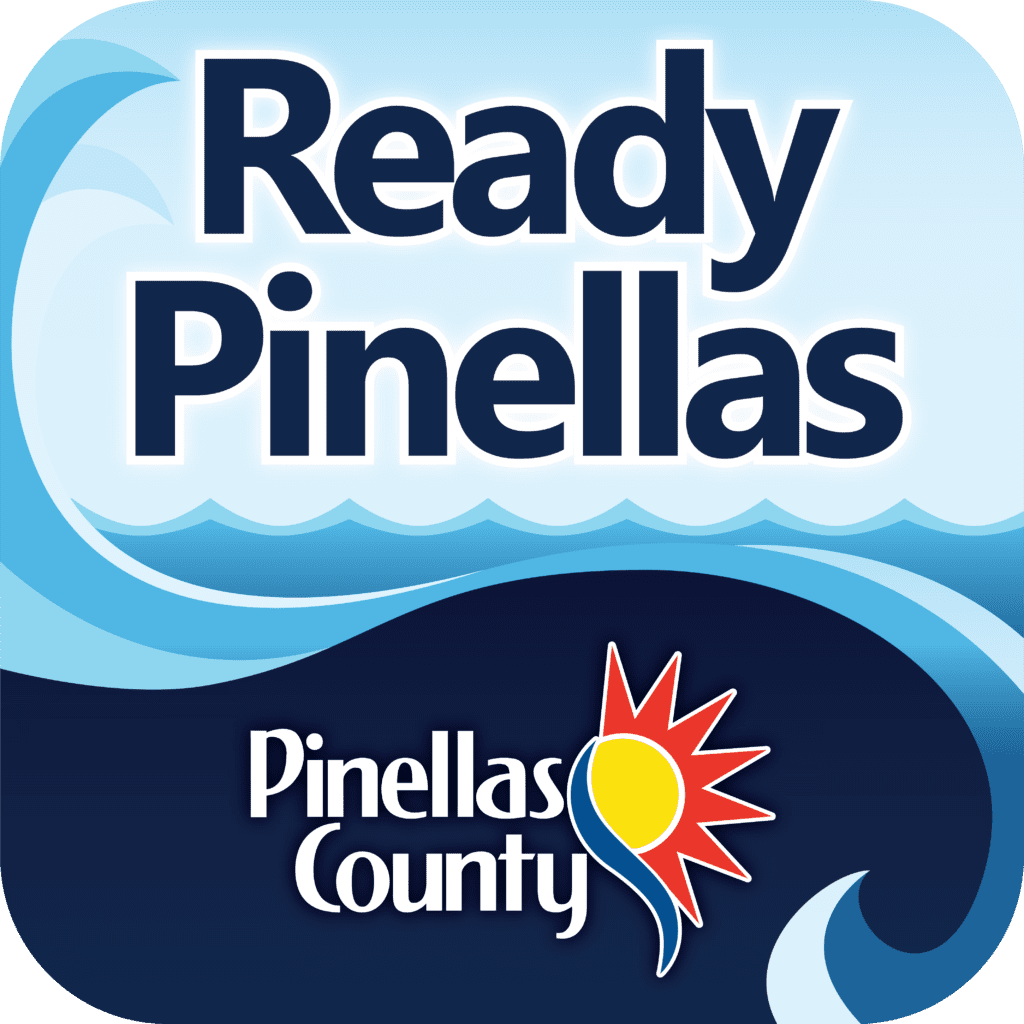 Webinar: Storm Damage Recovery – Navigating the Insurance Process
In the webinar, Storm Damage Recovery – Navigating the Insurance Process, Pinellas County Emergency Management is joined by the Department of Financial Services, Wright Flood Insurance, Acentria Insurance Agency, and Pinellas County Floodplain Management to discuss navigating the insurance process after a storm. Panelists review properly assessing risk, available insurance policies, responsibilities after a loss, properly documenting storm damage, and managing the claims process after a storm. View the webinar recording.
Traffic Information