Dunedin Causeway Bridges Project
Last updated on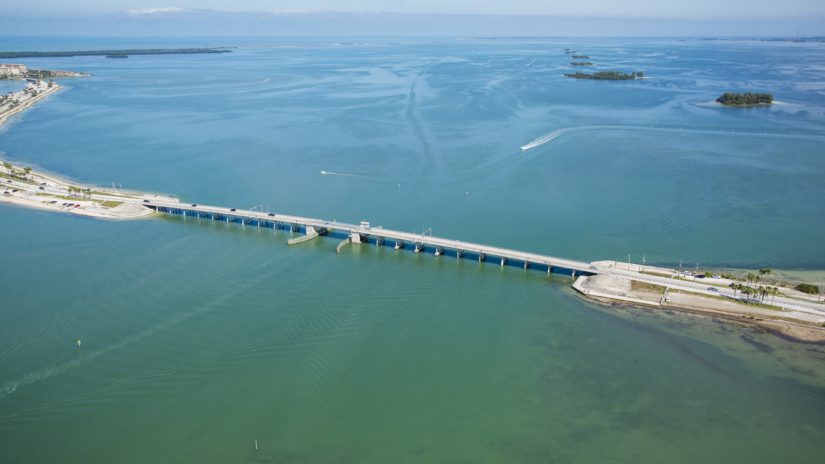 Project ID
000423A
Project Location
Dunedin Causeway Boulevard from Royal Stewart Arms Parkway on Honeymoon Island to the intersection of Gary Place/Gary Circle on Ward Island
Project Status
Design: In progress
Thank you for your interest in the Dunedin Causeway Bridges Project Development and Environment (PD&E) Study. On August 24, 2020, the Florida Department of Transportation (FDOT), pursuant to 23 U.S.C. §327 and a Memorandum of Understanding dated December 14, 2016, and executed by FHWA and FDOT, granted Location and Design Concept Acceptance (LDCA) for the Dunedin Causeway Bridges.
Regulations contained in 40 Code of Federal Regulations (CFR) parts 1500-1508 implement the National Environmental Policy Act (NEPA), which provide the Environmental Document serves as the administrative record of compliance with the policies and procedures of NEPA and other environmental statutes and executive orders. The Environmental Document determined to be applicable for the Dunedin Causeway Bridges project is a Type 2 Categorical Exclusion (Type 2 CE). A copy of the Environmental Document is available upon request. Persons wishing to view the Environmental Document may contact the project manager at dcb@pinellas.gov.
The project will now proceed to the next phase of development.
Project Overview
Pinellas County, in conjunction with FDOT, has conducted a PD&E Study on the Dunedin Causeway Bridges. The study extends along Dunedin Causeway Boulevard from Royal Stewart Arms Parkway on Honeymoon Island to the intersection of Gary Place/Gary Circle on Ward Island. The length of the project is about two miles.
The existing Main (bascule) Bridge connects Ward Island to Dunedin Causeway. The existing Tide Relief Bridge is a fixed bridge that connects Dunedin Causeway to Honeymoon Island. The project consists of the replacement of the Main Bridge with a new, two-lane mid-level movable bridge and the replacement of the Tide Relief Bridge with a new, two-lane low-level fixed bridge. There are no improvements planned for the Dunedin Causeway beaches or recreation areas. Minor roadway improvements will be needed to transition the existing roadway to the roadway on the replacement bridges.
Need for Improvements
Both bridges were constructed in 1963 and are considered "functionally obsolete" because of their narrow width. There are no shoulders on the bridges, and the sidewalks on the north side are only 3½ feet wide. The multi-use path on the south side of the bridge is only six feet wide. Both the Main and Tide Relief bridges do not meet current engineering standards for resisting damage from high waves during significant storms and vessel impact.
Ongoing maintenance and repair of the Main (bascule) Bridge machinery also affects reliability and results in traffic delays. Major rehabilitation or replacement of both bridges is needed to keep the bridges open and the Main (bascule) Bridge operating efficiently.
The study provided many opportunities for community involvement. Input from the community and other stakeholders was an important factor in the selection of the best suitable alternative to ensure that it meets the transportation needs of the community, with all reasonable measures taken to minimize impacts to the social, cultural, physical and natural environment. Please review the study process for more information.
Project Funding
This project is supported by:
Future anticipated grants