Sandbags
You can get sandbags at certain times prior to anticipated flooding. Check with your city to get details on sandbag distribution for your area. Residents of unincorporated areas in Pinellas County can check this website for updates or call the County Information Center at (727) 464-4333. The County Information Center is only open during emergencies.
Note: Sandbags are only recommended for residents who may experience minor flooding from rainfall. Sandbags will not protect against storm surge from the bay or tidal waters.
Local home improvement stores may also have flood barriers available.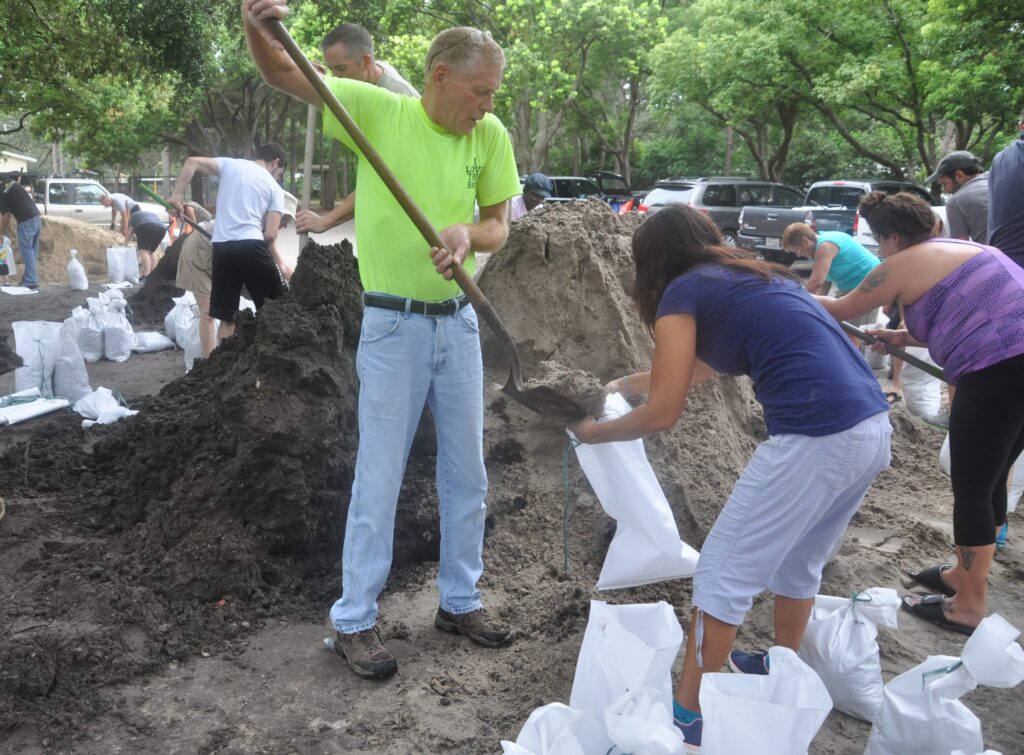 Sandbag Reuse and Disposal
Pinellas County encourages residents and businesses to reuse clean sandbags or dispose of contaminated sandbags. Sandbags that did not come into contact with floodwaters can be safely reused or stored.
Sandbags that have been in contact with floodwaters may be contaminated by sewage, animal waste, oil, lawn chemicals or other hazardous chemicals. Wear gloves and a dust mask when handling potentially contaminated materials. Do not place used sand in or near bodies of water, playgrounds, sandboxes or other areas of direct human contact.

Please do not dispose of any sand or full sandbags in your regular trash. The sand does not burn and will not convert to energy in the County's Waste-to-Energy Facility. Furthermore, do not mix sandbags with yard debris for disposal. The sand is abrasive and damages equipment used to grind yard debris into mulch.
For sandbags that did not come into contact with floodwaters:
Keep and store clean sandbags for preparation for future events. Hurricane season runs from June 1 through Nov. 30, with most storms occurring between mid-August and late October.
Spread sand on lawns or landscape beds. Place the empty bags in your garbage bin (do not place the bags in your recycling bin).
Pinellas County Environmental Management advises residents to not dump their sandbags onto the beach. Sand used to help stop flooding may be different from beach sand and can cause issues for turtle nesting, among other problems.
For sandbags that have come into contact with floodwaters:
For more information, please call the Department of Solid Waste at (727) 464-7500.