Residential Plan Review Requirements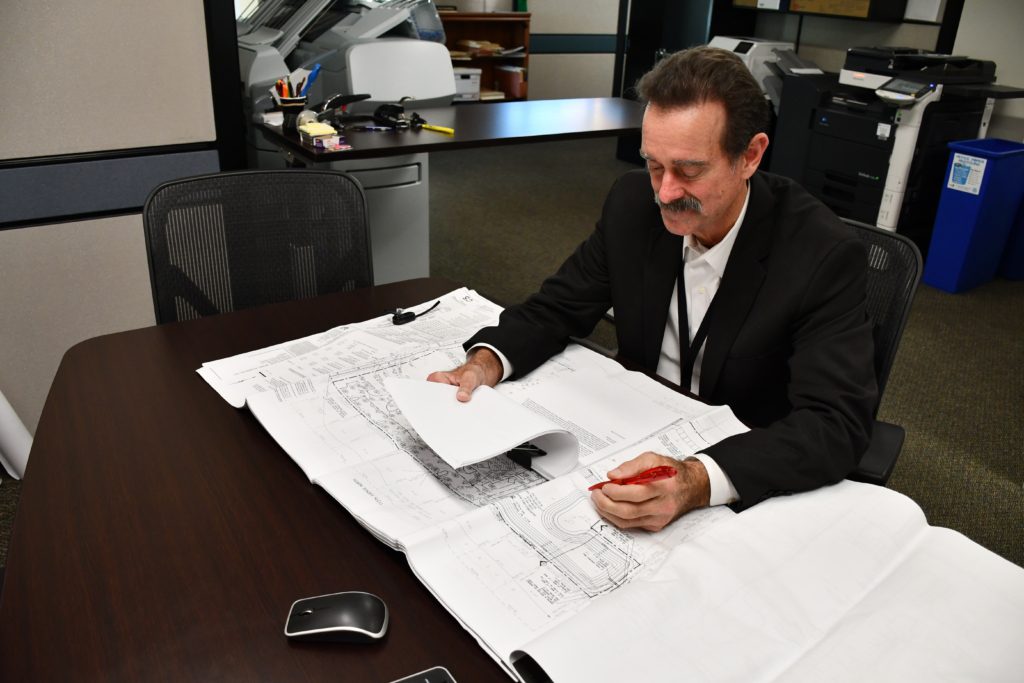 Pinellas County Building Services uses a comprehensive checklist for all plan reviews.

The following is a list of general requirements. If you or your designer follows this list during the design phase, plan review should be much faster and easier.
---
General Requirements
Steps for New Commercial Development
Two sets of plans signed and sealed by a registered Florida architect or engineer
Engineering required on all openings 16″ or greater
Soil report if construction is on fill or unstable soil (muck etc.)
The use of each room in a structure (i.e. kitchen, bedroom, garage etc.)
One set of Energy Code Forms
Product Approval List
Elevation for structures in "V" or "A" zones
Two surveys / site plans showing all existing structures on property and proposed construction
You must indicate laminated or pre-engineered structural members wherever applicable and provide engineered drawings on job site at time of inspection.
If your proposed structure is being built in flood "V" or "A" zones, plans must show all information required for flood zone construction (see Flood Zone Application). All new construction or substantial improvements in Special Flood Hazard Area (SFHA) Zone AE should have the lowest floors elevated above the base flood elevation plus 1 foot. See Florida Building Code, Residential 6th Edition (2017) R322.2.1. See R322.3.2 for VE zone requirements.
The interior portion of enclosed areas below the base flood elevation should not be partitioned or finished into separate rooms, except for stairwells, ramps, elevators and a storage area no larger than 100 square feet with one dimension not to exceed 6 feet. See Florida Building Code, Residential 6th Edition (2017) R322.3.5.
---
Foundation Plans
Slab location, thickness, psi rating of concrete, vapor barrier, soil treatment and choice of wiremesh or fibermesh
Any changes in slab elevation, with drawings that specify the proposed lowest living floor elevation
Footing type, location, dimensions and steel reinforcement size
Location of all vertical steel reinforcement and rating
The location, size and spacing, and design ton capacity on pilings (when using posts, pilings, or columns)
Pile cap/grade beam detail
---
Floor Plan on Each Level
Drawing showing location of all walls, doors, windows, stairs, fireplaces, etc.
Dimensions (overall and by area)
Door and window sizes
Handrail and guardrail location and dimensions
Tempered glass location (if applicable)
Plumbing fixtures and appliance location
Attic access location
Smoke detector location
Square footage broken out into total living area, living area each level, garage area, covered porches, patio or entry and total area under roof
---
Floor Framing Layout
Size, spacing and position of all structural framing members.
Specification of pre-engineered floor trusses or joist
Size and location of girders or beams
Specification of all truss and joist hangers and hurricane tie-downs
Indication of cantilevered trusses/rafters where applicable
---
Roof Framing Layout
Size, spacing and position of all structural framing members, including beams
Indication if pre-engineered trusses are to be used (truss engineering required on job site at time of inspection)
Roof slope
---
Typical Wall Section
Detailed cross section of all structural components and materials, including connections, fasteners, dimensions, bracing and size used from the bottom of the foundation to the finished roof
Wall section to cover maximum number of stories (i.e. two-story must show two-story)
---
Stair and Guardrail Details
Detail of stair design, tread width and depth, riser height, landing dimension and handrail detail
Minimum headroom clearance
Detail of handrail and / or guardrail, showing height and baluster spacing