Residential Swimming Pools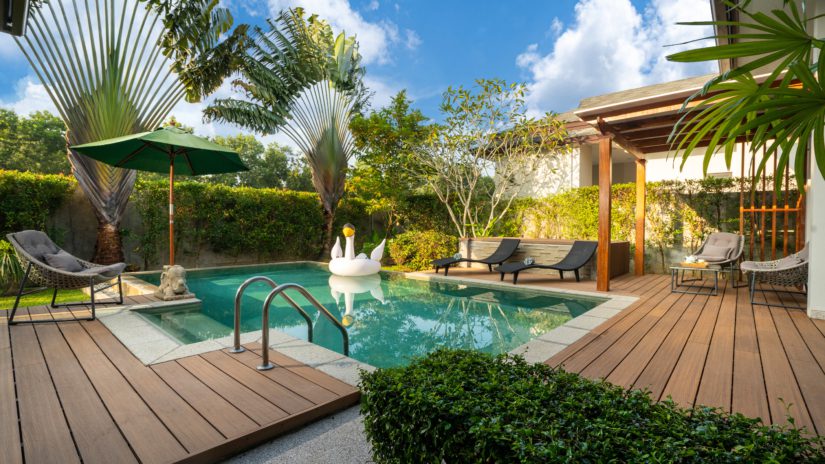 NOTE: This page provides an overview of the main swimming pool safety requirements in the Florida Building Code. You should review the full Code for a complete list of requirements. 
Section 424.2 requires all new private swimming pools be constructed with specific safety features to help prevent drowning.
Section 424.2.6.6 requires all private swimming pools be equipped with an anti-entrapment device to prevent accidental entrapment at any of the suction inlets.
Section R4501.17 requires that any new private swimming pool be surrounded by a barrier, unless it is equipped with an approved safety cover complying with ATSM F 1346. The barrier must prevent direct access from the home and yard to the pool. One option is to install a 4-foot fence (commonly referred to as a baby barrier) around the perimeter of the pool. This barrier must be a minimum of 20 inches away from the water's edge.
If one of the walls of your dwelling acts as part of the barrier, all doors and windows with direct access to the pool must be equipped with an exit alarm complying with UL 2017 with a sound pressure rating of 85 dBA at 10 feet. This alarm must produce a continuous audible warning immediately after the door, window or screen is opened. The alarm should have a manual deactivation switch at one opening, at a minimum of 54 inches above the threshold, with the deactivation lasting no longer than 15 seconds. Separate alarms are not required for each door or window if the sensors are wired to a central alarm that sounds when contact is broken at any opening.
You do not need an exit alarm if you have:
Screened or protected windows with a bottom sill height of 48 inches above the interior finished floor.
Windows facing the pool on a floor above the first floor.
Screened or protected pass-through kitchen windows 42 inches or higher above a counter.
Another option is to equip all doors that provide direct access to the pool with self-closing and self-latching devices. These devices should be a minimum of 54 inches above the finished floor.
These safety regulations also include above- ground pools, unless the pool is equipped with a removable ladder, and the height of the pool wall is a minimum of 4 feet above grade.