Collection: Garbage & Recycling
Garbage and recycling collection services are managed independently by municipalities (incorporated areas) and County-licensed private haulers (unincorporated areas). Pinellas County does not offer garbage or recycling collection service except in the east Lealman community.
Collection depends on where you live or where your business is located.
Use Pinellas County's My Neighborhood Services tool to find out if your home or business is located within a municipality or an unincorporated area.
Municipality (City or Town)
Residents, multifamily developments, and businesses located in cities or towns should contact their municipality for garbage and recycling collection service options.
Unincorporated Pinellas County
Residents, businesses and multi-family developments located in unincorporated areas should contact one or more of the garbage and recycling collection service providers that are licensed by Pinellas County (see list below). Note: Pinellas County is not affiliated with County Sanitation and does not recommend one provider over the other.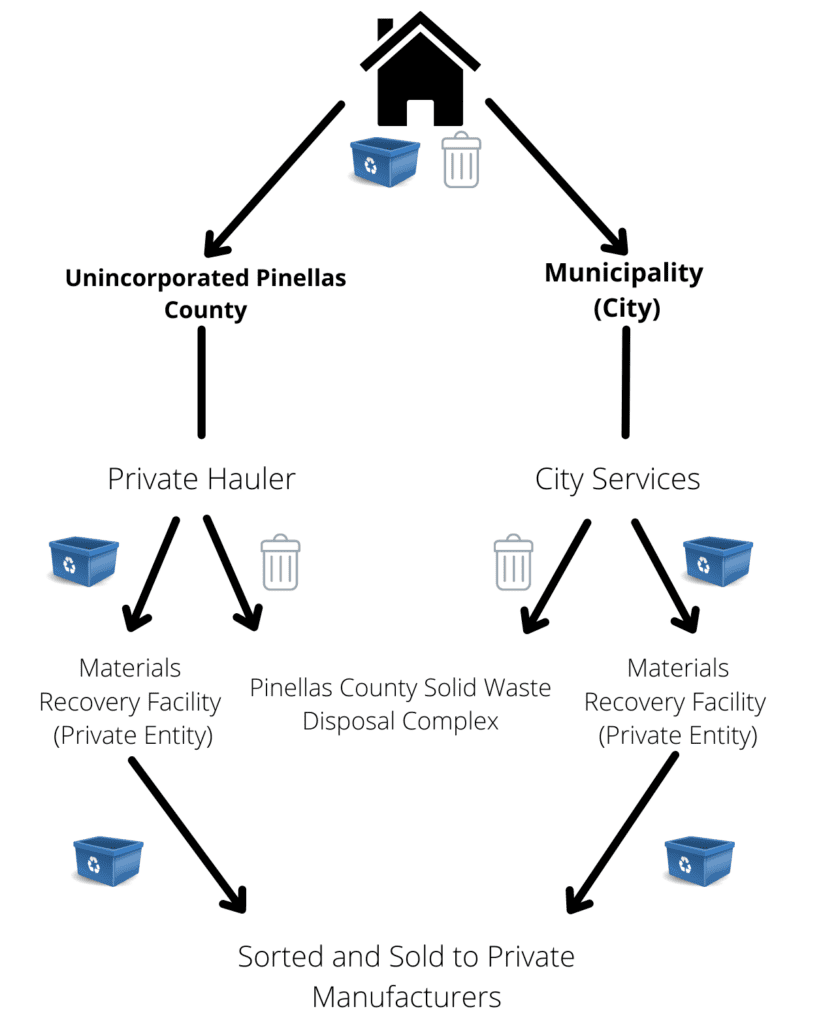 Residential
Commercial
The following providers serve only businesses and multifamily developments in unincorporated areas.
The East Lealman Community
The Pinellas County Department of Solid Waste provides garbage and recycling service to the East Lealman community through a Municipal Services Benefit Unit. Visit the Lealman Garbage and Recycling Collection page for information about fees, billing, contact information, FAQ, and a service area map.
Recycling Drop-Off Centers
There are about 40 mixed recycling drop-off centers throughout the county available to residents free of charge. These centers are managed by Pinellas County and its municipalities. View this map of recycling drop-off centers to find the one closest to you.
Additional Resources
Questions?
Call (727) 464-7500, email waste@pinellas.gov, or click the Live Chat button below.
To learn how to become a licensed residential garbage and recycling collection service provider, call (727) 464-7544.