Household Chemical Collection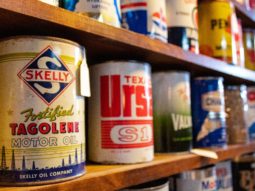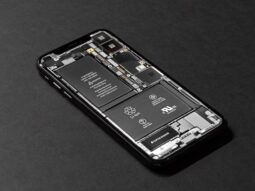 Important Notice: The Pinellas County Solid Waste Disposal Complex will close at 11:00 a.m. on Wednesday, April 26, 2023, for a county employee recognition event.
The Household Electronics and Chemical Collection Center (HEC3) will be open from 7:00 a.m. to 11:00 a.m.
The Swap Shop will be open from 7:30 a.m. to 11:00 a.m.
The Disposal Complex/Scalehouse will be open from 6:00 a.m. to 11:00 a.m.
The Administration Building will be open from 8:00 a.m. to 11:00 a.m.
Regular business hours will resume on Thursday, April 27, 2023.
Effective October 1, 2022: New Procedure and Program Change
Your government-issued ID will be required and scanned to verify residency when using the HEC3, the Swap Shop, and Mobile Collection Events.
Collected electronics will no longer be sent to a private recycler; they will be sent to Waste-to-Energy (WTE) Facility. View the Household Electronic Program Change page to learn more.
The Department of Solid Waste's HEC3 program diverts Household Hazardous Waste from the municipal solid waste stream for proper recycling and disposal. HEC3 currently collects chemicals through the following programs for free:
HEC3: Permanent collection facility open six days a week from 7 a.m. to 5 p.m. Located at 2855 109th Avenue N. St. Petersburg, FL.
Mobile Collection Events: Held throughout Pinellas County on select Saturdays from 9 a.m. to 2 p.m.
This collection program is for Pinellas County households only.
Businesses, hobbyists, haulers, and nonprofits should visit the Business Collection Events page.
---
What to Bring – Chemicals
What To Bring
Chemicals

Automotive Products

Oil and Antifreeze (limit: 5 gallons)

Gasoline and Diesel (limit: 2 five-gallon DOT containers, no tanks)

Household Chemicals

Adhesives/Epoxies, Aerosols, Cleaners

Lawn and Garden Chemicals

Pesticides, Herbicides, Fertilizers, Cleaners

Mercury-Containing Devices

Thermometers, Thermostats, Fluorescent Bulbs (limit: 12)

Paint Products

Paints, Stains, Solvents (limit: 20 one-gallon, 5 five-gallon)

Pool and Spa Products

Chlorine, Muriatic Acid, Cleaners, Clarifiers

Rechargeable Batteries

Nickel-Metal Hydride
Nickel Cadmium
Small Sealed Lead Acid
Lithium Ion

Non-Rechargeable, Single-Use Batteries

Lithium
Silver Oxide
Zinc-Air
Zinc-Chloride
Mercury
Lithium Manganese (LR) Button Batteries
Silver Oxide (SR) Button Batteries

Items with rechargeable batteries that cannot be removed
Customers with quantities in excess of the limits above will be referred to the Business Collection Events for service. Loads will be evaluated upon arrival. Visit the Business Collection Events page for more information.
What Not to Bring
What Not To Bring

Appliances

Microwaves, Toasters, Vacuums, Other Appliances
How to Package Chemicals
When you are getting ready to drop off your household chemicals at HEC3 or a mobile collection event, please package them as follows to help keep you and our staff safe and to minimize spills:
Do:
Place containers in a box or tray and use crumpled newspaper as packing material to prevent breakage.
Place leaking containers in a clear, sealed bag; then in a box or tray.
Place chemicals in trunk or truck bed, away from passengers.
Do not:
Mix chemicals together.
Put containers in a bag, unless leaking.
HEC3
Residents are invited to drop off certain household chemical items for free. See the table above for accepted items.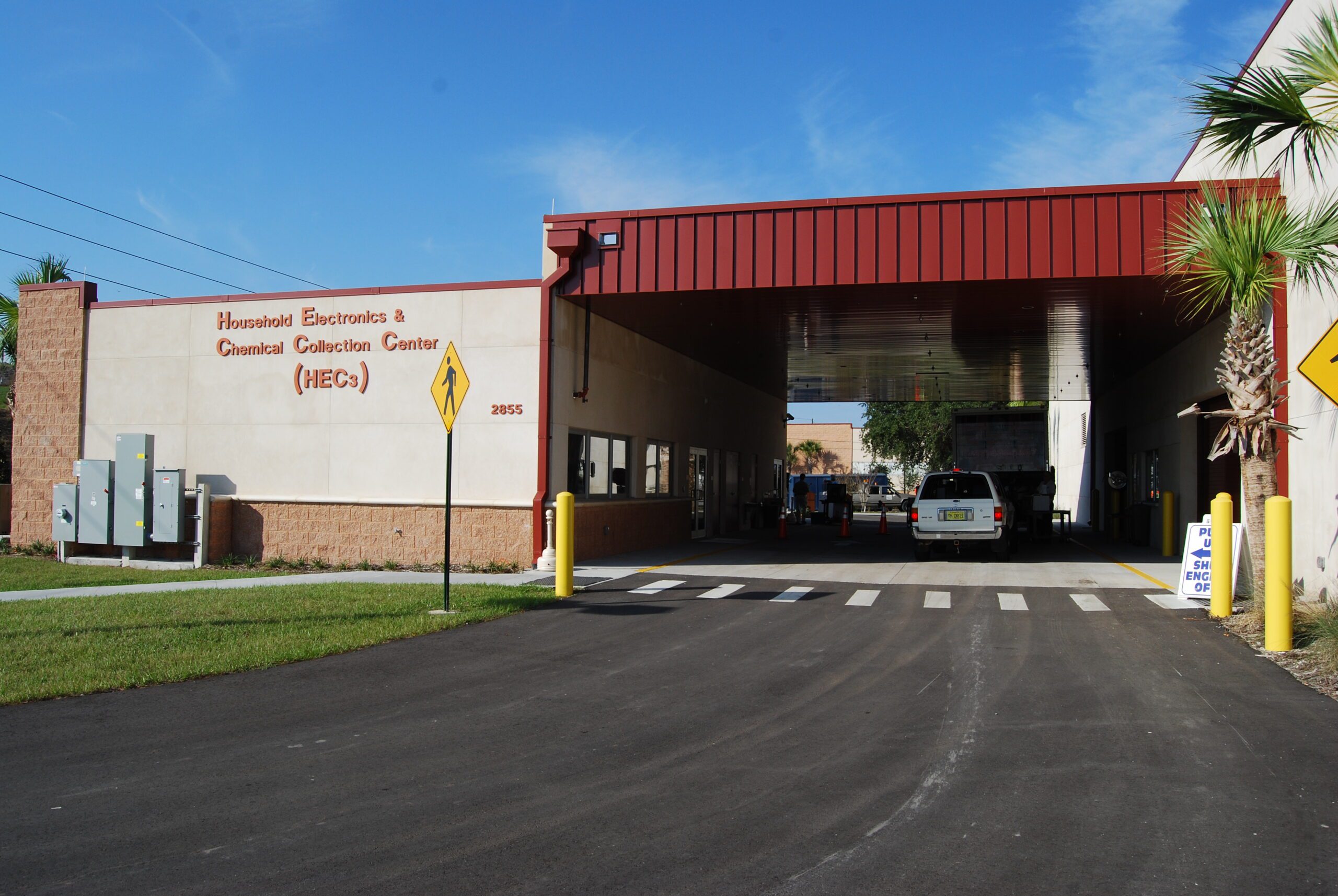 Open Monday through Saturday
7:00 a.m. – 5:00 p.m.
2855 109th Ave. N., St. Petersburg
Swap Shop
The Swap Shop, which is located at HEC3, is a reuse program for household chemical products, such as paint, cleaners, and automotive fluids. It is free for Pinellas County residents. Availability can change by the minute, and quantities may be limited. Despite the name, there is no need to swap.
Capacity is limited to 3 customers at a time.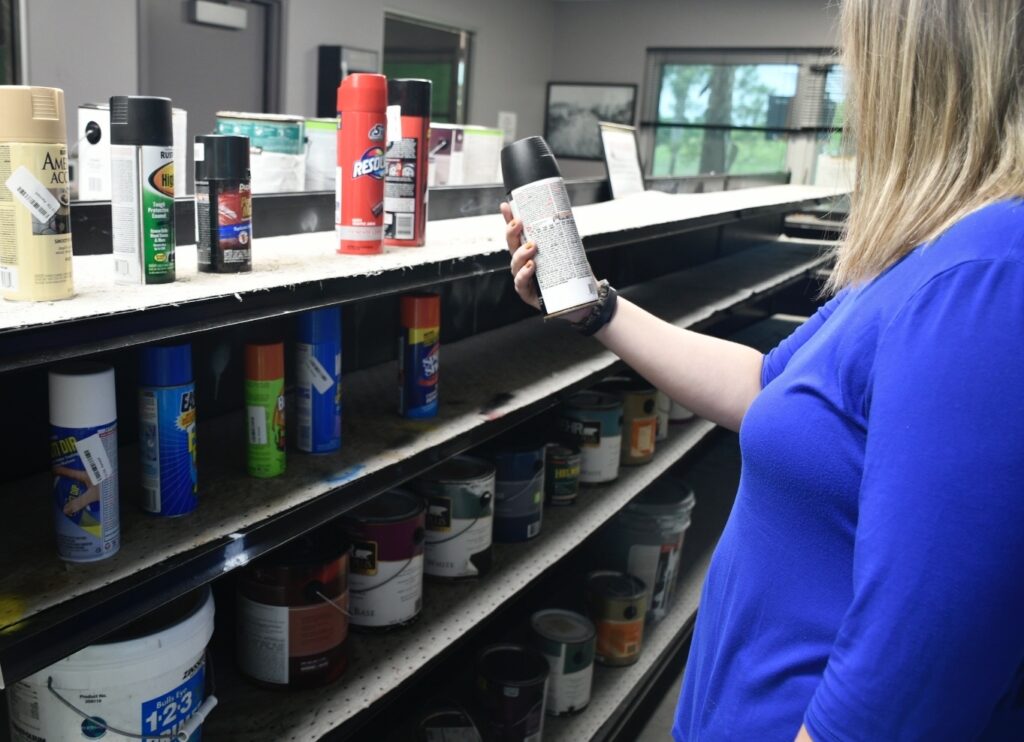 Open Monday through Saturday
7:30 a.m. to 4:30 p.m.
Mobile Collection Events and Schedule
Mobile Collection Events are held throughout Pinellas County on select Saturdays from 9:00 a.m. – 2:00 p.m.
Collections may be delayed or canceled due to inclement weather.
Customers must stay in their vehicle. Items must be placed in the trunk, truck bed, or trailer to allow staff safe access.
2023 Countywide Collection Events (subject to change)
Monthly North County Collection Events
Jan. 28
May 20
July 22
Oct. 14

(behind the Pinellas County Government Center, south of Curlew Road)

Feb. 25
June 10
Aug. 12
Oct. 28
Mar. 25
June 24
Aug. 26
Nov. 18
Apr. 29
July 8
Sept. 23
Dec. 9
View the Mobile Collection Experience Videos below.
Mobile Collection Experience
A mobile collection event is an easy and convenient way for residents to discard unwanted household chemicals.
At a mobile collection event, staff will ask for your government-issued ID and about the items you have, then direct you to a drop off area, where staff will collect and separate the items for safe packaging and handling.
What to expect at a mobile collection event: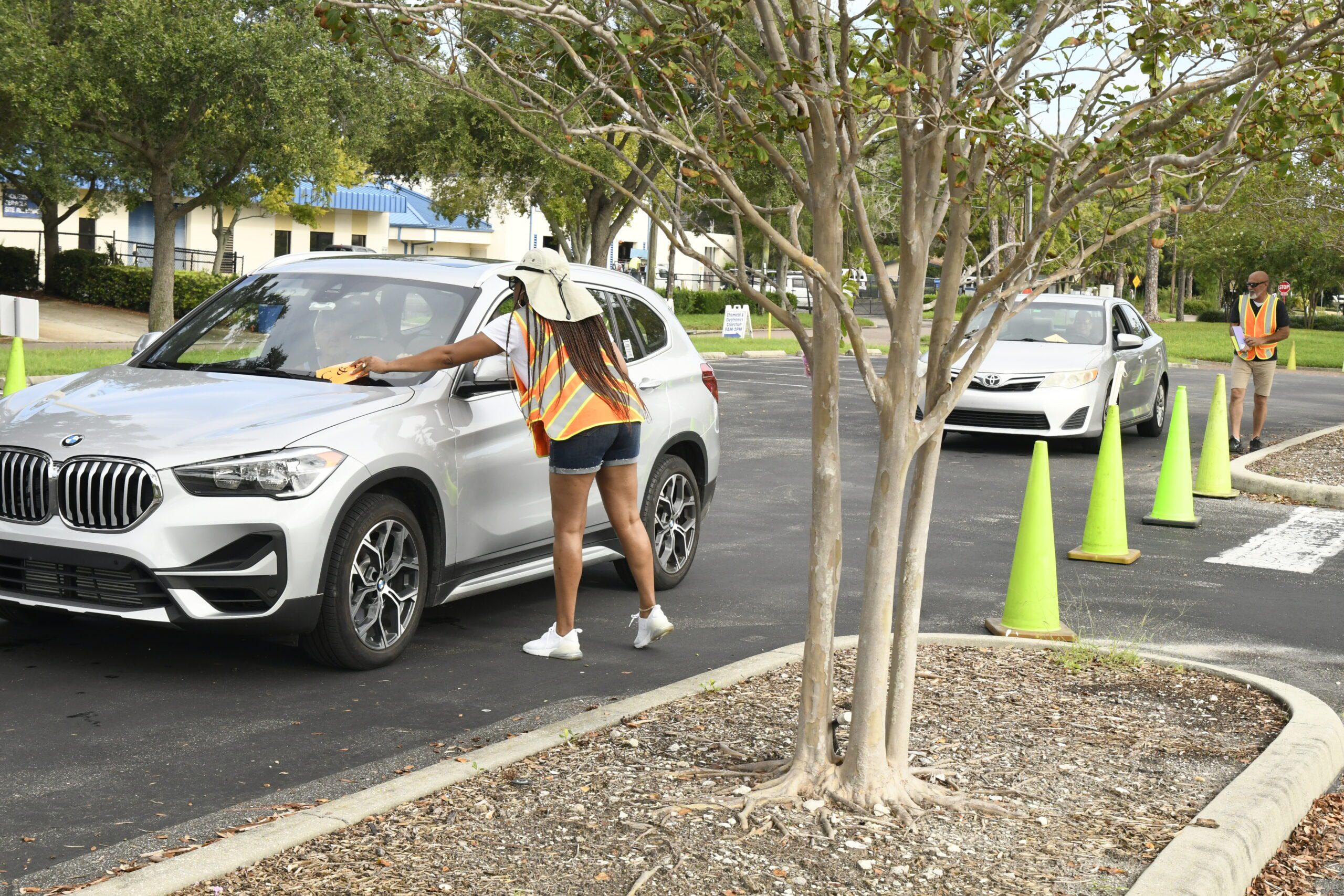 Additional Resources
Have Questions?
We are happy to help! Call (727) 464-7500, email waste@pinellas.gov or click the Live Chat button below.